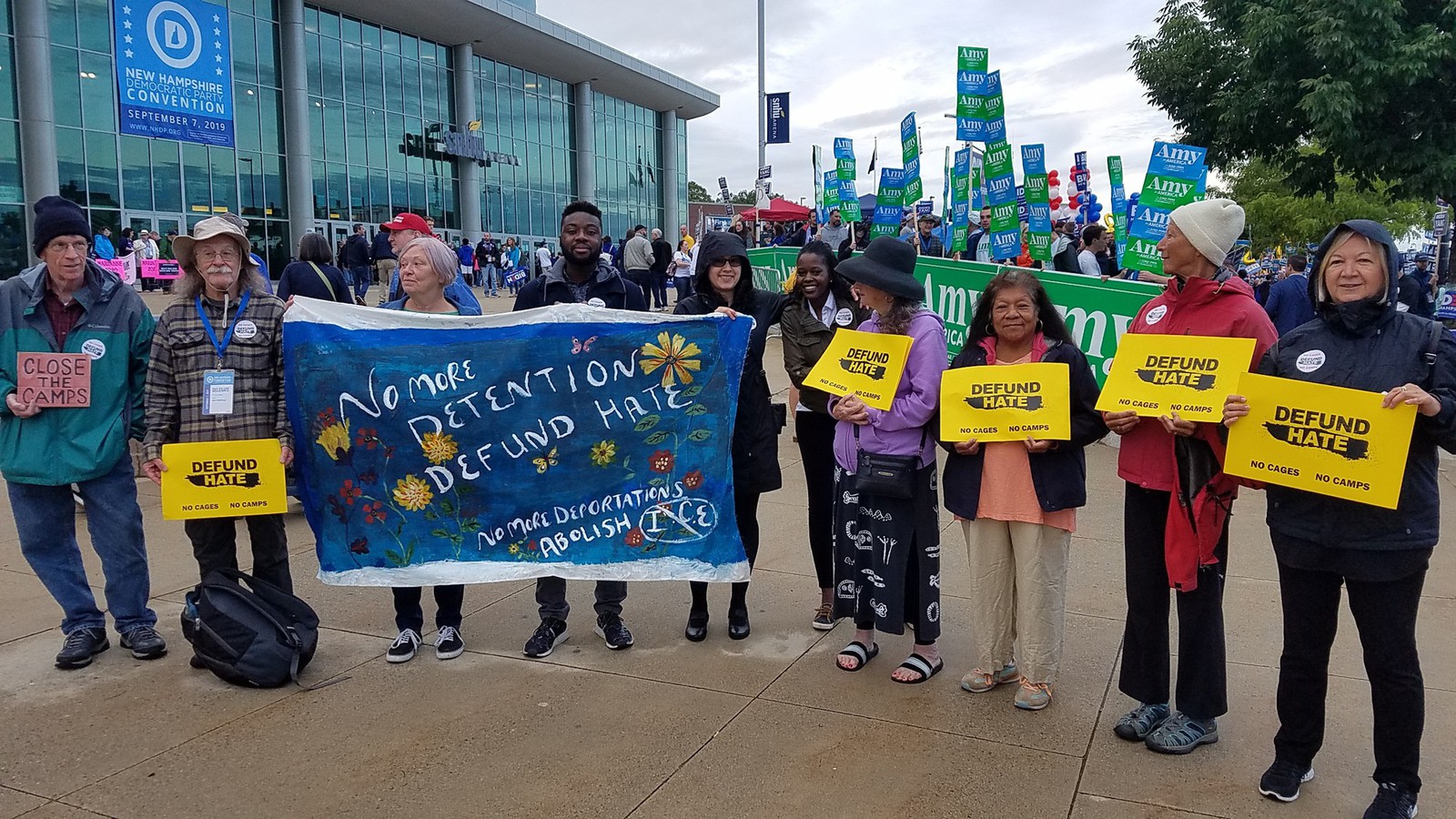 As we start a new year, we want to acknowledge the amazing work that people like you have done to advance the campaign to Defund Hate by demanding significant cuts to funding for Immigration and Customs Enforcement (ICE) and Customs and Border Protection (CBP).  
Congress keeps giving billions of taxpayer dollars to ICE and CBP, even though they are harming our communities, constantly overspending their budget, and manipulating the funding process. It can be tireless work to try and stop them—the process for funding the government is complicated, Congress takes forever to make decisions, and ICE and CBP budgets continue to balloon. 
But this year, the Defund Hate campaign—with the help of thousands of people across the country—has helped block ICE from receiving hundreds of millions of dollars that would have been used to detain and deport our community members! 
Here's a look back at what we accomplished together in 2019:
In January, the Trump administration's demands for huge increases in the ICE and CBP budgets led to a government shutdown. In response, more than 330,000 people signed a petition calling on Congress to reject money for Trump's wall and deadly immigration force. We delivered these petitions to Senate leadership, occupying their offices and sharing stories of the harm and trauma people face in detention.  
Because of this public pressure, funding for immigration enforcement and the border wall were contentious issues in funding negotiations, both for 2019 and 2020. In the original 2019 funding bill, ICE was given $847 million less than requested.
In March, news broke that ICE was holding an estimated 50,000 immigrants every night in prisons and jails across the country. You helped us take action by urging your legislators to sign on to a letter led by three members of Congress calling on their colleagues to hold ICE accountable and limit their unchecked ability to lock up more immigrants in deadly and abusive detention centers.
The letter read: "We cannot support the appropriation of funds that would expand this administration's unnecessarily cruel immigration enforcement policies, its inhumane immigrant detention systems, or its efforts to build the president's vanity project." 
We also joined with faith leaders and immigrants for a rally on Capitol Hill, calling on Congress to "defund hate, invest in love."
As a result, 19 senators and 64 representatives signed on.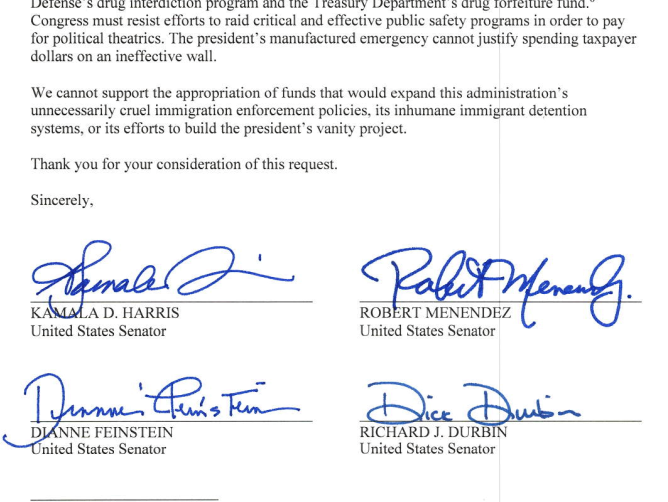 In June, the Trump administration requested an additional $4.5 billion of supplemental funding for immigration enforcement at the border. At the same time, organizations from across the country came to Washington, D.C. to strategize for the future of the Defund Hate campaign and lobby their members of Congress.
The day before the Senate vote on the supplemental funding measure, more than 100 of us filled the rotunda of the Russell Senate building, carrying pictures of those who had died in detention and occupying the space to demand that Congress Defund Hate. 
Thousands more sent solidarity from afar by emailing and calling members of Congress.
Consequently, legislators removed funds for additional ICE detention and included some important oversight measures–like protections for kids in ICE and CBP custody– in the first House version of the bill. 
Unfortunately, the Senate version of the bill, which did not include these oversight measures, was the one that eventually passed. An additional $4.59 billion was sent to the border, including $209 million for ICE and over $1 billion for CBP.
While the passage of this supplemental funding was a setback, the campaign was gaining momentum. Because of our persistence, legislators better understood that ICE and CBP will never be humanitarian agencies. There was also no extra money specifically for ICE detention in the border funding bill.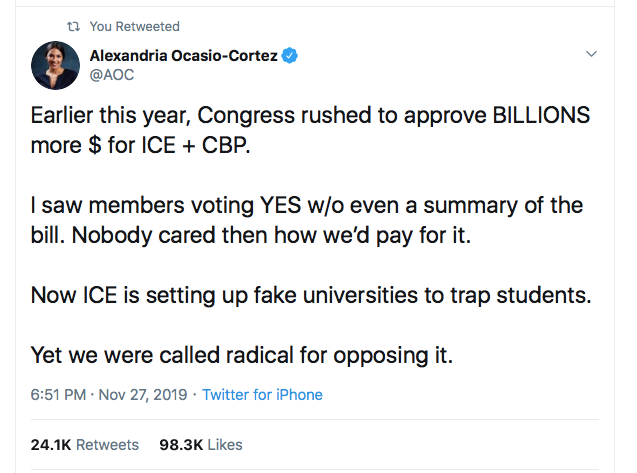 In September, as members of Congress returned to Washington, communities across the country staged rallies and protests as part of the Defund Hate week of action. At the same time, more than 200 human and civil rights organizations sent a letter to Congress asking them to cut funding for ICE and CBP. 
In October, when Congress decided to pass a "continuing resolution" to extend funding for the government, you helped us take action by sending over 6,000 emails to legislators over the course of just a month! From California to West Virginia, senators and representatives heard from AFSC supporters about why they shouldn't approve extra money for immigration enforcement in a funding extension. As a result, ICE and CBP received no funding increase in the continuing resolution.
In early December, Congress finally passed bills to fund the government in 2020. There were no increases in funding for ICE detention! 
However, both ICE and CBP got overall funding increases, and there were also no restrictions on their ability to transfer money from other agencies. This means that the Department of Homeland Security can still take money from things like disaster relief and move it to immigration enforcement. 
The good news is that several major caucuses, including the Congressional Progressive Congress and the Congressional Hispanic Caucus, have gone on record supporting Defund Hate priorities. And the Defund Hate coalition has grown to almost 40 member organizations. But we still have a lot of work to do. 
You can continue to help us take action to Defund Hate by: 
learning more about how the funding process works by watching our Appropriations 101 webinar.
contact your legislators to remind Congress that we demand significant cuts to the budgets of ICE and CBP and restrictions on the agencies' ability to transfer and reprogram funds into immigration enforcement.
Thank you for all that you have done to help Defund Hate in 2019, and we look forward to continuing to work together in the new year!