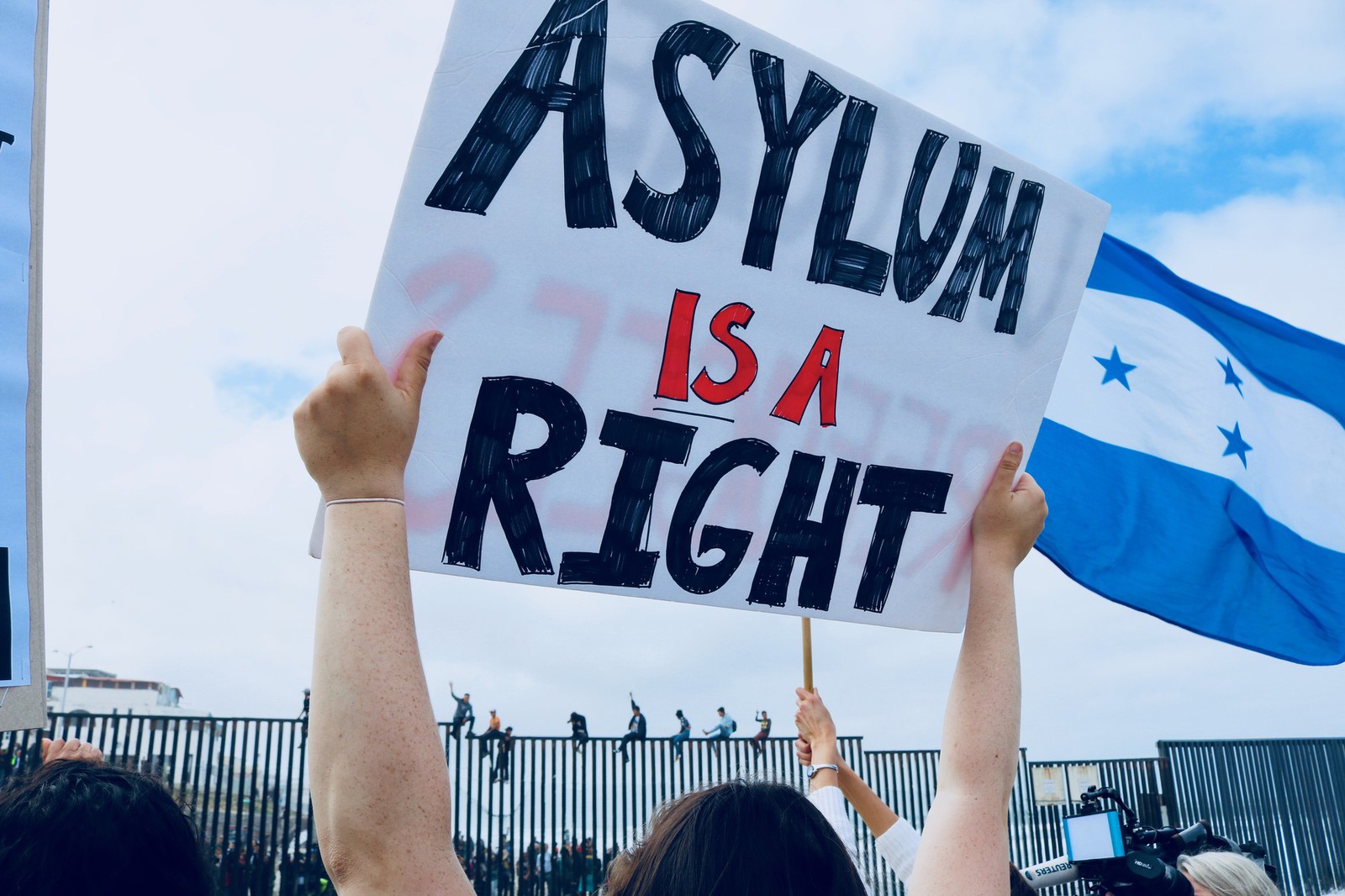 Update as of Jan. 25, 2021: Soon after taking office, President Joe Biden issued an executive order ending the "Remain in Mexico policy" and other harmful immigration policies enacted by the Trump administration.
Learn more: "Biden's changes to the immigration system explained."
People fleeing violence or danger in their home countries should be welcomed with compassion–not confronted by overwhelming obstacles to seeking asylum. But the Trump administration has repeatedly imposed new restrictions on asylum seekers, making it even harder for people to claim protection in the United States. Now the administration is exploiting the pandemic to impose a categorical ban on people seeking asylum, further endangering the lives of migrants—including children.
The administration has made these changes through the "self-referral authority" of the U.S. attorney general. Unlike other courts in the U.S., immigration courts are controlled by the Justice Department. As the head of the Justice Department, the attorney general has exercised a previously little-used authority to reopen and refer immigration cases to himself for a new decision, essentially rewriting long-standing legal precedent in the process. Other changes have been made through executive orders and other administrative pathways including public rules and agency memorandums, bypassing Congress.
Here are some of the ways the administration has continued to dismantle the asylum system – and how these restrictions hurt migrants and communities in the U.S.
Barring people who entered the U.S. between ports of entry
In November 2018, Trump announced an "asylum ban" that barred immigrants who enter the country between border checkpoints from claiming asylum – flagrantly disregarding U.S. and international law.
Initially, separate court rulings allowed the asylum ban to move forward at the border states of New Mexico and Texas. But in September 2019, a federal court reinstated a nationwide block on the ban along the entire stretch of the southern border including California and Arizona.
Dismantling critical benefits for current and potential asylum seekers.
Work restrictions: The administration has finalized a rule to restrict work permits for asylum seekers. Asylum seekers would have to wait to apply for work permits for one year from the date they filed asylum applications with USCIS instead of the usual 150 days. The rule also limits the employment authorization validity period to a maximum of two years and automatically terminates employment authorization when an applicant's asylum denial is administratively final.
Delays of employment authorization for asylum applicants: DHS has also eliminated the 30-day processing deadline for USCIS to approve employment authorization for asylum seekers, which will make it harder for asylum applicants to support themselves and their families while waiting for a decision on their case.
Outsourcing asylum obligations to countries that can't meet them
"Remain in Mexico" policy: In January 2019, the Trump administration began implementing a policy that forces Central Americans seeking asylum to return to Mexico –for an indefinite amount of time–while their claims are processed.
This "remain in Mexico" policy is a clear violation of both U.S. and international law, putting asylum seekers in further danger. Unfortunately, the Supreme Court has allowed the implementation of this policy to continue while the policy is being challenged in the courts. So far, more than 50,000 asylum seekers have been sent to Mexico to wait, where almost none have access to legal help with their claims.
Since the start of the COVID-19 pandemic, the U.S. government has indefinitely postponed all immigration court hearings, effectively stranding asylum seekers in Mexico. To make matters worse, asylum seekers are still required to go to their port of entry on the day of their previously scheduled court date to receive a new notice to appear—or face a deportation order for not showing up.
The Supreme Court will review the decision by a lower court to allow the implementation of this harmful policy.
"Safe third country" agreements: Under the Trump administration, the Department of Homeland Security has pressured governments of countries in Central America into signing agreements to stop migrants from traveling north to the U.S.- Mexico border. Agreements with Honduras, Guatemala, and El Salvador require migrants intending to seek asylum in the U.S. to seek asylum in those countries first, adopting a core element of a safe third country agreement. In cases where the asylum seeker is already on U.S. soil, they will be deported to one of the three countries–but not their country of origin.
Due to COVID-19, the administration has suspended its implementation of the "safe" third country agreement with Guatemala, in which Salvadoran and Honduran asylum-seekers were deported directly to Guatemala to apply for protection there. Agency guidance clarifies that it is a suspension, not a termination, of the agreements and that deportations will resume as soon as "sanitary protocols are established." This temporary halt on the "safe" third country agreement with Guatemala came after reports revealed that the U.S. deported dozens of infected migrants to Guatemala.
Learn more about the dangers of these "safe third country agreements"
Restricting who is eligible for asylum
Under U.S. law, an asylum seeker must prove a well-founded fear of persecution in their country of origin based on religion, race, nationality, political opinion, or membership in a "particular social group." The Trump administration has changed how these eligibility requirements are defined, drastically reducing the number of people who are eligible for asylum.
The administration has made these changes through the "self-referral authority" of the U.S. attorney general. Unlike other courts in the U.S., immigration courts are controlled by the Justice Department. As the head of the Justice Department, the attorney general has exercised a previously little-used authority to reopen and refer immigration cases to himself for a new decision, essentially rewriting long-standing legal precedent in the process.
Trump's changes in eligibility requirements potentially affect groups including:
Family members: Under a July 2019 decision, being persecuted based on threats against a family member is no longer likely to qualify someone for asylum – dealing more roadblocks to families seeking safety in the United States. The policy essentially says that being a member of family does not count as being part of a "particular social group."
Victims of domestic or gang violence: In June 2018, then-Attorney General Jeff Sessions announced that most people fleeing domestic violence or gang violence would not qualify for asylum in the United States – a decision that affects thousands of people who have escaped horrific situations in their home countries.
Individuals charged with misdemeanor offenses: In October 2020, the administration finalized a rule that changes the way immigration officials determine whether a person's interaction with the criminal legal system affects their application for asylum. The rule would impose sweeping and harsh bars to asylum based on allegation and/or conviction of minor criminal conduct without room for due process.
Slowing the processing of asylum claims
IIn early 2018, U.S. Citizenship and Immigration Services (USCIS) announced it would process recent affirmative applications for asylum before older ones. This "last in, first out" policy will add years to the time that asylum seekers who applied prior to 2018 have to wait for their interviews.
The administration has closed at least 16 of the 21 international immigration offices announced to be closed, a move that will further increase the backlog in applications to USCIS.
In July 2019, USCIS leadership encouraged USCIS employees to assist ICE in immigration enforcement instead of processing visa applications, which could further slow asylum processing.
Instead of trained asylum officers, Border Patrol agents are now overseeing screenings that determine whether asylum seekers can proceed with their application. This has led to a steep decline in the rate of asylum seekers that pass their first screening interviews.
Denying or restricting asylum seekers access to attorneys
The administration is piloting a program called the Prompt Asylum Claim Review (PACR), which will hasten the removal of asylum seekers by making it harder for them to meet with a lawyer and fast tracking the deportation process to 10 days.
Previously, asylum seekers who crossed into the U.S. were transferred to (Immigration and Customs Enforcement (ICE) detention centers, where ICE must provide access to a telephone and an opportunity to meet with an attorney to prepare for an asylum screening and review by an immigration judge.
Under PACR, asylum seekers are kept in Customs and Border Protection (CBP) facilities, rather than transferred to ICE. They have 24 hours to call a family member or an attorney before being interviewed by an asylum officer. More than 1,000 asylum seekers have already been affected by this program, which denies them their rights to due process and legal counsel.
Expedited removal: While the litigation continues, The Trump administration can enforce "expedited removal" or immediate deportation proceedings for any non-citizen who has not been admitted/paroled at a port of entry, found anywhere in the U.S. and has been in the country for less than two years. This policy strips undocumented immigrants, especially asylum seekers of their access to legal representation to pursue an immigration pathway.
Indefinite detention for asylum seekers: The attorney general has stripped immigration judges of the authority used to decide which asylum seekers can be released from detention while they await the outcome of their asylum case. This means many asylum seekers will be indefinitely detained, without the support of their loved ones or adequate access to legal counsel as they continue to fight for their asylum cases. With the ending of the family case management program which was an alternative to detention which allowed individuals to seek out immigration benefits with the support of qualified case managers, asylum seekers continue to face indefinite detention while seeking protection.
Restrictions on asylum due to COVID-19
The administration is exploiting the pandemic to impose a categorical ban on people seeking asylum, further endangering the lives of migrants—including children. New travel restrictions based on an order issued by the Center for Disease Control allows the U.S. government to turn back asylum seekers including accompanied children, at the border. This travel restriction violates both U.S. and international law. The CDC issued this rule without regard for treaties ratified by the U.S. which state that even in times of emergency like the COVID-19 pandemic, the U.S. is obligated to protect refugees and asylum seekers. The swift expulsion of asylum seekers restricts their access to legal protections designed to ensure they are not returned to threats of persecution.
Proposed asylum changes
Changes to asylum application processes: The administration is proposing a categorical rule that will alter the dismantle the asylum system as we know it. The rule will make credible fear interviews much harder to pass, deny applicants asylum without a hearing and penalize applicant for "frivolous" claims. USCIS now limits the instances in which individuals can respond to questions about their applications or provide addition al evidence to support their cases.
Additional barriers for eligibility: Other proposed changes include severely limiting the determination of what counts as a "particular social group", narrowing the definition of "political opinion" and "persecution". Another proposed rule includes adding public health related concerns to the grounds on which someone could be denied asylum.
Restricting Unaccompanied Children's access to asylum: In a major shift from current policy that has no deadline for such applications, the department is considering a proposal that would implement a two-month deadline for unaccompanied children to file for asylum.
Asylum policy changes temporarily halted by the courts:
New and increased fees: For the first time, USCIS is planning to charge a fee for people seeking asylum. If implemented, asylum seekers would face multiple fees, including a new processing fee of $50—as well as $500 in non-waivable fees and a further payment of $450 for an initial work authorization. A court recent court order has temporarily stopped this fee increase from going into effect.
Anti-asylum policies that have been struck down
The good news is that several of the administration's attempts to undermine asylum have successfully been challenged and stopped in the courts, including:
Trump's "zero tolerance" policy, which prosecuted all adult immigrants who entered the U.S. between ports of entry and separated thousands of children from their families at the border, spurring nationwide protests.
Stripping asylum seekers of their right to an immigration court custody hearing, which determines whether they can be released from detention on bond – another way of holding them in detention indefinitely.
Arbitrary detention of asylum seekers even after they pass a "credible fear" interview and are awaiting a hearing on their asylum claim. A federal court ordered that each case should be reviewed for conditional release eligibility.
The transit asylum ban prevents migrants from applying for asylum if they traveled through another country before reaching the U.S. if they didn't apply in the previous country. A federal judge has blocked the ban completely citing that the administration failed to comply with the Administrative Procedure Act. The government is expected to appeal the court's decision.
How we can resist Trump's anti-immigrant agenda
The Trump administration has made every effort to dismantle the U.S. asylum system. Instead of endangering our communities with illegal and inhumane policies, U.S. authorities should concentrate their resources on quickly processing asylum requests and safeguarding human rights.
Here are some steps you can take to resist: