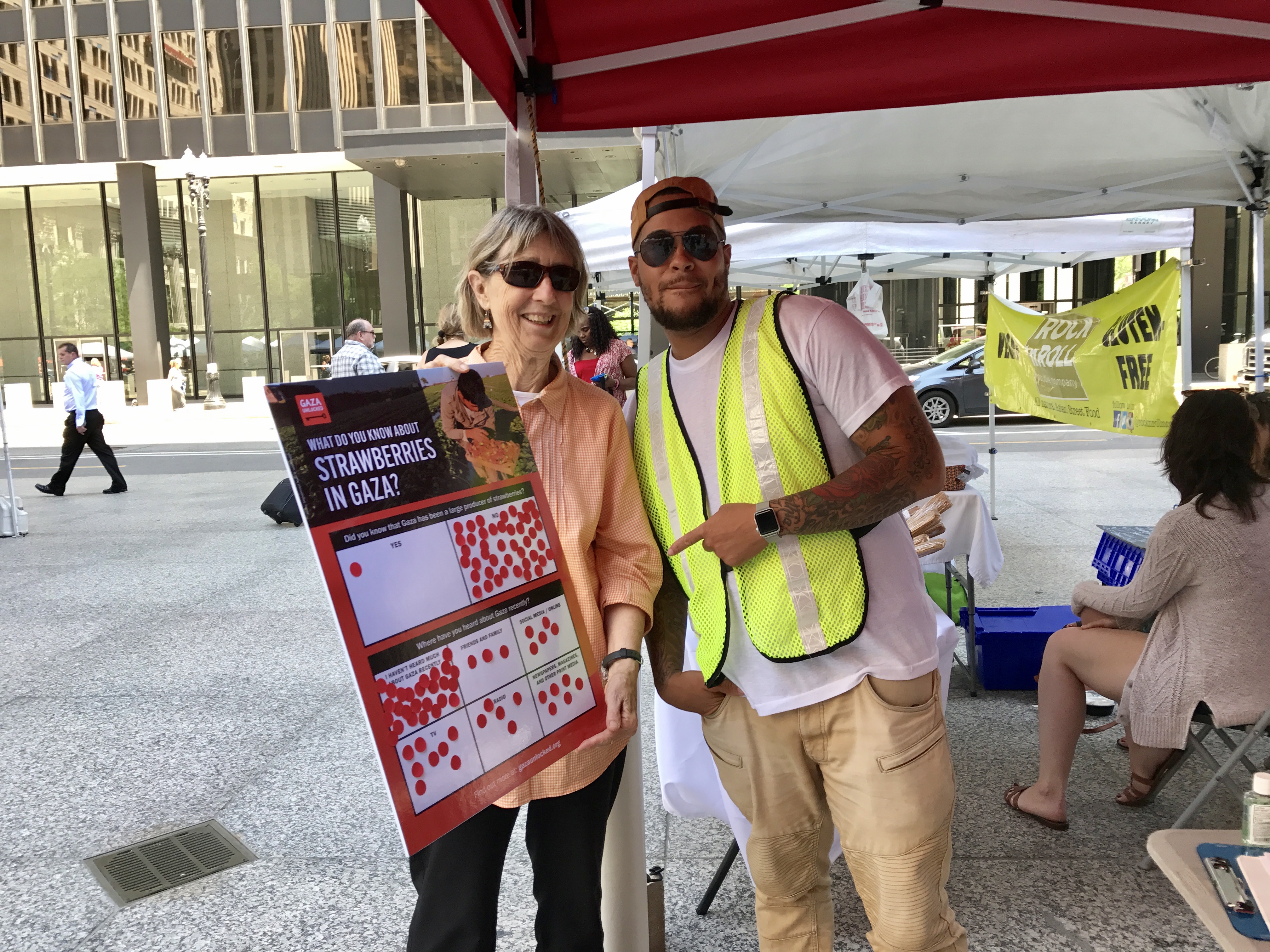 When the media covers Gaza – which is rare – it tends to focus on violence and politics rather than people. Recent polls show that for the first time, young people in the United States are showing growing sympathy for Palestinians, but very few people really know about the blockade in Gaza or the toll it is taking on the people there.
By raising awareness of the situation, AFSC believes that we can build popular support to end the blockade in Gaza. So we created a toolkit supporters can use to conduct surveys at farmer's markets and learn what people already know and think about Gaza (did you know Gaza has been a large producer of strawberries?). More importantly, the survey offers an opportunity to start conversations and raise awareness of the humanitarian crisis in Gaza.
To participate, download and print out either a poster or paper questionnaires from our toolkit. Then, go to your farmer's market and start conversations with people about what they know about Gaza. Record their answers on paper or have them use stickers on the poster. You can also print a handout to share that includes the link to Gaza Unlocked, where people can learn about the blockade through the stories of Palestinians living in Gaza.
Jennifer Bing, director of AFSC's Middle East program in Chicago, recently used the toolkit to visit her farmer's market, and we asked her to share reflections about her experience.
Media Uncovered: How did the summer action go at your farmer's market?
Jennifer Bing: My colleague Joyce and I went out to the market around noon and spent about an hour there. We probably talked to about 45 people. That sounds like a lot, but it was actually very easy to start conversations with people. They were interested when they saw the interactive poster we had – I think people enjoyed putting the stickers on and seeing other people's responses. It was a beautiful day. After the market, I shared photos I took with the poster using the hashtag #gazaunlocked.
MU: Were people receptive to you?
JB: I think so! We tried to be friendly and open, and we approached people who were eating lunch or appeared curious about our poster. We also had good chats with vendors who were waiting for customers. People who were on their phones were harder to approach. What really worked is when we got into discussions with small groups of people; I think that was less intimidating. It also helped that the survey is only a couple questions long and doesn't take much time.
MU: What did you learn from doing the activity?
JB: Because I have worked on these issues for a long time, it can be tempting to believe that everybody knows the basics or is keeping up with the news from Gaza. But at the farmer's market, we talked to a lot of people who hadn't heard about Gaza recently – about 26 of the 45 people we spoke to. Almost nobody knew that Gaza was a big producer of strawberries and that the blockade had affected the strawberry industry so starkly. Although many people weren't aware of the extent of the situation in Gaza, almost everybody was interested in learning more. That is good to know.
Only one person seemed a little unreceptive and hostile. He said he thought there would never be peace in Gaza. But he seemed to listen when I said that negotiated peace can lead to people living side by side, and brought up the example of Northern Ireland where Catholics and Protestants had hated each other for years, seemingly intractably. I don't know if we changed his mind, but we gave him a new perspective to consider. By the end of the conversation, he wished us well – I am encouraged.

MU: What will AFSC learn from these surveys?
JB: Although the survey is very short, it is telling us a lot about how little Gaza is on most people's radars. This will help us develop materials that can inform our audiences without assuming that people are already experts. Most importantly, the discussions we and others hold at farmer's markets this summer are helping spread awareness of the situation in Gaza and reminding people of the impact of the blockade on people there. Going out to my farmer's market also showed me that even people who haven't heard much at all about Gaza are interested and concerned when they learn more.
MU: Do you have any advice for people who are thinking about doing the summer activity?
JB: Go with a friend, and try to have fun. And don't be afraid! Once you start having conversations, you will overcome any anxiety you have. And please share your experience with us! You can post pictures on social media, tag us @afsc_org, and use the hashtag #gazaunlocked. Thank you for helping us spread awareness.