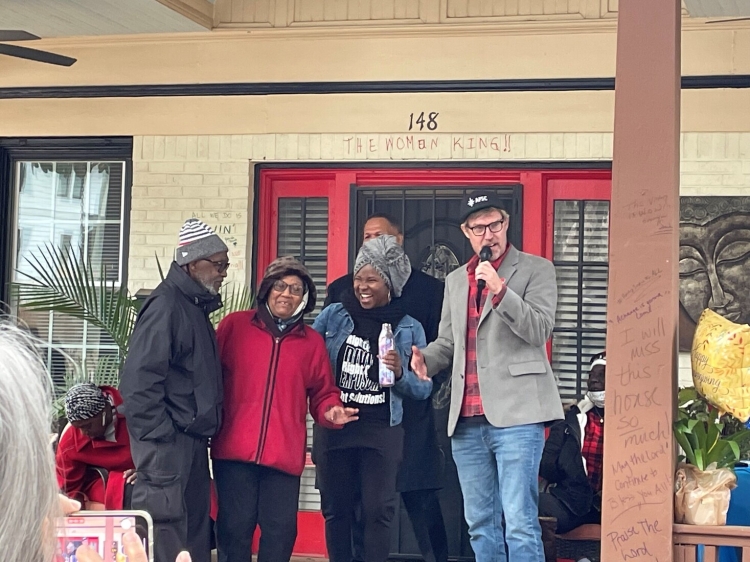 I first met the legendary Ms. Mattie Jackson in the summer of 2015. Ms. Jackson, then 93, was a longtime resident, a torch bearer in the 1996 Olympics, and a community organizer in Peoplestown—a historically Black community in southeast Atlanta.
Under the administration of then-Mayor Kasim Reed, the city planned to seize Ms. Jackson's home and 26 others on her block through eminent domain—the power of government to take private property for public use. The administration claimed it needed the properties to mitigate flooding in the area—by building a state-of-the-art Japanese-style park with waterfall, a gazebo, and ponds.
From the start, many Peoplestown residents knew the city was up to no good. Ms. Jackson, Robert and Bertha Darden, and Tanya Washington Hicks worked together to organize a coalition of community members and organizations—including AFSC—to keep residents in their homes and in their community.
We knew that the city was using its power of eminent domain illegally. Most of the homes on the block had never been flooded. And the city's plan for the park contained no real engineering—there was no proof that this "solution" was necessary or that it would significantly address flooding in the area.
We also knew that government had long used eminent domain to displace Black and Brown communities and facilitate gentrification across the U.S. In Atlanta, one need not look further than the historic Black community of the Old Fourth Ward, birthplace of the Rev. Dr. Martin Luther King Jr., where gentrification has pushed out thousands of Black residents.
When our Peoplestown coalition started, no one could have imagined that the struggle would last for nearly a decade. Or that our efforts would garner national media attention, impact Atlanta's political landscape, and reshape public opinion on eminent domain and other racist housing policies. But this year, we finally celebrated a bittersweet victory after a long fight.
Here's how we made that happen.
Grassroots organizing
Tanya hosted our coalition's first organizing meetings, where we discussed the rapidly changing situation and strategized on how to defend these homes and the homeowners. As the city's tactics became more aggressive, many neighbors decided to sell to the city. Some were ready to leave, others didn't want to fight. Over the next year, the city demolished around two dozen homes.
Our coalition did everything we could to draw attention to what the city was doing—and build public support for our resistance. We showed up at city council meetings, held rallies and marches, and engaged the media.
During one sit-in at Mayor Reed's office in 2015, he came out to address a room full of community members. With multiple news cameras watching, he announced that Ms. Jackson's home was safe and that she could go on living there. But when Robert and Bertha Darden—a Peoplestown resident and city worker for 30 years—and other residents asked, "What about our houses?," Mayor Reed turned his back and walked away. Although Ms. Jackson no longer had to fear eviction, we know we (and she) could not stop fighting until everyone's home was saved.
Because they refused to sell their homes to the city, Tanya, the Dardens, and two other families were sued by the city. The legal title to their homes was taken by eminent domain. Their names on the deeds were replaced with "City of Atlanta." They were served with papers that required them to vacate their own premises. But they would not move.
Instead, the families hired a lawyer and an engineering firm, which proved that the city's plan was not necessary to address flooding in the area. In fact, the city's own engineer overseeing the project testified in court that the city did not need to take 20-plus homes and displace as many families to help with flooding. She was fired shortly after the disclosure.
For years, the Peoplestown families who remained on the targeted block continued to live in limbo. Ms. Jackson would not live to see the conclusion of the fight. She passed away in 2020 at aged 98, but she took her last breath in the home she died defending. Her family would keep up the fight in her name.
Taking center stage
A breakthrough moment for the Peoplestown campaign came in 2021. That's when our nearly decade-old fight became a major flashpoint in the highly competitive mayor's race, which included former mayor Kasim Reed—whose administration had initiated the displacement of Peoplestown families.
During one mayoral forum, Bertha stepped up to the microphone to address the former mayor. She insisted on being heard even though the moderator hadn't planned to take her question. Bertha reminded Kasim Reed how, as mayor, he had told the Dardens and their neighbors they would not be displaced by the city's plans. She reminded him how his administration broke its promise and tried to force them out.
"I want to know why you trying to get back in office again? To lie some more?" Bertha asked, loud and clear. "It's not right." Video of Bertha's powerful testimony quickly went viral, generating public backlash just days before the election.
Two days later, another candidate, Andre Dickens, joined Peoplestown residents at a rally on their block. He stood alongside the Dardens and Tanya. With TV cameras rolling, he declared that if he were elected mayor, he would do everything he could to keep them in their homes.
Candidate Dickens became Mayor Dickens. Political observers—including The Atlanta Journal Constitution—cited Bertha's testimony as a turning point in the mayor's race. Up until then, Kasim Reed was presumed the front runner.
A bittersweet victory
After taking office, Mayor Dickens worked for nearly a year to negotiate with residents in a way that previous mayors had not—with dignity and with the acknowledgment of the grievous harm the city had committed.
But ultimately, in the fall of this year, the families reached a settlement with the city. Their decision was made amid the city's insistence on taking the remaining homes on the block despite of the lack of engineering data, in light of mounting legal and engineering fees, and on the advice of counsel. Tanya, the Dardens, and Ms. Jackson's family would leave their homes. And the city would pay a settlement that would cover their legal and engineering expenses, allow them to afford new homes, and position them to make generous donations to the local housing justice organizations that stood with and for them.
The victory was bittersweet. "I am disappointed that my family and I have to move out of our 101-year-old home," Tanya said. "But as a community, we have scored a collective victory because Mayor Dickens and the Atlanta City Council ultimately responded to a shared expectation of accountability."
For 10 years, these Peoplestown residents fought for their homes from their homes. People from across Atlanta and organizations like AFSC, the Housing Justice League, Georgia StandUp, and EcoAction stood with them.
Our collective efforts made a difference. We got accountability. We made developers and public officials rethink the use of eminent domain to displace communities of color. And residents got a settlement that would mitigate some of the harm of displacement.
In November, residents hosted their last block party in Peoplestown. They invited the entire community and all who had been part of their efforts. There was food, music, dancing, and a bouncy house for kids. A local radio host broadcasted live from the event. And community members were invited to write farewell messages on the walls of Tanya's home.
The celebration felt like the right way to conclude the saga of the past 10 years and to thank the people and organizations that stood with these courageous families.
Says Tanya, "We hope our fight will inspire other communities to stand up for themselves and inspire responsible exercise of authority by those in power."