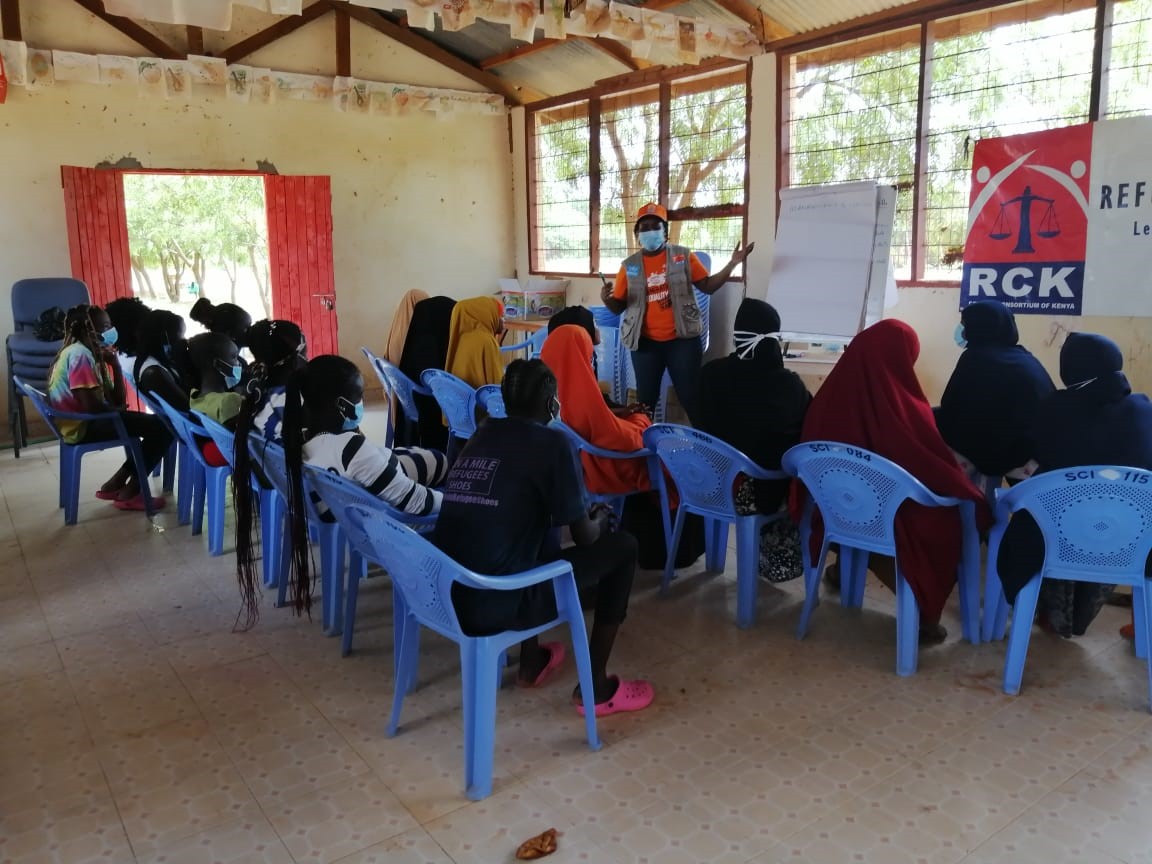 Since 2013, AFSC has worked in Dadaab refugee camps in Kenya, a sprawling complex that is now home to hundreds of thousands of refugees and asylum seekers from Somalia, South Sudan, and the Democratic Republic of Congo (DRC). Many have fled civil war, drought, famine, and extreme poverty. Others have never known life outside of the camps, being part of a second or even third generation in their family to live in these settlements, the first of which was constructed in the early '90s.
Many community members in Dadaab are hurting. The trauma they have faced before arriving or while living in the camps impacts their everyday lives.
As the country representative in Somalia, I am grateful for AFSC supporters like you who have made it possible for us to provide critical services to community members over the past eight years. With your help, AFSC has provided training and ongoing support for community-based counselors; hosted community forums on trauma management and peacebuilding; facilitated dialogues among youth, religious leaders, and community elders; and helped young people build skills to help themselves and others heal and work through conflicts peacefully.
Amina* is one of nearly 2,300 refugees and asylum seekers who have received counseling services in Dadaab with support from AFSC. For years, Amina has struggled with having witnessed a militia member abduct her brother, who was later tortured and killed. She has had recurring nightmares and flashbacks, experienced intense sadness, and found it hard to trust anyone and form friendships.
Amina received counseling from AFSC partner Refugee Consortium of Kenya (RCK), which helped her understand and address her grief and trauma, develop coping skills, and begin to establish bonds with others in her community. These days, she has fewer nightmares and flashbacks and can sleep well most nights.
"I appreciate the support you offered me," Amina told us. "Nobody had helped me talk about this incident before. I feel so relieved."
Like Amina, many other community members in Dadaab are dealing with the trauma of war and other conflicts, including those fueled by clannism. Others have experienced physical violence, sexual abuse, and child labor. Everyday life is extremely difficult for many in Dadaab. There are limited opportunities for education, employment, or generating enough income to support themselves and their families. And ongoing threats by the Kenya government to shut down the camps further contribute to uncertainty and anxiety.
The pandemic has exacerbated many of these challenges. Curfews, lockdowns, and restrictions on movement and gatherings have decreased earnings for many, disrupted schooling, isolated individuals, and limited access to social services in the camps. We have also seen a rise in reports of intimate partner violence, drug use, and suicide attempts, especially among young people.
Our counselors have adapted, shifting from in-person sessions to telephone calls—allowing us to reach 373 women and 104 men over the past year. With your support, we will strive to ensure more community members in Dadaab have access to these vital services so they can begin to heal from trauma, strengthening their ability to address challenges in their daily lives and work with others to build peace in their communities.
*Amina is a pseudonym.