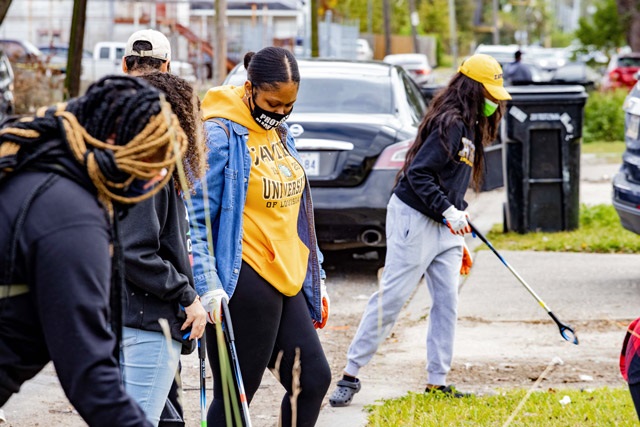 Last month, we asked the AFSC community to support residents of New Orleans in making a full recovery from Hurricane Ida. Thank you to everyone who contributed to our efforts!
On Aug. 29, Hurricane Ida made landfall in Louisiana—16 years to the day that Hurricane Katrina struck the state. Ida brought winds of 150 miles per hour, leaving more than 1 million people without power.
Weeks after the hurricane, many needs were still unmet by government response and relief efforts. Residents were still without power. Many were still working to repair damage to their homes and belongings. Garbage pickup was delayed, leaving piles of debris in neighborhoods where dumping was already a major issue.
With your support, AFSC and partner Hollygrove Neighbors Association, Inc. organized community cleanups and food distribution events.
At our most recent community cleanup, we had 25 volunteers. They included Hollygrove residents, students from neighboring HBCU (historically Black Colleges and Universities) Xavier University, and youth from local community organization Black Man Rising. They collected, bagged, and removed trash from residential properties and vacant lots—including loose debris, roof shingles, and yard waste.
D&T Hauling and Lawn Care removed eight truckloads of trash—including damaged mattresses, furniture, and appliances—weighing thousands of pounds. We Dat Chicken & Shrimp brought its food truck out to the Hollygrove Community Garden and fed volunteers and neighborhood elders who were not able to participate in the cleanup.
Volunteer Felecia Poree, a Hollygrove neighbor, described the community cleanup as "an opportunity to come together in unison to move our area forward."
AFSC's Peace by Piece Program works to realize sustainable and equitable communities rooted in self-determination and community control. Community cleanups like these help promote and support Black sustainability and resilience. They're not only critical after devasting events like Hurricane Ida. These cleanups help us to publicly address the longstanding issue of dumping, which causes environmental harms to our community. They're an opportunity to explore how we can use city resources to remediate blighted or vacant properties. That includes creating community solar, garden programs and other green installations that discourage dumping and are beneficial to the environment.
Our efforts further demonstrate the need for our city to invest in community-driven solutions to promote real community safety—instead of in multimillion dollar surveillance programs that fail to prevent activities like dumping.
In the coming weeks, we have more cleanups and community food shares planned. Thank you for making it possible for Peace by Piece to respond in emergencies—and stand with communities in working for a future where all people can thrive!