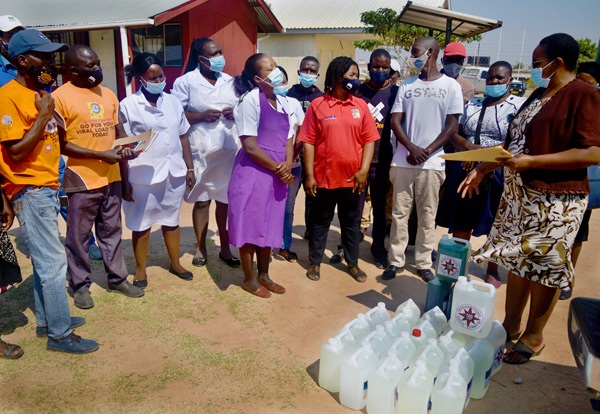 When the first COVID-19 cases appeared in Zimbabwe this spring, AFSC and local partners mobilized to help meet the immediate needs of the communities in which we work. Our response included purchasing and delivering personal protective equipment to frontline health care workers; providing hospitals with thermometers and sanitation supplies; distributing food packages to residents; and supporting communities in educating members about best practices to stem the spread.
Thanks to the generosity of the AFSC community, we're ensuring more people in Zimbabwe have the resources they need to protect themselves and stay healthy in this pandemic. At the end of October, we distributed critical supplies—including infrared thermometers; soap, hand sanitizer, and water gallons with tap; and educational posters—in three areas where we work closely with local partners on peacebuilding projects.
As the country representative for Zimbabwe, I want to thank you for your compassion and support, which has helped us provide much needed resources to:
A primary school in Marondera: AFSC often works in harder-to-reach geographic areas, such as rural and peri-urban communities in Zimbabwe, which are often excluded or overlooked in relief efforts. We delivered hygiene supplies to Furamera Primary School in Marondera rural, which was preparing to reopen to its 650 students. The school is also a longstanding partner of AFSC, providing space to host technical skills trainings and meetings among community groups.
The headmaster of the school expressed gratitude for the donation, noting that hygiene and preventing COVID spread was a major concern for the community. "The PPE you have donated to us came at an opportune time as we try to fight the COVID-19 which has negatively affected all sectors of the economy," he said. "The PPE will help to protect both teachers and learners from COVID-19 infection. The mutual relationship between AFSC and the school must continue to thrive and be nurtured."
Two clinics run by the Sister in Charge in Caledonia and Marondera: Delivery of supplies came at a critical time for these clinics, neither of which had received PPE or hygiene supplies from the government or other entities since the pandemic began. Health staff at the two clinics shared with AFSC that the donation of PPE helped nurses carry out their duties more efficiently, without fear of contracting the virus.
Caledonia is a community of many internally displaced people, or individuals forced to flee their homes in other parts of the country. Caledonia has more than 100,000 residents.
At the Marondera clinic, which serves more than 6,600 people, a staff member told us: "The PPE donations received from AFSC have gone a long way in serving other communities outside this ward since we have managed to share the donation with smaller clinics which do not have access to donations and have also not received any support from the government since the beginning of the pandemic."
The Goromonzi District Development Coordinator's Office: The office is charged with regulating the work of nongovernmental organizations, including AFSC, working within the rural district of Goromonzi. Due to its broad-based functions, the office is open to visits from community leaders and other stakeholders and must take precautions to protect themselves. With your support, AFSC was able to donate liquid soap, disinfectant, infrared thermometers, hand sanitizers, and water gallons with taps to this office, which serves a vital function in serving the community.
Thank you again for standing in solidarity with the people of Zimbabwe in these difficult times. We are grateful for supporters like you who help ensure all people should have the resources they need to thrive—so they can continue to care for and build peace in their communities.