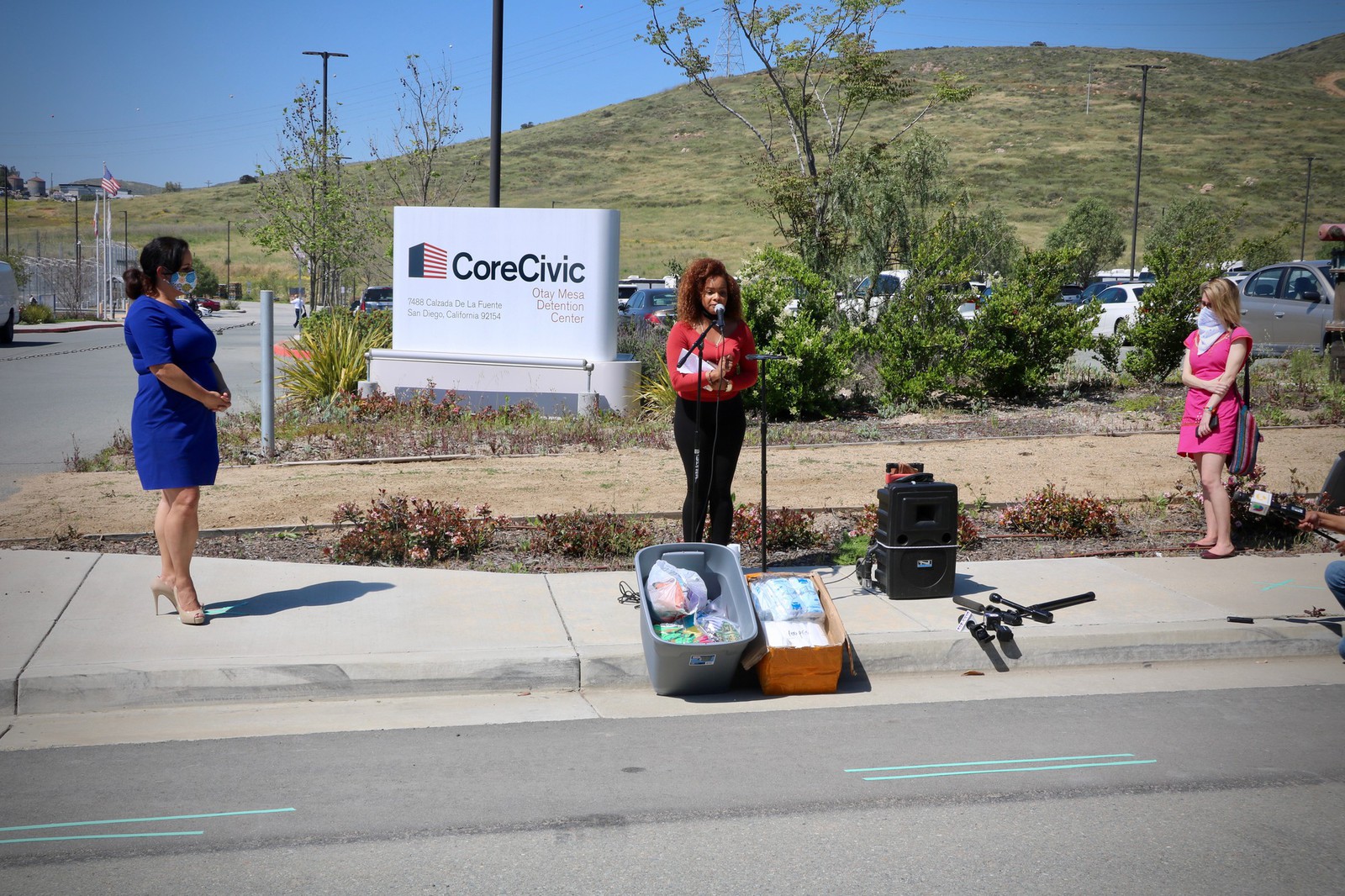 On Mothers' Day, 18-year-old Yesenia and her three younger siblings found themselves in a situation no one would want their children to face. Their mother had tested positive for COVID-19 while imprisoned at Otay Mesa Detention Center in San Diego—a for-profit immigrant detention facility where less than two weeks earlier, another immigrant had died of the virus. 
When a TV reporter asked the family what it was like to be without their mother, they shared how worried they were about their mother's health. And Yesenia—who is a mother herself—is now caring for her siblings and her child as her mother fights her immigration case to stay in the U.S. where she belongs. "I have not been able to work because I have to care for my daughter and my siblings," Yesenia told AFSC.  
For more than 43 years, AFSC's U.S.-Mexico Border Program has supported immigrant communities working to end detention and deportation. While the COVID-19 pandemic has magnified the injustices faced by immigrants and many in our communities, it also reminds us of the importance of caring for each other—and working for policies that respect the human rights and dignity of all people. 
Thanks to AFSC supporters, Yesenia is one of more than 550 people we have assisted as part of the San Diego Immigrant Rights Consortium (SDIRC). In April, our coalition—made up of over 50 local organizations that support migrants and refugees—started the Immigrant Relief Fund to provide grants of up to $500 to migrants in San Diego County unable to obtain any other federal economic relief. Although the federal government has responded to the pandemic with stimulus checks, unemployment benefits, and other assistance, millions of immigrants—including Yesenia's family—have been left out of any relief.
Our Immigrant Relief Fund provides individuals with a modest grant for basic needs, such as food and housing. "It's been really hard not having my mother with me for support," Yesenia says. "This money will help me pay for rent and buy food."
The Immigrant Relief Fund has benefited many who have had their hours reduced, are temporarily not working, or have lost their jobs—individuals who have historically been excluded from SNAP, housing assistance, and other social safety net programs because of their immigration status. AFSC staff was instrumental in directing a $6,000 seed grant from Oxfam to start the fund, which has since grown with contributions from foundations, organizations, and individuals like you. The fund is now administered by AFSC's sister organization, Alliance San Diego.  
In this pandemic, the federal government continues to deny many immigrants the help they need—while continuing to carry out Immigration and Customs Enforcement (ICE) raids that separate families and spending millions of dollars on a border wall that will destroy pristine habitat and force people to migrate through even more dangerous routes to seek refuge in the U.S. As the COVID-19 pandemic surpasses the milestone of 100,000 deaths in the United States, many community members are experiencing tremendous anxiety for loved ones detained for immigration-related reasons in prisons and facilities across the country.
In San Diego, the first COVID-19-related death in ICE custody occurred on May 6, when Carlos Ernesto Escobar Mejia, 57, died after being detained at the Otay Mesa Detention Center, where he was held since January. Despite pleading for medical help for over a week, Carlos was hospitalized only after he was unable to breathe.
Yesenia's mother has described the horrific conditions she now faces at the same detention center. In a letter she shared with AFSC, she shared (in Spanish): "On April 26 when [the guards] informed me that I tested positive for COVID-19, they took me to a room to isolate me and there were 8 other people in the room, which was really small for the 9 of us, and it was filthy, with spiders, and they didn't provide us with any cleaning supplies or gloves. They gave us only one bar of soap out of pity for us." Yesenia's mother also stated that the medical staff told them to "drink a lot of hot water, with that you will kill the virus."
No one should be locked up behind bars, especially in this pandemic. That's why AFSC is part of the nationwide #FreeThemAll movement advocating for the immediate release of all people from prisons, jails, and detention centers. Here in San Diego, we have assisted with direct actions such as car rallies and an attempt to deliver face masks to the Otay Mesa Detention Center, which staff rejected. We have also participated in meetings with congressional members and California state officials, which have led to an investigation by the Office of the Inspector General about the mistreatment of migrants and inadequate care during the COVID-19 pandemic.
In these difficult times, we are grateful that we can provide financial assistance to families like Yesenia's while advocating alongside them for just and humane immigration policies. Thank you for our support as we continue to work together to protect the lives, rights, and dignity of all of our community members.