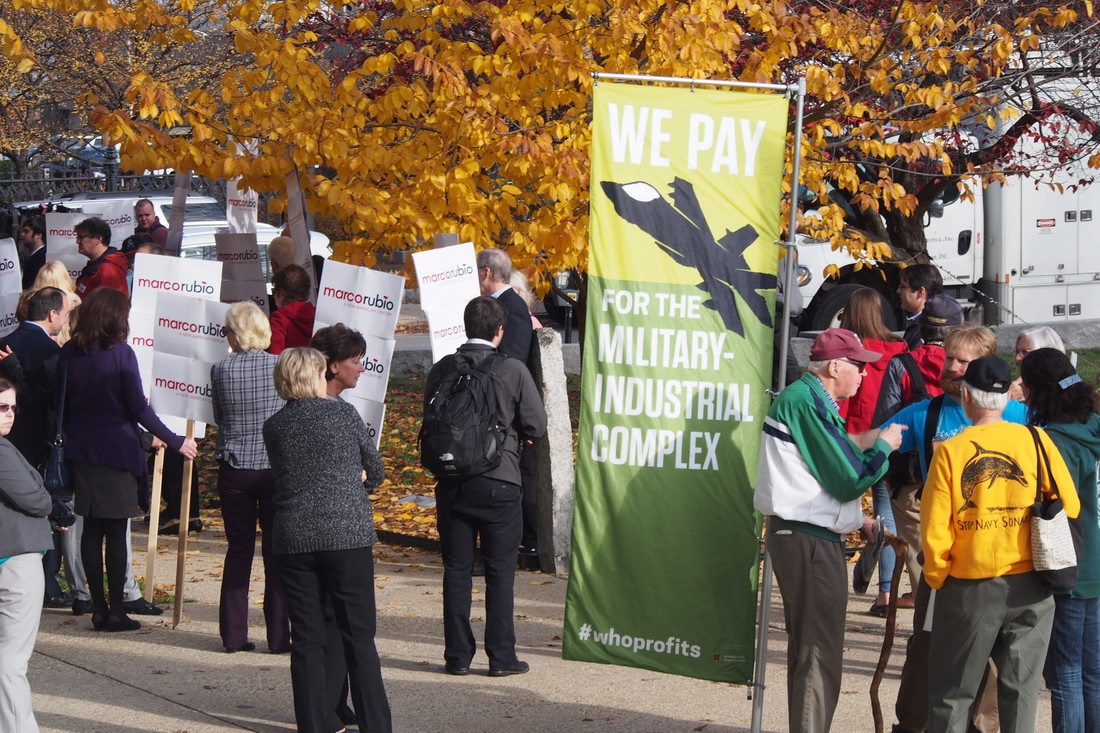 Worried about how much influence private donations have on bad policy decisions this election season? So are we, and so are our friends over at the Governing Under the Influence campaign (aka GUI). They did an awesome job getting presidential candidates to talk about this important issue in the run-up to the Iowa caucus and New Hampshire primary, and we are sad they are winding down now. But before we say goodbye, we wanted to give them a shout-out just to say thanks for all of their hard work.
As a tribute, here are our top 10 favorite media moments from the GUI campaign. Drumroll, please:
10. "Huckabee: I'm prepared to run against Clinton" from The Des Moines Register.
We love this one because it was the first time a major regional daily picked up a candidate dodging a bird-dog question on immigrant detention from a GUI staffer – at least, the first one that we caught with our awesome new visibility-tracking superpowers. Also because Pizza Ranch.
9. "Did the Iowa Ag Summit Screen out Critics?" from The Des Moines Register.
AKA that time intrepid GUI staffer Kevin Rutledge (@krutledge711) got kicked out of a candidate event run by big money interests for, ya'know, sitting quietly while waiting to hear from the presidential hopefuls. Kevin, what were you thinking?
8. "6 Ways to Get Big Money Out of Politics" from The Huffington Post
That time ice cream king and B-Corp mogul Ben Cohen of StampStampede gave GUI a shout out in the HuffPo. Thanks Ben!
7. Scott Walker's Motorcycle Tour from New Hampshire Public Radio
It's not every day that Quakers and motorcycles make it into the same news story. But bird-dogging media maven Olivia Zink (@zink_olivia) made it happen when she pressed then-candidate Scott Walker for an answer on how he would end "governing under the influence" of corporate $$ while he was riding his Harley.
6. "Is the Pentagon's Budget About to be Nuked?" from Defense News
Quakers don't usually show up in stories from outlets with "defense" in the title either. Maybe grassroots go-getter Eric Zulaski's (@peoples_message) rad anti-nuke banners made that one happen?
5. "These Quakers are Asking Tougher Questions than Many in the Press" from The Intercept
That's right, GUI staff are showing journos how it's DONE.
4. That time GUI got on Fox from Fox News
We know that link is broken. If only we'd taken a screen shot! But seriously, GUI was on Fox. It was at that link. For real. We know, #linksoritdidnthappen.
3. Scott Walker just got punked at a New Hampshire pizza shop from The Washington Post
While one of our favorite GUI volunteers, New Hampshire's Elizabeth Ropp, was trying to get answers from Scott Walker on defense contracting, someone was pulling the best. Prank. Ever.
2. "#NPRYouthVote: Will Young Voters Lead or Lag in 2016?" from NPR
AKA that time Hector Salamanca (@HectorASalamanc) - GUI staffer, DREAMer, and all-around baller – got to meet Michele Norris. #sojealous.
1. "Our Man in New Hampshire: Weathering the Elements for Ted Cruz" from The New York Times
Our man in New Hampshire Arnie Alpert (@arniealpert), bird-dogging superhero, was quoted in The New York Times. Enough said.

GUI, we're going to miss you. But you've taught us how to get coverage where it counts. Anyone else have a favorite article about campaign issues that matter? Tell us in the comments.