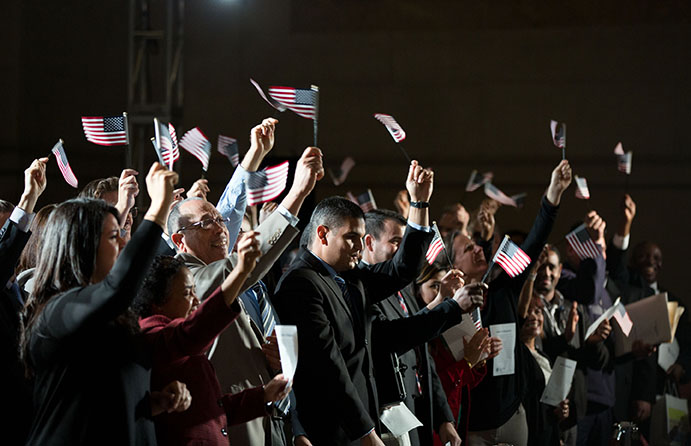 Good news: some sixty percent of registered U.S. voters support a path to citizenship for unauthorized immigrants – a two-year high – according to the September 2016 CBS News/New York Times Poll. Although a majority of voters feel this way, immigrant rights activists and advocacy groups must still contend with widespread negative framing of immigration issues, vitriolic language and misinformation that dehumanize immigrants, and public confusion or ambivalence about the best ways to fix U.S. immigration policies.  Negative frames – like the ones you might read online, or hear in campaign speeches – can shift public opinion away from supporting humane policies.
But research shows that better framing of policy information can play a pivotal role in shaping public opinion on these issues. To help you and your partners engage more effectively with audiences who may be vulnerable to powerful negative frames that dehumanize immigrants, we put together a list of four research-based framing tips to help change the narrative – and grow support for policies that will protect the rights of all members of our communities, regardless of immigration status. The public broadly supports a path to citizenship for unauthorized immigrants and more just and inclusive communities, but they need positive, fact-based frames to help navigate discussions about these sometimes complicated issues.   
Framing Tip #1: Frame immigrants as long-term residents of the United States who strengthen our communities.
Related messages:
No human being is illegal. Regardless of status, immigrants are members of our communities who deserve to be treated humanely. By treating all immigrants with dignity, all of us can share in the richness that immigrants bring to our neighborhoods, cities, and the economy as a whole.
Immigration does not threaten our safety. Higher rates of immigration are associated with lower rates of violent crime. Between 1990 and 2013, as the foreign-born share of the U.S. population nearly doubled to 13.1 percent, the rate of violent crime across the United States declined by 48 percent.
Immigrants contribute to the country through entrepreneurship, involvement in local culture and politics, and through paying taxes. Immigrants have also contributed to the revitalization of American cities and made communities substantially more vibrant. In 2013, undocumented immigrants paid an estimated $11.6 billion in state and local taxes. Despite paying taxes, unauthorized immigrants do not qualify for welfare, food stamps, Medicaid, and most other public benefits. Immigrants contribute more to the country than they receive.
Undocumented immigrants are members of U.S. families. About 16.6 million people in the United States live in mixed-status families with at least one unauthorized immigrant, and a third of U.S. citizen children of immigrants live in mixed-status families.
Framing Tip #2: Frame immigration in terms of creating opportunities for immigrants to become citizens.
Related messages:
Most people in the U.S.  support the idea that undocumented immigrants should be able to apply for and receive legal status and a pathway to citizenship. We can agree that we need a common-sense approach to immigration reform that brings some 11 million people, two-thirds of whom have lived here for more than a decade, out of the shadows.
Getting a legal immigrant visa is not as simple as getting in line. Although people in the U.S. can agree that unauthorized immigrants should have an opportunity to legalize their status, the current system offers no such path. Getting a visa generally depends upon one's family relationships and country of origin. Each country is limited to the same number of visas, a system that advantages small countries without strong ties to the United States, and creates lengthy waiting lists for large countries that send many immigrants to the U.S. If you are already in the United States, regardless of how long you've been here, it can be difficult or impossible to adjust your status.
Aspiring immigrants who qualify to enter the U.S. lawfully can wait on a list for many years before being able to join one's children, parents, or siblings. In 2016, for example, the waiting time for the married child of a U.S. citizen (one of the family visa categories) from Mexico was more than 20 years! For people who dream of living and working in the United States – like many people's ancestors – who do not have close relatives here already, there is almost no way to immigrate legally. Creating more opportunities for legal immigration benefits everybody.
Framing Tip #3: Frame mass deportation in terms of its steep human and economic costs.
Related messages:
Framing tip #4: Always include solutions.
The Frameworks Institute has conducted extensive research on immigration messaging. One takeaway from that research is that during reform debates, the public can struggle to understand how the immigration system works, and people can become fatalistic and pessimistic about improving the system. As immigration activists, advocates, and experts, we can help by advocating for specific solutions and telling our partners what they can do to help.
At American Friends Service Committee, we are working to protect and promote immigrant rights, through direct support for immigrant and refugee communities and through advocacy efforts at the state and federal levels. Our goal is to create a society where everyone's gifts are celebrated, regardless of their immigration status. For example:
We are working to end the immigration detention quota, and we invite you to join us here;
We are calling for an end to immigration raids and mass deportations;
We are calling for a pathway to citizenship for all residents of the United States; and
Finally, we are working to counter negative frames on immigration issues by conducting and synthesizing messaging research, by providing resources for our partners on the most effective ways to discuss these issues, and by introducing more effective, more positive frames that emphasize how pro-immigrant reforms will help all people in the United States.