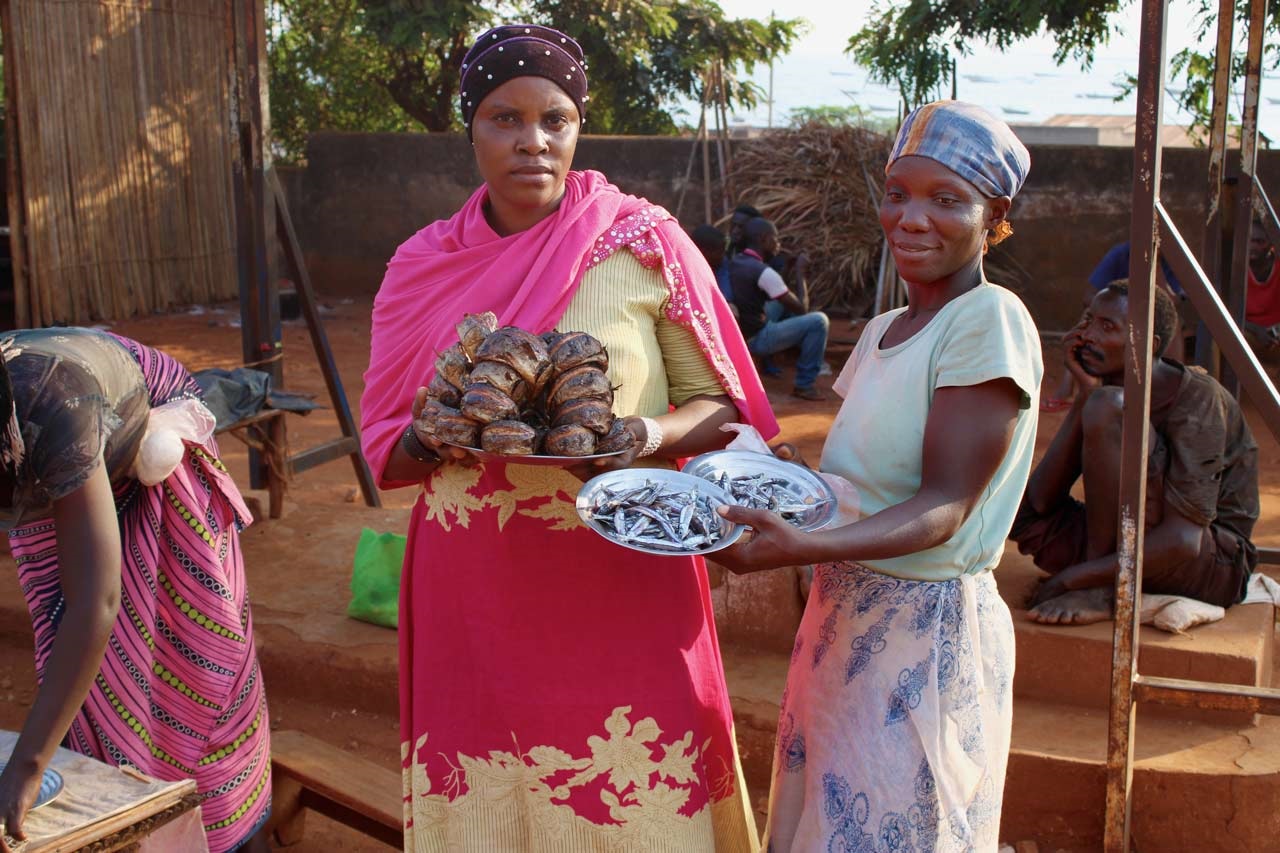 In an open-air market in Burundi, Itangishaka Hafsa holds a platter piled with smoked fish. She is selling mukeke—a local fish that can only be found in the country's Lake Tanganyika.
Itangishaka started her mukeke business while taking part in a peacebuilding project supported by AFSC and Cord and funded by the Belgian government. Over the past two years, the project has helped 1,750 Burundians learn trades, start businesses, and support their families. The project also encouraged community members to work together. That helped foster relationships and built trust within these communities, which had seen an influx of returnees, including women, men, and children. Participants formed community savings and lending groups—called "self-help groups"—to support each other's work as well as the local economy.
Project participants also take part in peacebuilding trainings. They develop skills to prevent and resolve conflicts and work toward healing from trauma. And they come together for dialogue sessions with community leaders to reach solutions to issues they face.
Over decades, generations of people in Burundi have experienced war, violence, and displacement. Many who were forced to leave their homes years ago have since returned to their communities. Today many seek to improve their living conditions and reclaim their human dignity—while contributing to lasting peace in their communities.
Itangishaka and her family were once forced to flee their home because of violence in their neighborhood. When they returned, they found that all their belongings had been stolen. She and her husband struggled to make basic needs. Even providing enough food for their three children was difficult.
That changed in 2019 after Itangishaka joined the self-help group "Vyizigiro" (which means "hope" in the Kirundi language). She received a small loan of 50,000 Burundian Francs (about $25 USD) to start her mukeke business. Soon she was able to pay off that loan and took out a second loan of 100,000 Burundian francs (about $50 USD) to expand.
Today the earnings from her small business allow Itangishaka to cover household expenses and send her children to school. She also plans to buy a refrigerator to store and sell more fish and further grow her business.
Our AFSC team in Burundi is grateful for supporters like you for helping to make change like this possible. With your help, we are working with communities to foster reconciliation and economic resilience after years of war and violence. And we are seeing the difference.
Individuals like Itangishaka now earn enough to support their families. Community members and organizations report an improved climate of trust and tolerance. And young people, women, and many others now see more opportunities for peace and prosperity for all.
Together, they are creating conditions for lasting peace in Burundi—where people trust one another, work as one, and share a common goal of sustainable development for their communities.
Thank you for helping to make this work possible!