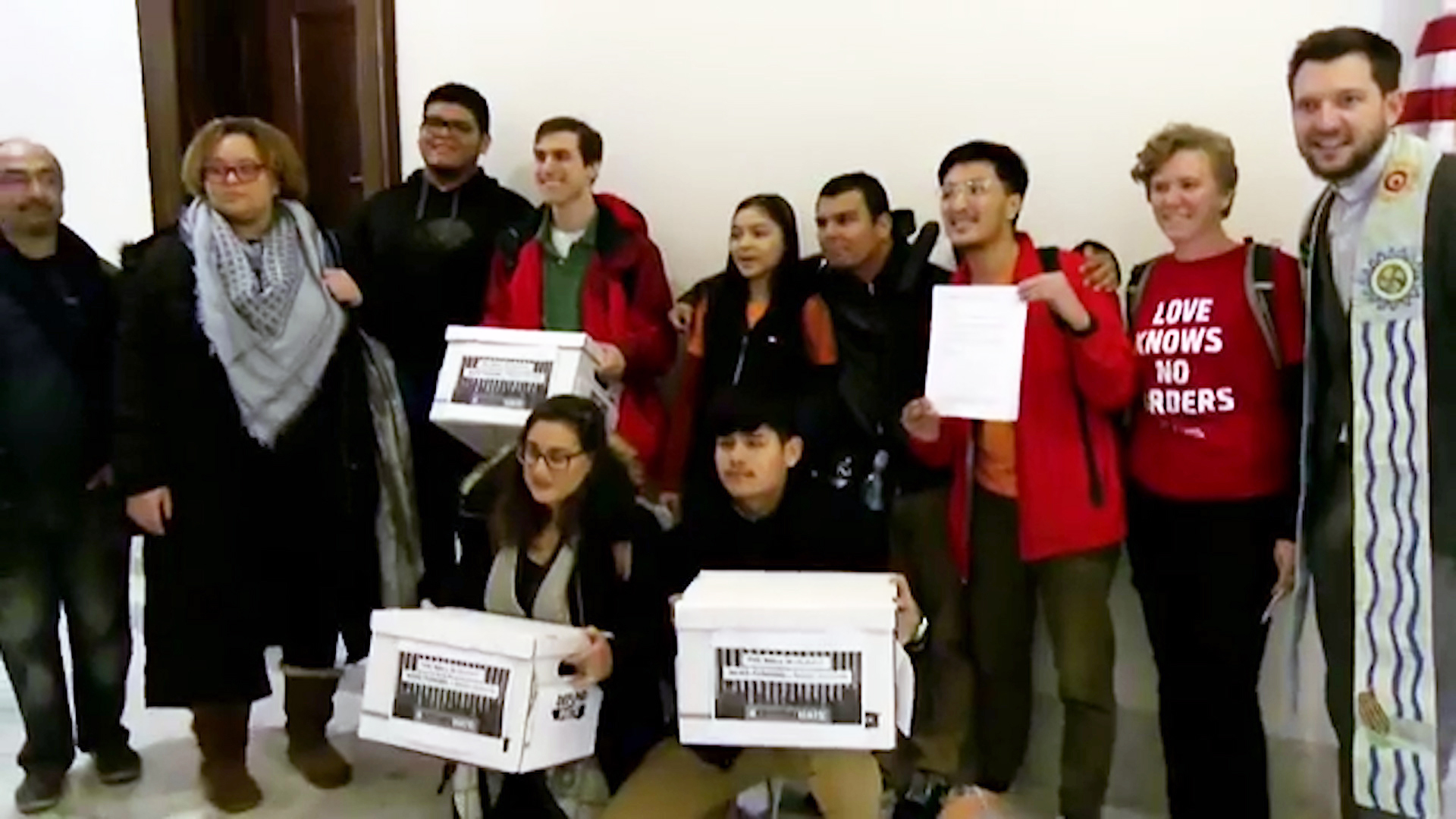 Last week, I joined other immigrant, progressive, faith and civil rights leaders on Capitol Hill to bring the voices of tens of thousands of AFSC supporters and others who signed petitions calling on Congress to reject money for Trump's wall and deadly immigration force. We stood united in our message to re-open the government without funding the wall.
The petition delivery came as the government shutdown entered its 20th day. Senate leadership continued to stand by President Trump's demand to spend billions of taxpayer dollars on an unpopular border wall and the enforcement and detention system that separates families and hurts communities.  
The action built on the momentum of AFSC's "Love Knows no Borders" action in San Diego, where more than 30 faith leaders were arrested at the U.S.-Mexico border. The petition echoes the demands we brought to the border wall: that the U.S. enact policies that respect the human right to migrate and seek asylum, demilitarize our border communities, and defund Customs and Border Protection (CBP) and Immigration and Customs Enforcement (ICE). 
For the petition delivery, I was joined by fellow activists from CREDO, MoveOn, United We Dream, Detention Watch Network, UndocuBlack Network, Southern Border Communities Coalition, among others. We first took the petition to Senator Mitch McConnell's office, where his staff refused to meet with us and instead called the police as we chanted "No Hate. No Fear. Immigrants are welcome here!" We then headed to the offices of Senator Thom Tillis and Senator John Cornyn. Senator Cornyn and Tillis's staff did meet with the group, but refused to take action to end the shutdown and take a stand against increased funding for a militarized border.  
Right now immigrant youth alongside our partners are delivering over 300K petitions demanding Congress to say NO to Trump's wall and his deportation force! #DefundHate pic.twitter.com/Gj79tDT19M

— United We Dream (@UNITEDWEDREAM) January 11, 2019
LIVE: Activists demand that Congress block the wall & end the #TrumpShutdown #DefundHate https://t.co/SiUupAq1HO

— CREDO Mobile (@CREDOMobile) January 11, 2019
Federal workers walked with us from office to office and told us about the hardships they're facing after weeks without pay. They stood with us to denounce the President's plan to build a wall that would harm the environment, terrorize border communities and drive more migrants to their deaths. While they were demoralized by the shutdown, they were also energized. Just the day before, they stood with hundreds of workers in front of the White House with the same message: End the shutdown, but without a wall. 
I reminded the staffers I spoke with of the thousands of migrants who have lost their lives in recent years as they desperately try to cross in ever more dangerous routes. When they suggested that maybe a solution was more "boots on the ground," I shared the stories from my colleagues in San Diego of being terrorized by Border Patrol agents in their communities as they try to go to work or take their kids to school. And I reminded them of Claudia Gomez, the 20-year-old Guatemalan women who last year was shot in the head by a Border Patrol agent, a case like so many others where we're still waiting for justice.  
As I spoke, I tried to paint a picture of the hundreds of people who risked arrest last month at Border Fields State Park. I described how they had peacefully faced off against Border Patrol agents, singing and praying as they were threatened and pushed with batons. Along with the voices of the hundreds of thousands who signed our petitions, I brought those faith leaders' voices too.  
The shutdown is hurting hundreds of thousands of workers and could result in millions of people losing access to crucial government services like housing and food assistance. And spending billions on a cruel and unnecessary border wall redirects resources that should instead be spent on education, infrastructure, and services that actually create safe and healthy communities. It's crucial that Congress follow the will of the people and refuse to spend one more dollar on the wall or militarization of our southern border. 
As the shutdown continues, we're calling on AFSC supporters to call their members of Congress and demand that they end the shutdown now without approving a single dollar more for the border wall or for deadly immigration detention or deportation.