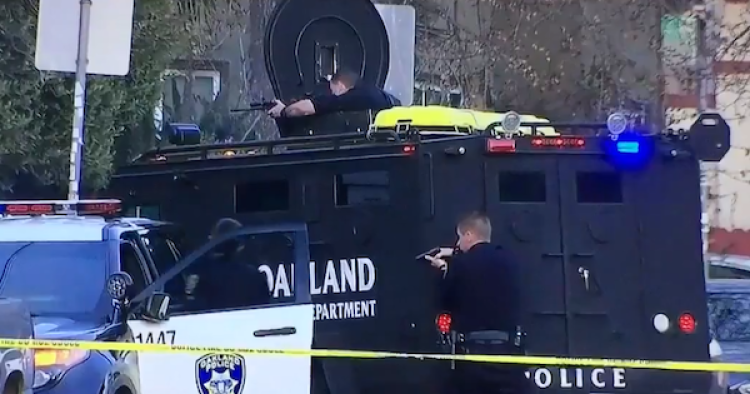 "I don't understand how we as a society accept these weapons of war on civilians. These are weapons of war intended to maim, and sometimes to kill." -Santa Cruz public commenter
Over the past year, communities across California have used a new state law to advocate for police demilitarization. The law brings a new level of transparency and accountability to police militarization in California. AB 481 requires all California police and sheriff departments to 1) disclose their military equipment and associated costs; 2) propose a policy on the "appropriate use" of this equipment for city councils and county supervisors to consider; 3) and publish annual reports on their deployments and costs.
AFSC's California Healing Justice Program has researched the holdings of dozens of police departments in California. Over the past year, we have helped local activists use the new law to advocate for policy changes.
Our collective efforts are paying off. Here are some examples of the progress we've made in multiple communities:
City of Orange
In April, AFSC successfully sued the City of Orange to disclose its recent purchases of militarized equipment. A few weeks after being formally served the lawsuit, the City of Orange publicly revealed the same information in its police's proposed policy.
"Deputy Chief, you said 'we should use the tools available to the industry.' I recoiled at that. We should be using the tools that create public safety. AR-15s are designed to kill people." - Santa Cruz public commenter, who had previously served on Council for 8 years
Richmond
Richmond police and attorneys heavily revised their proposed policy on use of military equipment based both on AFSC's recommendations and community demands. The resulting policy added some limits to authorized uses of assault rifles, projectile launchers, and tear gas, among other equipment. The policy also was updated to no longer authorize use of flashbangs when encountering a person in a mental health crisis. The case is one example of how community advocacy has led to positive steps towards transparency and accountability for these deadly weapons.
Santa Cruz
The Santa Cruz Police Department initially refused to mention that it had 70 AR-15 style "patrol rifles" in its inventory, arguing that these were "standard issue." A small but mighty group of activists, supported by AFSC, convinced councilmembers to require the inclusion of these assault rifles in the policy. Activists pointed out that these rifles aren't carried by bicycle cops or police patrolling popular beach areas, and therefore aren't standard issue.
Councilmembers agreed with activists. As a result, Santa Cruz Police Department inventory reflected this call for transparency.
"Let's talk about when these weapons should not be used. This concerns me. We have an opportunity to use AB481 as a way to have a conversation, to open a conversation about how to demilitarize our environment, our community." - Santa Cruz Councilmember Sandy Brown
Alameda County
In Alameda County (where AFSC's California Healing Justice Program is based), community members helped stop more weapons from being supplied to a local jail with a history of violence against people in its custody. In recent years, people incarcerated in Alameda County's jail have faced sadistic inhumane treatment from sheriff's deputies, deputy-directed beatings, and even death (at least 60 people have died in the facility over the past eight years).
As part of its proposed policy, the county sheriff sought to acquire additional Pepperball launchers exclusively for use in its deadly Santa Rita Jail, adding to its already extensive arsenal of 114 launchers. The proposed policy would have placed no restrictions on these new weapons, including whether they could be used indiscriminately or punitively;, fired point-blank; or fired at the face, neck, or vital organs.
Thanks to persistent activists showing up at county meetings, a county supervisor—who has been one of the sheriff's strongest supporters—declared he would vote 'no' if the proposed Pepperballs remained in the policy at the time of vote.
Oakland
Police around the country use robots like the one used by Dallas police in 2016 to remote-control deliver a lethal payload. Oakland Police have a similar robot. After AFSC questioned its policy on using the robot, Oakland Police revealed they intended to retain the option for lethal use for their robot. After an article was published in The Intercept describing the situation, Oakland Police changed course on its proposed policy to prohibit lethal applications of its robot.
What's next?
While advocacy efforts have led to significant progress in demanding police transparency under the new law, much more work must be done. Some law enforcement agencies have yet to propose a policy for city or county bodies to review. Others have proposed policies that permit all uses by its law enforcement officers.
AFSC has kept up the pressure on law enforcement agencies to follow the new law. Recently we sent a letter signed by 40 organizations to California Attorney General Rob Bonta to issue guidance to agencies across the state.
Next year, police agencies will have to start publishing reports on their use of militarized equipment—and face reevaluation of these policies by city councils and county supervisors. That is another critical opportunity for community members to weigh in. Just as AFSC supported communities in analyzing proposed departments' policies, we will help communities analyze these annual reports and keep pushing for transparency required by law—as part of our ongoing call to end police militarization.