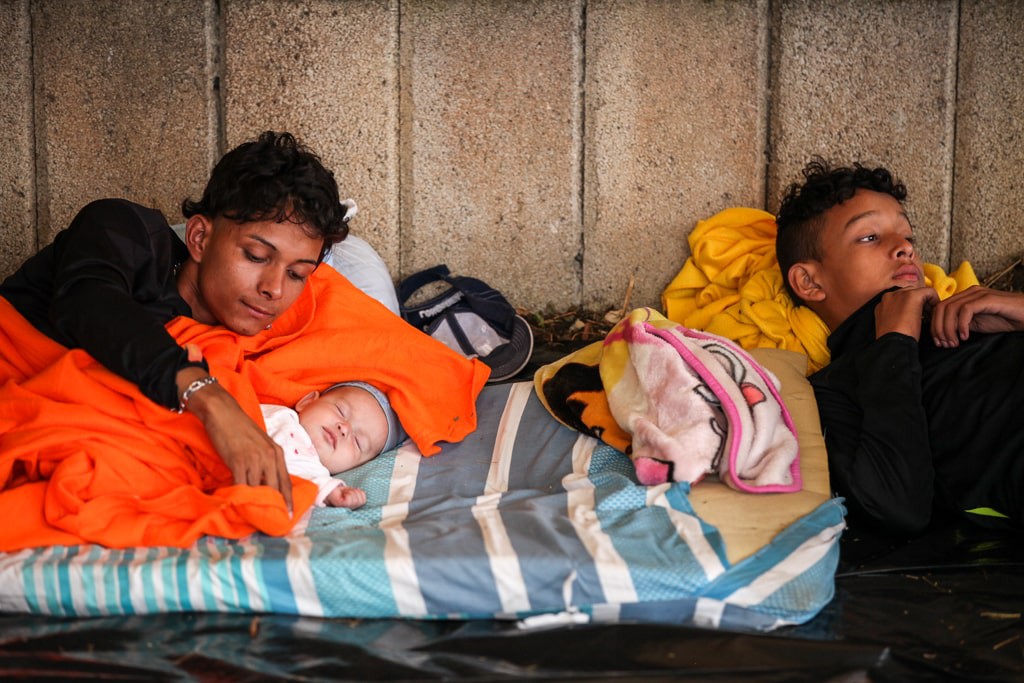 Last January, a caravan of migrants left Honduras and El Salvador. They were traveling north to seek asylum in the United States–but they were stopped by Mexican authorities at the border with Guatemala. Many were violently attacked after attempting to cross into Mexico. Some were deported. Others were promised jobs, only to be brought to detention centers where they were held in deplorable conditions. All now face the additional threat of COVID-19 as they wait for a chance to resume their search for asylum. 
As migrants have faced overwhelming obstacles to finding safety and peace, the AFSC community has responded with care and compassion, contributing funds to supply migrants with food, water, and other necessities. Thanks to the kind and generous support of our donors, we supported local partners in providing meals to more than 2,000 migrants in shelters on the border between Guatemala and Mexico in recent months. We also monitored human rights violations and advocated for the release of people from detention.   
As the regional director for AFSC's work in Latin America, I want you to know what a difference it makes to have members of the global AFSC community making donations and taking action in solidarity with those seeking refuge. Thank you for standing with migrants—whether you have participated in actions calling for humane immigration policies in the U.S. or contributed to help us provide humanitarian aid and address root causes of migration in the region.  
As the number of COVID-19 cases worldwide rises, migrants are increasingly vulnerable, facing even greater dangers to their health, human rights, and dignity. The U.S. and Mexico have instituted a policy to automatically deport Guatemalans and Salvadorans to their countries of origin, where many face the same dangerous conditions that caused them to flee in the first place. Some who were deported have also tested positive for COVID-19 and now face additional stigmatization in their communities. 
Thanks to supporters like you and AFSC's Pandemic Relief Fund, we will be supporting organizations that are providing food, water, personal hygiene kits, and other basic supplies to migrants and asylum seekers in the weeks ahead—focusing especially on the elderly, people with health conditions, and pregnant women. We are also working to improve conditions in migrant shelters and supply local organizations with critical health care items. And we will continue to urge government officials to end immigrant detention and embrace humane immigration policies that respect the rights and dignity of all people. When conditions allow, we will resume working side by side with local partners in human rights brigades to accompany future migrant caravans and help meet their immediate needs.   
Supporters like you who believe in treating people with respect, dignity, and compassion make our work possible. As people around the world continue to grapple with COVID-19, we appreciate your support of those whose lives are deeply impacted by oppression and injustice.
Thank you for being part of our efforts to build the safe and inclusive communities we all deserve.