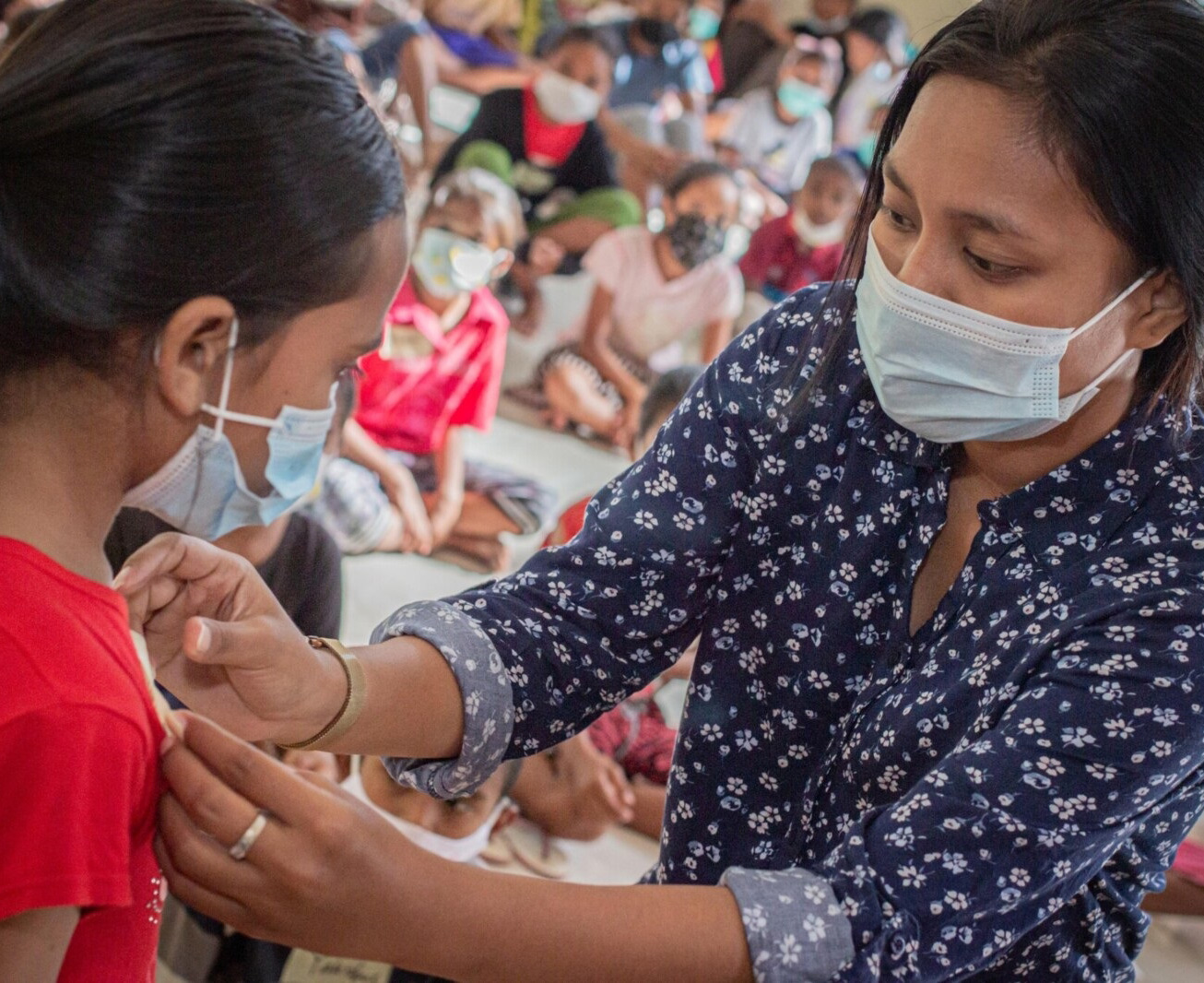 On April 3, Tropical Cyclone Seroja hit East Nusa Tenggara, bringing historic flooding, landslides, and heavy winds to the southernmost province of Indonesia. More than 184 people were killed. Tens of thousands lost their homes. Farms, fields, and cattle critical for food and livelihoods were destroyed—further devastating communities still dealing with the COVID-19 pandemic.
Since 2017, the frequency of tropical cyclones in Indonesia has increased from an average of one to two cyclones every two to four years to one to two cyclones annually, according to Meteorology, Climatology and Geophysics Agency (BMKG) chief Dwikorita Karnawati. "We need to realise that mitigation to global warming is necessary," she says. "Otherwise, such (tropical) cyclones will become regular occurrences each year,"
Thanks to supporters like you, AFSC and our longtime partner KOMPAK were able to deliver humanitarian aid to people in Kupang City and several villages. We trained volunteers and emergency response teams, which included young people of diverse faiths to ensure an inclusive response. We also focused much of our response to aid people with disabilities; women who were pregnant, nursing, or supporting families; people living in poverty; elders; and orphans.
With your support, AFSC and partners have:
Provided food, personal protective equipment, and other essentials.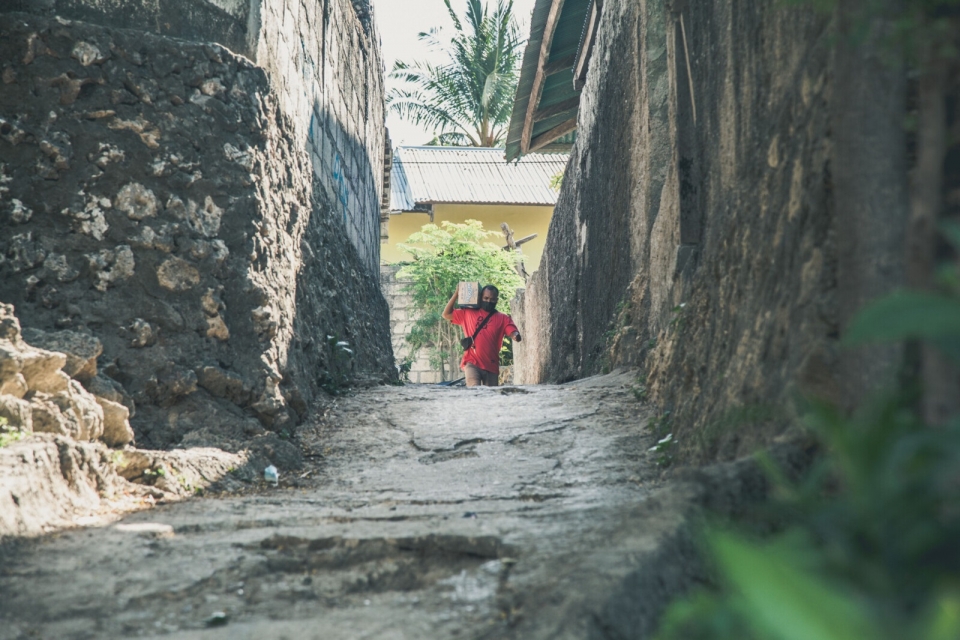 More than 460 families received hygiene kits with items such as diapers and personal protective equipment, and 250 received basic groceries, including rice, eggs, cooking oil, and sugar.
We also distributed weaving materials, vegetable seeds, and other items to 40 families to rebuild livelihoods. Sanci Nitti, a weaver in Tunbaun Village in Kupang, said, "Our income was limited because our livelihoods were destroyed by Seroja. We are happy because we received weaving equipment, dyeing chemicals and [now] have capital for our business. We thank God for this help, and we will use it to support our family's finances."
Lita Sope, who lives in Tiknor Village Lailor in Malacca Regency, received vegetable seeds from AFSC partners KOMPAK and YKPI. She said, "All our gardens were damaged by the Seroja disaster. We thank you very much for helping us to garden again, because the results of our garden are very helpful for our daily needs in the family."
Helped restore access to safe drinking water.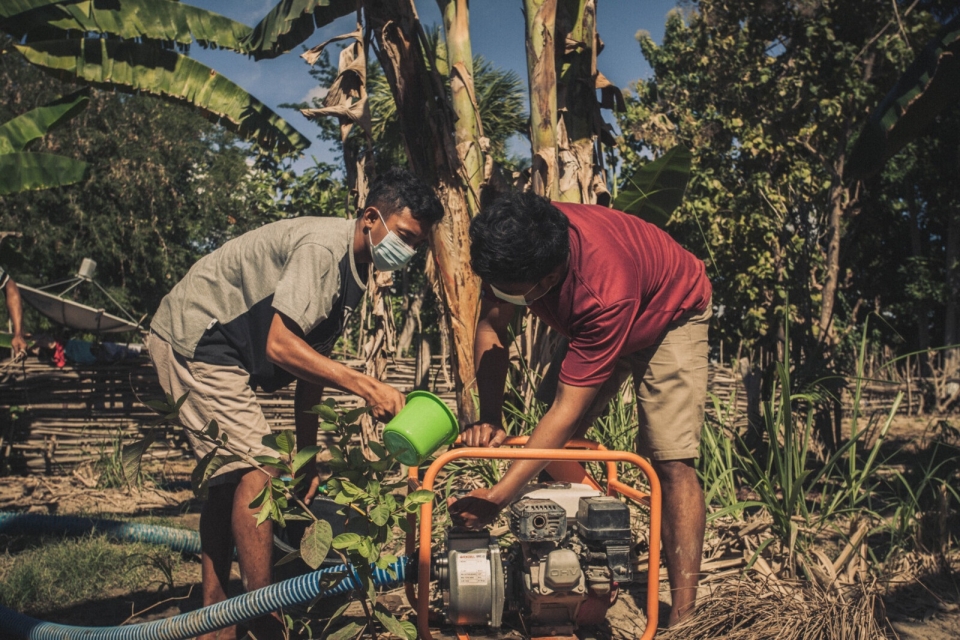 The cyclone left many wells contaminated by mud and dirt. We provided support to young leaders with KOMPAK in cleaning a total of 19 wells. This restored access to potable water to two villages.
Provided psychosocial supports for children.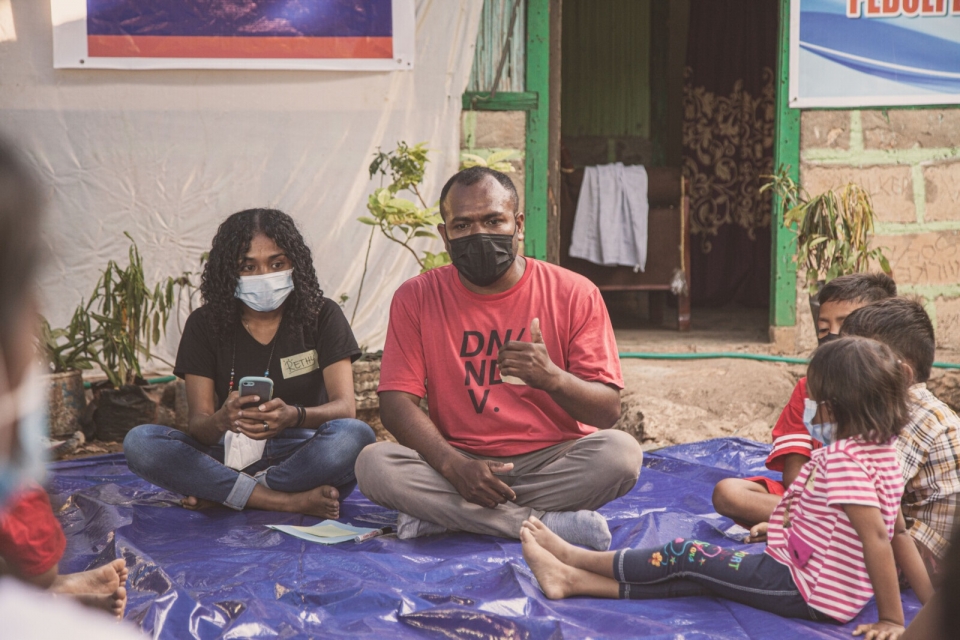 AFSC and partners provided psychosocial support for 184 children ages 3 to 12 years, helping them deal with the aftermath of the disaster.
Rethy Benu, a volunteer with KOMPAK-Komunitas Peace Maker Kupang, assisted with psychosocial activities in the villages of Amanuban and Tunbaun. Children were excited to take part in the twice-weekly activities, and Rethy noticed positive changes in many of them over several weeks. "Even though it has been two months since the disaster happened, the children were still very traumatized," Rethy said. "These psychosocial activities [were] very good for children because they felt happy. [Now] they laugh more, are more active, and also can express their feelings in the form of pictures. When we promised that we would start at 3 p.m., they would gather before 3. Our arrival was welcomed and the children consider us friends."
These are just a few examples of how supporters like you have helped make a difference for communities in Indonesia, ensuring more people have the resources they need to stay safe and healthy while facing tremendous difficulties. Your support makes it possible for us to respond when emergency relief is needed—and sustains our ongoing work with partners to build a more peaceful and inclusive society. Thank you!