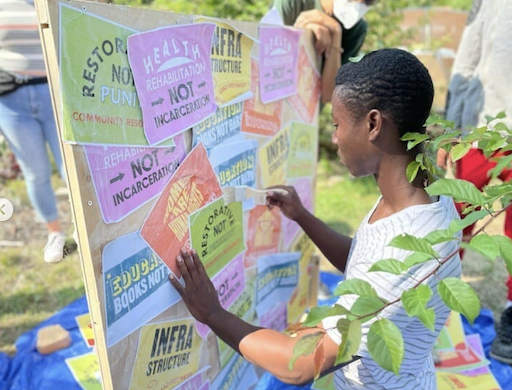 The city's discretionary budget is the people's budget; every person who resides in Chicago deserves to know and have a say in where this money goes. Why?  Because it's our money, our tax dollars, helping to sustain this city. 
Chicago Mayor Lori Lightfoot is now working to pass next year's budget through City Council. And keeping with the political machine tradition, there are minimal ways for regular people to actually have a say in where our city's funding goes.  
Two years ago, right after being elected, the mayor seemed to care about community engagement when she invited young people to a forum on the budget--claiming she wanted to hear from us. 
At the time, I was a senior attending Whitney Young High School and I had a lot to say, as well as tangible questions for the mayor, including "Will you freeze police spending and fund year-round youth jobs instead?"  I also pointed out that if the city wants community safety, then the city should invest more in community resources and services which were only receiving 8% of the budget at the time, and not more cops.  We need the basics. When my two minutes at the microphone were up, the mayor ignored my concerns and literally said "Next question." What I learned from this was that the mayor only wanted to engage with those who do not challenge her with experience and evidence that her policy decisions have been harmful. I haven't gone to a mayoral forum since.
Instead, I've been organizing with my peers and community to defund police and instead invest in things we actually need. This year, I decided to collaborate with Chicago United for Equity, Grassroots Collaborative, and AFSC for a project called the "People's Budget." Together we generated a series of community engagement events to discuss the city budget. Compared to Lightfoot's budget forums, we went for a holistic, safe, and artistic approach—to create a space where young people felt like they had the tools and experience to articulate where they believe budget funding should go in their neighborhoods.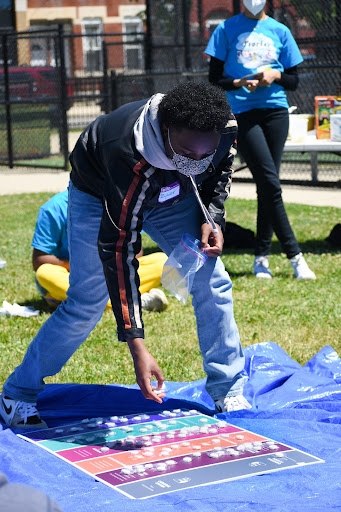 We hosted pop-up budget discussion events on the West and South sides of the city, where people are more often than not left out of the conversation on the investments their communities deserve.  
We created a circle every time we talked, to get rid of hierarchies. We offered food and water to meet people's needs. We honored and held disagreement in a way where no one's experience was disposable. As youth facilitators of these pop-ups, we could actually just have conversations, instead of participants worrying about saying "the right thing." We were able to break down barriers and really connect. We saw and heard young people's passions emerge.
Another element of our people's budget discussions/pop-ups involved interactive art stations that allowed young people to visualize what our futures could be. A future where they could have the freedom to imagine—what if policing isn't a part of the equation? One station was a collective community mural where people could paint and write their responses to the  question, "What does a community need to be safe and thriving?" Another station was a fun button-making table, where people could make premade or custom buttons with slogans of their own choosing. Finally, there was the t-shirt printing station, my personal favorite, because you take the message home and spread your truth.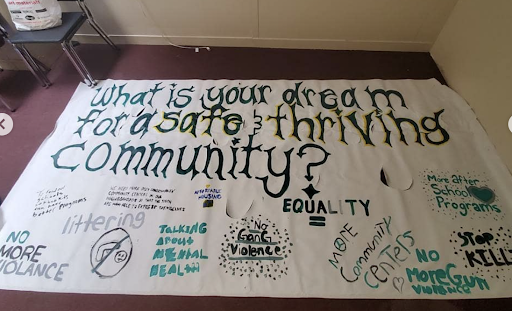 Youth who participated in these art activities first were even more open to ideas around defunding police once we began discussing together. That's because they had actually taken the time to visualize some alternatives of what community wellness and safety could look like. 
We also had a budget activity where we gave young people the chance to create a budget together. We gave them tokens that they could then allocate to different categories, each representing portions of the discretionary Chicago budget. Those included health, early childhood education, housing, infrastructure, community resources, and carceral systems (aka policing!). 
Once everyone had allotted their tokens, people had the chance to debate whether they wanted to rearrange or move them so they could come up with a budget everyone present agreed on. An overwhelming majority made a consensus decision to prioritize funding in community resources, health, and housing. Policing received zero or a single percentage point of the people's budget in each youth pop-up—and frequently the most passionate debate was whether to give just one token to the police.
When we tallied up all the people that took part in the activity over the summer, we found that the priorities of people in Black and Brown communities in Chicago were extremely different from how the city is currently proposing to allocate resources. As you'll see in this graph, they're almost opposites!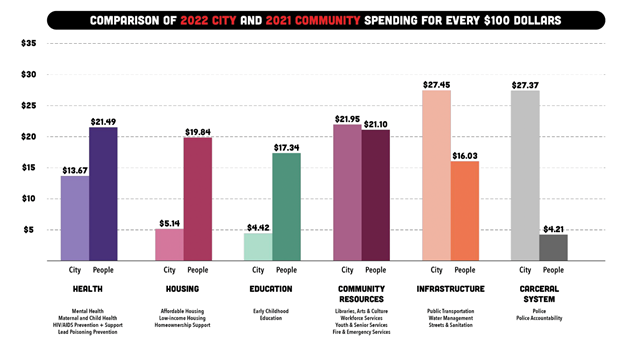 For many young people, in Chicago, the city budget may seem like a distant debate that's only meant for elected officials. But where the funding goes impacts every Chicagoan. 
With the COVID-19 pandemic causing mass disruption to the day-to-day lives of everyday people, a social net of support was actually offered by the federal government in the form of the CARES Act. Unfortunately, Chicago has spent much of this COVID relief on the wrong priorities. Of the $600 million dollars  Chicago received, over $280 million went to police overtime pay--when many in our communities did not want their presence during the uprisings after the police killing of George Floyd, terrorizing Black youth who dared to protest and demand what they need 
Today, people across Chicago are calling for the next round of federal COVID relief to fund life-sustaining resources, such as hospital technology, health grants, emergency housing grants, child care, and other vital programs to ease COVID-19's disruption—NOT to more policing or to paying off debt to big banks. 
That's what the Chicago Rescue Plan—an ordinance backed by community organizations and several city officials—proposes to do. But the Mayor has yet to support it. Young people in Chicago know what we need to keep our communities healthy and safe—and it's time our mayor finally listened to us.