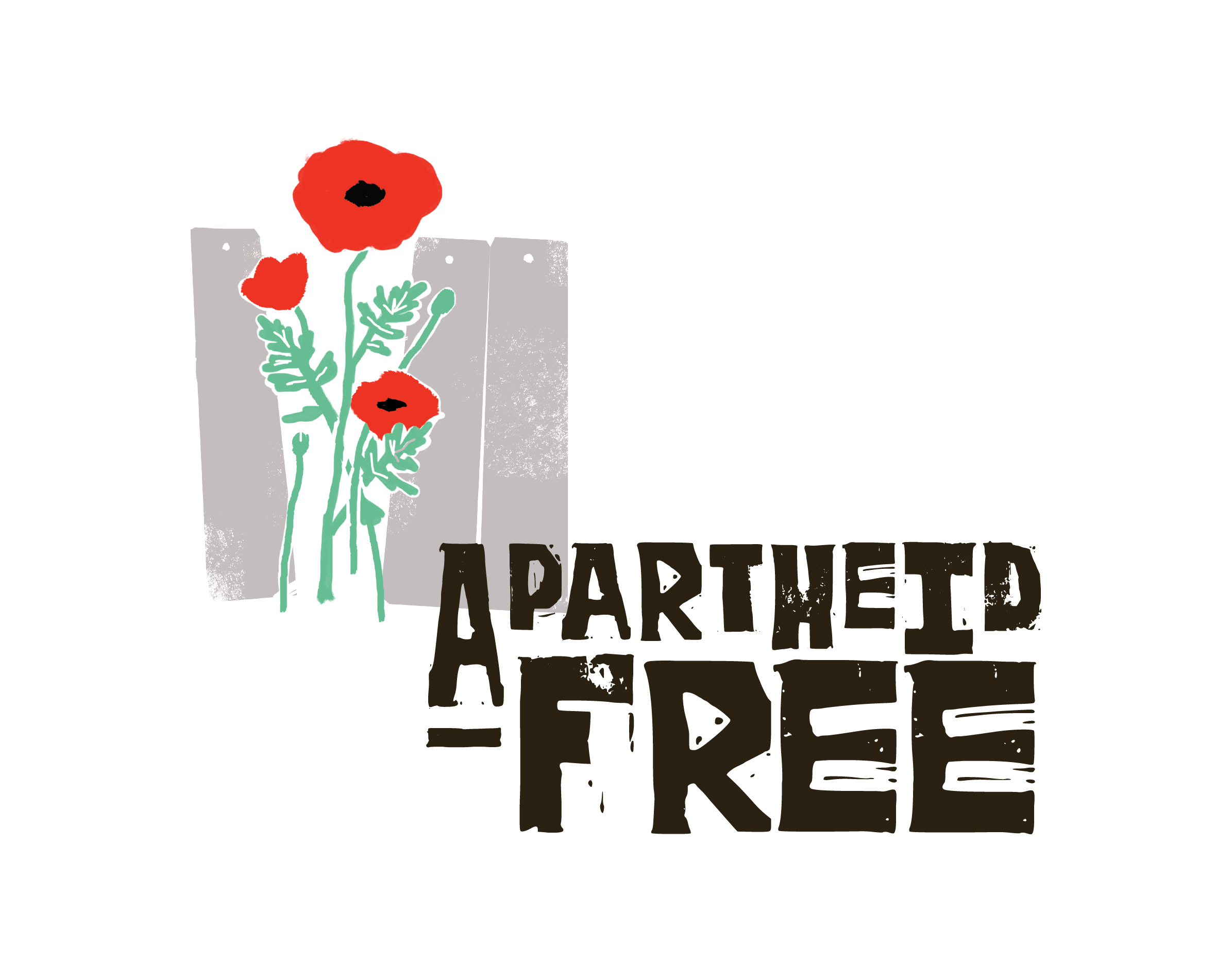 Last spring, I visited Israel and Palestine with a faith delegation hosted by AFSC. We met with Palestinian organizers and other community members who showed us how the Israeli occupation affects their everyday lives.
We visited Um El Kheir, a Palestinian Bedouin village in the West Bank. It's one of the many Palestinian communities where the Israeli government has conducted army raids, demolished homes, and confiscated land. Community members have also faced attacks on their livestock and harassment from their Israeli neighbors, who began settling in the area in 1982.
Like many Palestinian villages, Um El Kheir has no access to the water, electricity, and other basic services the Israeli government provides to Israeli settlements. As we talked with a community member, he pointed to the streetlights that illuminated a hillside just above his village. Those lights surrounded an industrial chicken farm in the Israeli settlement of Carmel.
"Even their chickens live a better life than we do," he remarked.
Awdah, an English teacher in Um El Kheir, told us: "We just want simple rights. We just want to be safe in our homes—with electricity, water, and a place to graze our sheep."
A system of apartheid
For decades, the Palestinian people have faced Israeli occupation and systematic human rights abuses that constitute apartheid. Apartheid is defined as a legally enforced system of separation and oppression based on race, creed, or ethnicity that has resulted in human rights violations.
Our delegation witnessed apartheid in Um El Kheir and many Palestinian communities we visited. Throughout the West Bank, we saw how a system of control and separation—enforced by walls, checkpoints, military laws, and expanding Israeli settlement colonies—denies Palestinians equality, freedom, and the "simple rights" Awdah describes.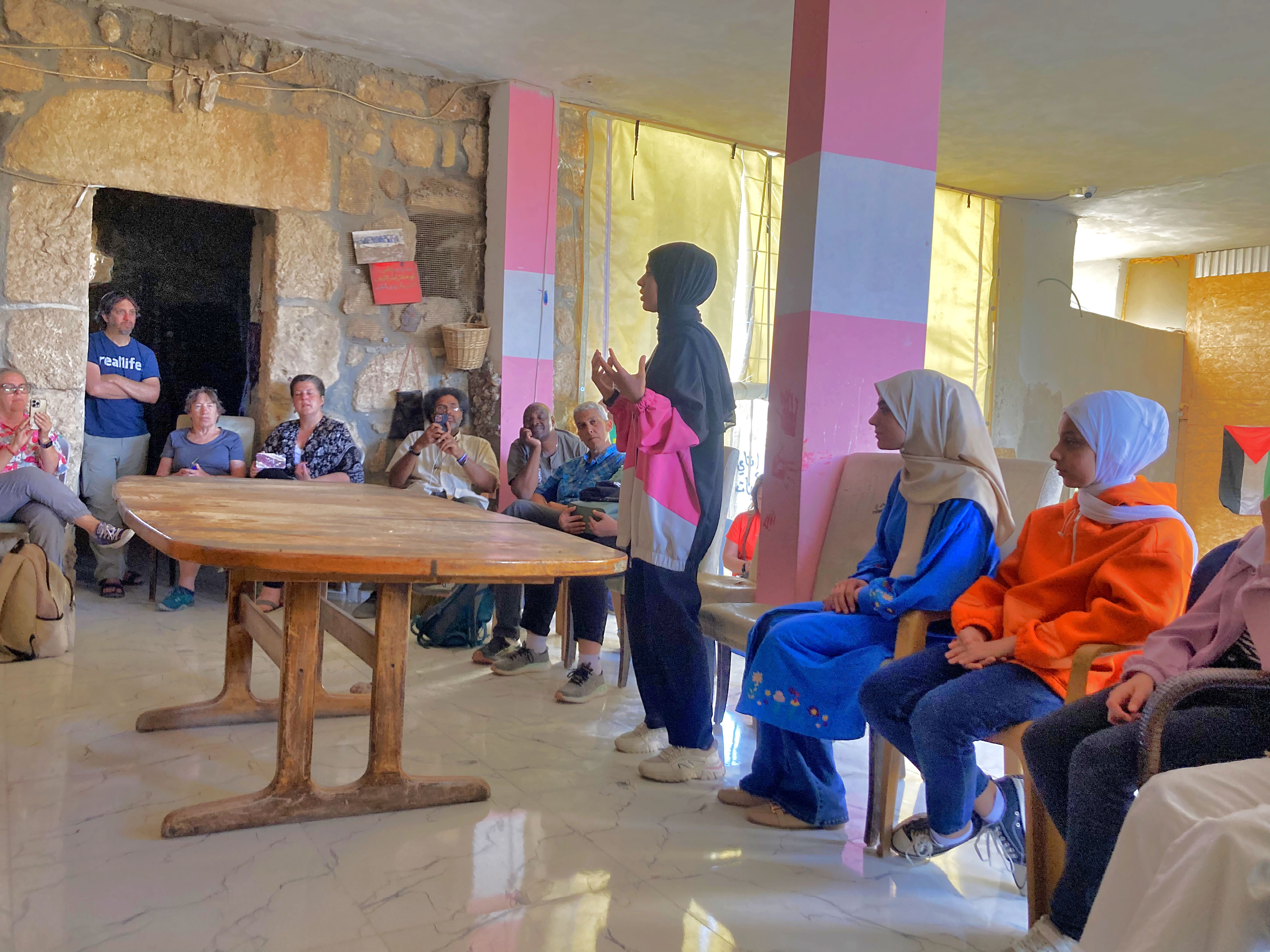 In Gaza, Palestinians are isolated from the world due to Israel's military occupation and blockade. Gaza's 2 million residents lack adequate access to power, clean water, and health care. They face severe restrictions on their ability to travel to the rest of Palestine or the outside world. They're limited in what they can export and import. As a result, Gaza's economy is collapsing, and over 80% of the population relies on international assistance to survive. Apartheid also exists inside Israel for Palestinians who face discrimination due to their status as non-Jews. It limits where they can live, work, and access public services. Under Israel's "nation-state law," passed in 2018, "the right to exercise national self-determination" in Israel "is unique to the Jewish people."
"We just want to be safe in our homes—with electricity, water, and a place to graze our sheep."
Palestinian human rights groups have described Israel's policies as apartheid for decades. But in the past few years, much of the international human rights community has agreed and called for an end to Israeli apartheid. These groups include Israeli and international human rights organizations Yesh Din, B'tselem, Human Rights Watch, and Amnesty International.
A new campaign to end apartheid
Across North America, more people, congregations, schools, and organizations have recognized that Israeli apartheid prevents people from living in equality with dignity and respect. They are committed to doing something to stop it. That's why AFSC and a coalition of religious and secular organizations have launched a new initiative, Apartheid-Free Communities. Inspired by the movement that toppled apartheid in South Africa, we're urging people of faith and all communities of conscience to pledge to cut ties with Israeli apartheid. As of this writing, more than 150 groups have already signed on.
Each community that signs the pledge commits to resisting apartheid and all forms of racism and discrimination. This work can include educating ourselves about Israeli apartheid and raising community awareness. It can involve joining others in political advocacy and urging the U.S. government to withdraw its support of apartheid. If communities have investments, they can ensure they're not funding companies involved in apartheid.
Burlington Monthly Meeting of Friends in Vermont signed the pledge. Now they're collecting signatures to petition their City Council to make Burlington an apartheid-free city.
Anita, a member of Burlington Friends, emailed me soon after they began collecting signatures. "I just left the farmers market, and the response was stunning," she wrote. "We collected at least 200 signatures. We had to add lines on the backs of the petition copies we had, and people waited in line to sign. We weren't prepared for such a response, so next time, we'll have more clipboards and copies of the petition."
Anita, who's a longtime advocate for Palestinian rights, reflected, "It's an amazing change in the political climate."
We're eager to help build more grassroots activism around the country. We want to reach more of our friends and neighbors and share with them why we must work to give hope to communities like Um El Kheir who seek equal rights and a dignified future for their children and families. Together, we can build an apartheid-free world, starting with our own communities: our faith congregations, cities, campuses, and workplaces.