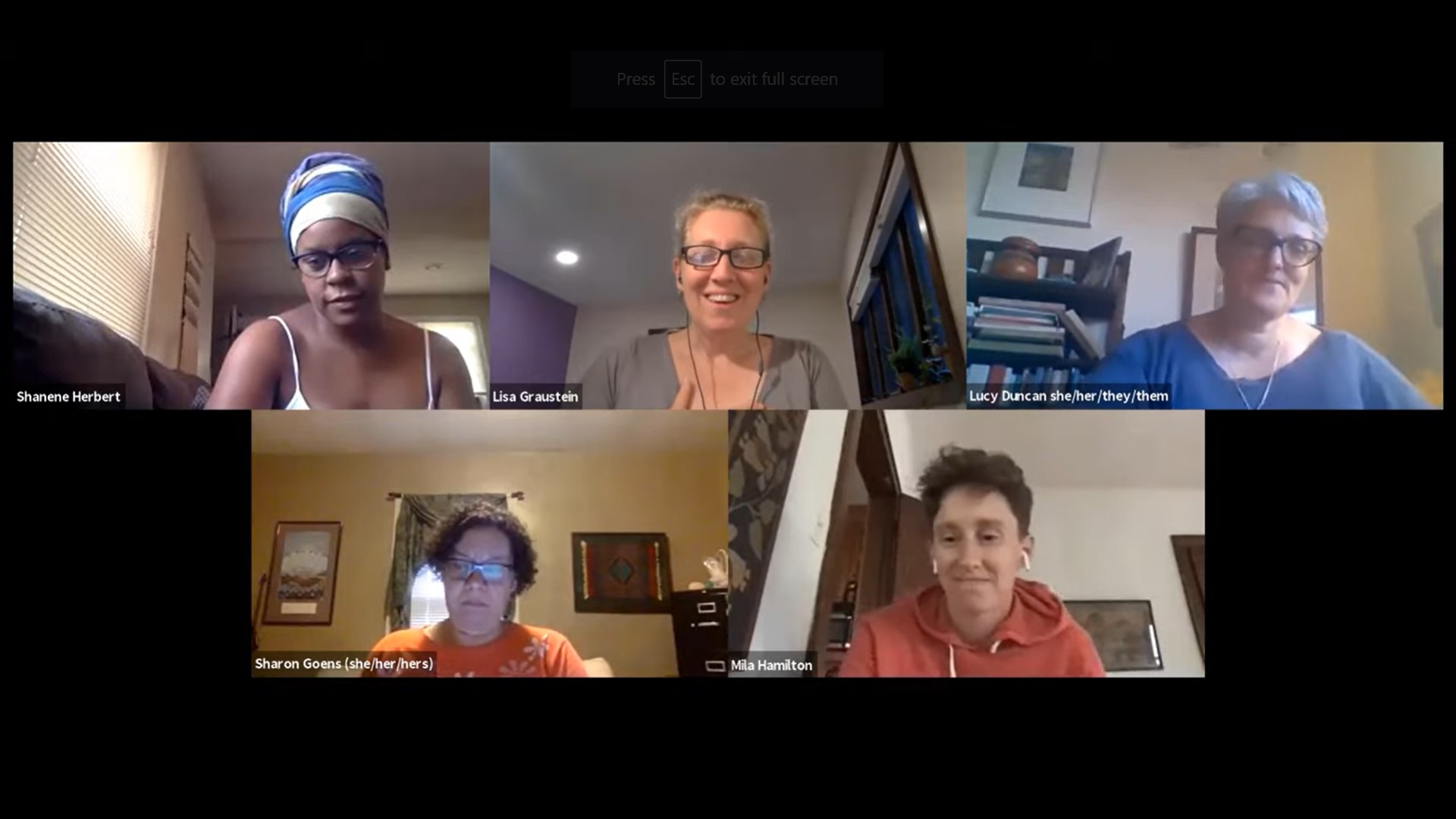 Do you want to be pushed out of your comfort zone, challenged and overwhelmed, but also supported, encouraged and guided?  Have you been reading and thinking about race in America, and do you want to find others who will talk and act with you?
We did, so we joined with nine other people from our Quaker meeting to use the American Friends Service Committee (AFSC) e-course called "Radical Acting in Faith for White People." 
The webinar series, which was recorded this past summer with 500 Quakers from around the world in attendance, was led by three white Quaker facilitators: Mila Hamilton, Lisa Graustein, and Lucy Duncan.  Two Black AFSC staff, Sharon Goens-Bradley and Shanene Herbert, served as advisors. Mila, Lisa and Lucy were strong, supportive, and clear guides for us white Quakers and some of the most moving moments of the webinars came from video clips from the internet featuring the voices of Black women.
Margaret said this about the webinar series, "The AFSC curriculum encouraged continual self-examination, with awareness that we are all [potentially] on a journey.  'Potentially' because by being white in a white-centered society, it is relatively easy to stay where I am, not notice where steps are needed, be frozen in place, avoid risk, and not face painful consequences.  'On a journey' because there is a continual process of discovery, trial and failure, noticing that I am back at the 'we are all the same, color doesn't matter' stage at one minute and actively confronting racism at another.  Then reflecting on my actions in 'confronting racism' to see if I was overstepping and assuming that my 'white and bright' voice would be useful at that moment.   I appreciated that our facilitators reflected on their own experiences, revealing mistakes they made and modeling a process of stepping forward with the knowledge that we will continually make mistakes along the way."
We are deeply grateful for the structure these webinars gave our discussion group. They helped us to dig into difficult topics and shook up our vision of ourselves as "good white people." It is easy to think that reading the right books, saying the right things, and creating minutes of support at our monthly meetings is equivalent to taking action.  It's not.
Erica said, "My understanding of myself and the society I live in will never be the same.  During the four weeks of the e-course I had dreams of a house with its roof ripped off, the walls rotting and moldy from the rain pouring in.  I dreamed of rolling down a slope that became so steep that I slid to the bottom.  In my waking hours, I looked back on my work as a fourth-grade teacher in the past year and saw how I had unconsciously created structures in my classroom that were equivalent to a ghetto and a prison.  

I had decided to seat all of the special education students at one table so that when the special ed teacher came in to do small group instruction it could happen easily and unobtrusively – but it also segregated those students. My husband pointed out to me that all of the students at that table were people of color. I had not consciously been aware of it until he told me.

For quiet, independent work times, I seated the two most disruptive students in the class, one Black and one White, at individual desks in corners of the room with their backs to the other students.  They were with others for small group instruction in math and reading, and for large group instruction in front of the interactive whiteboard, and for lunch and recess, but for large stretches of time they were incarcerated, away from the rest of the classroom society.

I was doing the best I thought I could do at the time, but what I have learned since May of 2020 has changed my understanding of what was going on inside of me.  Like everyone else, I have absorbed the racism in our culture.  If I do not work constantly to process, transform, and abolish the racism in myself and my society, I consciously or unconsciously uphold and collude in the racist structures that have existed in our country for more than four hundred years."

Erica summarized her thoughts about the e-course, "My desire for comfort and safety makes it easy for me to feel powerless or confused about taking real risks.  My perfectionism fears to make mistakes by saying something offensive or stepping forward in a way that negates the leadership of people of color. I don't want to stay paralyzed by my need to do everything right. Our meeting's discussion group is planning to continue meeting for at least four more sessions, to encourage each other and hold each other accountable to our goal of taking real action.  I know that I will miss the structure and guidance provided by the webinars.  I'm grateful for the leadership of the facilitators and AFSC staff, and for their willingness to be models of vulnerability, imperfection, and courage.  Maybe if we keep challenging ourselves and each other, the members of our Meetings can be models of courageous imperfection for our neighbors, coworkers, fellow citizens, and friends."
Radical Acting in Faith for white people is available for free for individuals, Quaker meetings, and other congregations and groups to use for extending learning on anti-racism for white people.