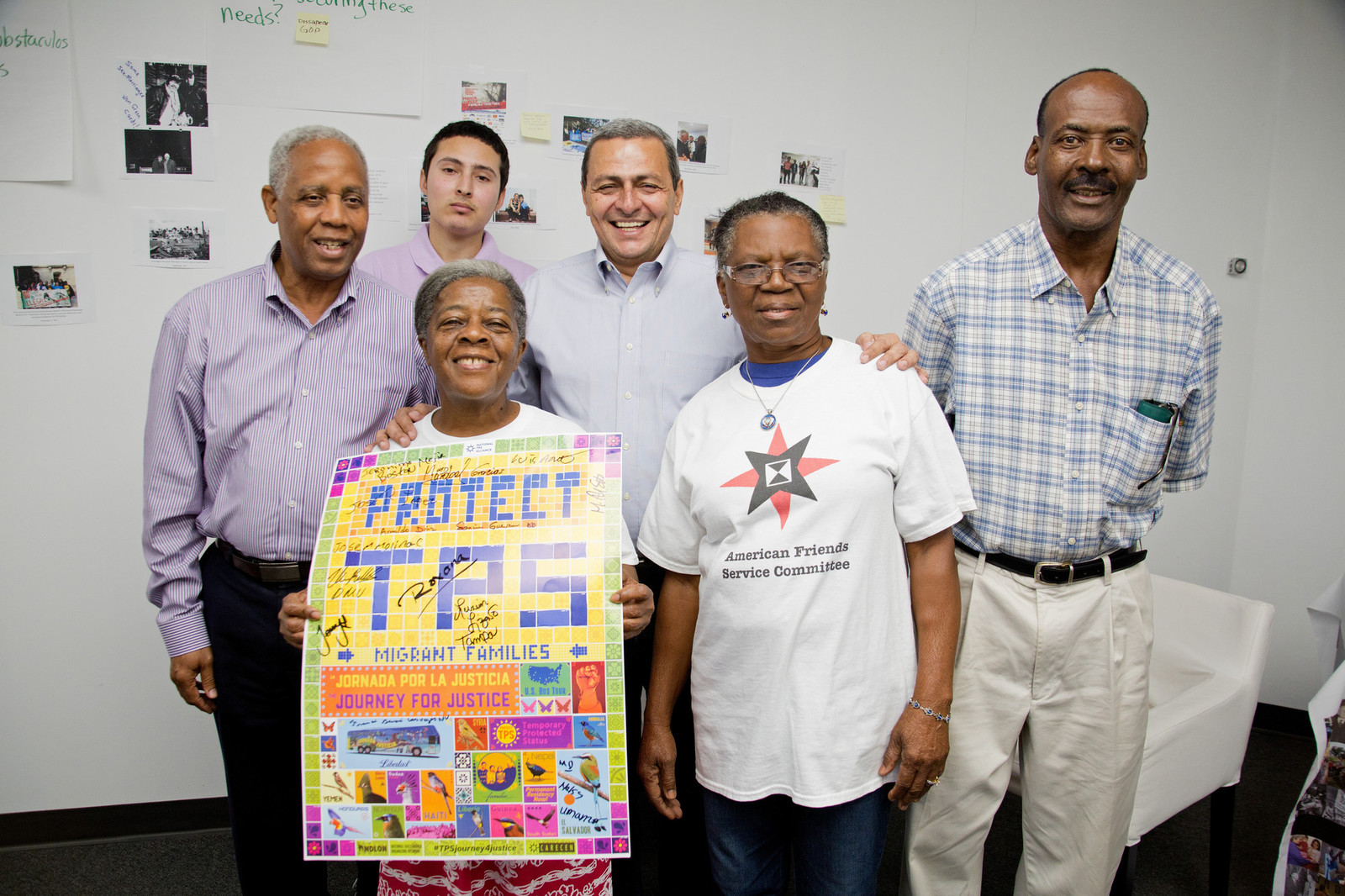 Here's what you need to know and how you can take action.
When the Trump administration decided to end protections for more than a million immigrants who have Temporary Protected Status (TPS), Deferred Enforced Departure (DED), or Deferred Action for Childhood Arrivals (DACA), communities across the country mobilized to save these important programs. And we're beginning to see positive results.   
Today, recipients of TPS, DED, and DACA have been granted temporary relief by court decisions in response to multiple lawsuits. But legislation not litigation will offer permanent protections. 
Thanks to the extraordinary grassroots organizing and tireless advocacy across the country by TPS, DED, and DACA beneficiaries, their families, and allies, Congress has taken action. Both the House and Senate have introduced legislation to offer permanent protection to recipients of all three programs.  
Here's what you need to know about the introduced legislation:
The House has introduced the Dream and Promise Act.
Authored by Representatives Nydia Velasquez, Yvette Clarke, and Lucille Roybal-Allard, the Dream and Promise Act of 2019 (HR6) applies to DACA recipients and certain undocumented youth who were under 18 when they entered the United States; have lived in the U.S. for at least four years; and have either worked for up to three years, have at least two years of post-secondary education, or have served in the military. 
The bill also covers TPS and DED recipients who have lived in the U.S. for at least three years. 
Overall HR6 would eliminate roadblocks to lawful permanent residency for eligible immigrants and expand the pool of eligibility for permanent protections. Provisions of the bill include:
Permanent residency and a pathway to citizenship for all eligible individuals as well as conditional permanent residency for people who have yet to fulfill all requirements. The bill allows those with pending applications for permanent residency to apply for employment authorization and permission to work and travel out of the country. 
Detention and deportation relief to certain undocumented youth and DACA recipients who were deported under the Trump administration and TPS and DED recipients who were deported as of Sept. 28, 2016. Under HR6, immigrants who qualify for relief but are currently in deportation proceedings and detention will be allowed to apply for relief and protected from deportation. The bill particularly prevents the deportation of children under 18 until they are old enough to apply for the benefits provided by the bill.
Addressing costs of applications, setting a cap on the fees that beneficiaries are charged for conditional permanent residency or lawful permanent residency. It also eliminates costly medical examinations for applicants and provides some fee exemptions for those who meet specific requirements. 
Confidentiality protections so information submitted by applicants is not disclosed to immigration enforcement agencies. There are exceptions to this, which raises some concerns for advocates and the immigrant community. 
Educational benefits, establishing that conditional permanent residency holders are eligible for federal financial aid. The bill also removes the barrier for states that want to offer in-state tuition and other post-secondary education benefits based on residence, regardless of an individual's immigration status.  
The Senate is considering two bills, the Secure Act of 2019 and Dream Act of 2019.
In the Senate, the Secure Act of 2019 protecting TPS and DED holders has been reintroduced by Senators Chris Van Hollen, Ben Cardin, and Diane Feinstein. The Dream Act of 2019 to protect DACA recipients and eligible undocumented immigrant youth has also been reintroduced by Senators Lindsey Graham and Dick Durbin. Both bills come together to offer similar protections to the same pool of individuals like the Dream and Promise Act with some differences. 
All three bills would go a long way to protecting TPS, DED, and DACA recipients. Here's how they differ.
The Secure Act in the Senate explicitly extends protections to the immediate family members of TPS and DED holders while the Dream and Promise Act does not. This means that under the Secure Act, family members of TPS and DED holders could apply immediately for permanent protections, while under the Dream and Promise Act they would have to adjust their status through the current family visa process, which would take years, or even decades.  This is a significant difference from the previous bills seeking to protect TPS holders and is of concern to TPS holders and their supporters.
The Dream and Promise Act in the House (HR6), however, offers relief to more people by expanding eligibility and providing  relief for people who would be excluded by the Secure Act and the Dream Act of 2019 because of their past criminal convictions, or their absence from the U.S.
There's a lot of work ahead to advance these bills into law.
All three measures are strong, progressive bills that would ensure protections for TPS, DED, and DACA recipients. However, a lot of work remains to ensure that they pass without Congress including other provisions that could threaten the lives of other immigrants. 
We must continue to pressure Congress to protect our TPS, DED and DACA community members and all immigrants. Bipartisan support in the House and Senate is key to the passage of these bills, but we must oppose any attempts to attach harmful anti-immigrant provisions to this bill in exchange for their support.  
Here's how you can get involved to save TPS.
1. Email Congress today.  Urge them to pass humane immigration policies like the Dream and Promise Act, Dream Act of 2019, or Secure Act of 2019 that would create a roadmap to citizenship for TPS, DED, and DACA recipients. 
2. Call your elected officials. Phone calls are an effective way to get the attention of members of Congress on issues you care about. 
2. Visit our TPS resource page to read and share more stories of TPS holders and get more resources to raise awareness and engage others in this effort.