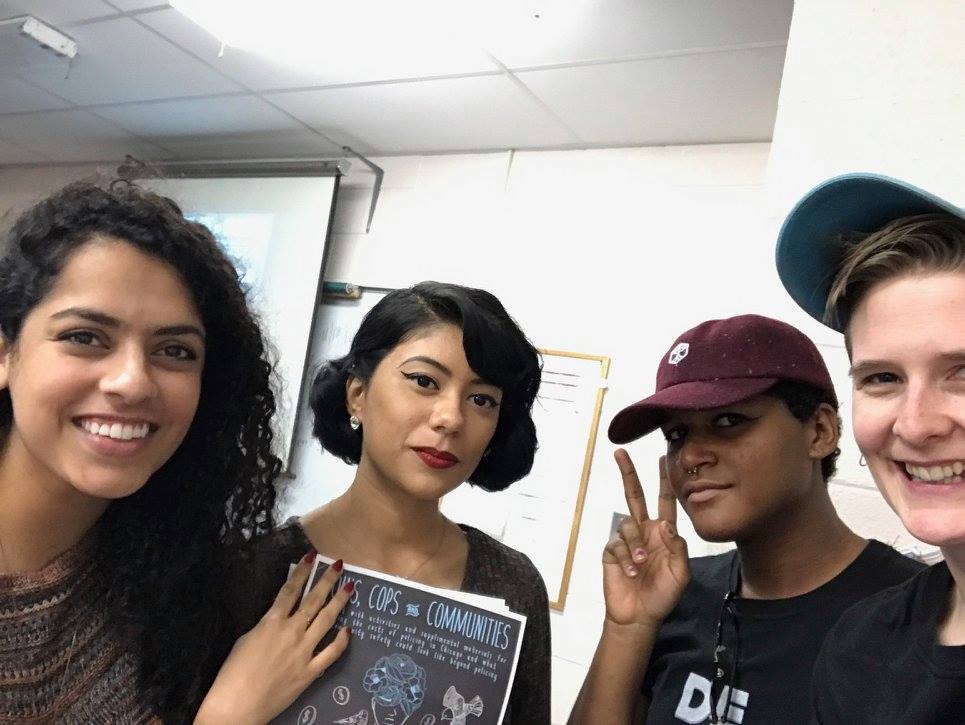 A new toolkit helps communities think about how we invest our taxpayer dollars and what kind of world we want to live in.
In the fall of 2015, a group of young activists unfurled a 20-foot long banner in front of Chicago City Hall.  The paint was still fresh from rushing to finish it the night before, a wall of blue, showing that nearly 40 percent of Chicago's operating budget goes to the Chicago Police Department.   
Our theory was that if people could see how much of the city's resources go to the police alone, they would ask the question, what isn't being funded? Volunteers and interns held the banner and talked to dozens of passersby about the budget that the City of Chicago was releasing that day. 
This public action was coordinated by We Charge Genocide (WCG), a grassroots, intergenerational effort to center the voices and experiences of the young people most targeted by police violence in Chicago. Focusing on the police budget was one aspect of WCG's work, and it was supported by AFSC, which has a long history of challenging military spending and how the government uses our taxpayer dollars. 
This summer, AFSC worked with young people in Chicago to build out tools for popular education on the costs of policing and what real community safety could look like if we invested our resources differently. We had a small but mighty crew of young people of color, mostly queer and trans youth, taking part  in our Youth, Media, Arts and Activism internship. 
One of the interns' first activities was to take pennies and use them to create their "ideal city budget," allocating the most coins to areas they felt were priorities, such as housing, healthcare, and education. Then we looked at how the city of Chicago actually spent taxpayer dollars—a drastically different configuration of our coins and a serious reality check. 
These young people thought the activity was helpful, but it wasn't enough. They decided to build an entire toolkit around the concept as a capstone project to share at the end of their summer internship. Together, they created our "Coins, Cops, & Communities" toolkit, writing and designing the curriculum, filming interviews, and editing videos to accompany the lessons and activities. 
So what's in the toolkit? 
The "Coins, Cops, & Communities" toolkit contains activities and supplemental materials for exploring the costs of policing in Chicago and what community safety can look like beyond policing. One of the most exciting pieces is two short videos, produced and edited entirely by two youth interns.   
Youth-produced videos:
"What Do You Know About Chicago Spending on Police?" by Nicole Trinidad
"Let's Talk About Community Safety" by Alexandra Marie
Activities in the toolkit include:
Imagine an Ideal Community: This mind-mapping activity allows participants to start thinking creatively about community safety and what resources and services a city needs in order for its people to thrive. The ideas brought up in this brainstorm can then be used as a reference for creating budget categories in the following "A 
City Budget in Pennies" activity.
A City Budget in Pennies: Using pennies, participants will design their own city budget and compare that to actual spending in Chicago.
Safety for Whom: Participants will discuss how we can maintain community safety without police and understand others' views when it comes to their own safety. 
Seattle: A Case Study: Participants will learn about a concrete example of a shift in resources from police to community needs, and have the opportunity to write their own op-ed.
Grassroots Resistance and Action Steps: Participants will research real-time efforts to challenge city spending practices in Chicago and/or defund the police. They'll also have the opportunity to give a short presentation about their research and create an action plan for supporting these efforts themselves. 
How can people use the toolkit? 
We unveiled the toolkit in November at the annual Teachers for Social Justice Curriculum Fair, by hosting a workshop sampling several of the activities.  Our workshop was packed, with people literally sitting on the floor in order to participate, after the keynote speaker gave it a shout-out during her remarks.  Clearly, this is something that educators and youth workers are wanting right now. 
Nicole and Alexandra, two AFSC youth interns who had worked incredibly hard on the toolkit, each premiered their videos and facilitated the workshop.  We received positive feedback from most of the attendees, including from esteemed educator and organizer Prexy Nesbitt.
Workshop participants shared ideas with us about how they intend to use the toolkit, including:
In their math classroom, as a math activity to show percentages.
In a school setting—the toolkit is a way to have a conversation about policing and safety without provoking administration, and/or students who have family members who are police officers, by focusing on the numbers and framing the issue as one of resources.
With parents at a school community night, to see how ideas about policing and safety differ between generations.
And here are a few examples of the impact the toolkit has already had:
While working on the We Charge Genocide project, we crunched the numbers to determine that  40 percent of the city's budget—$4 million per day—was going to the Chicago Police Department. Just days later, the Black Youth Project 100 and many allies, including AFSC staff, disrupted a conference of the International Association of Chiefs of Police, which was held in Chicago, and included those figures in their statement. These numbers have since been widely used in advocacy work across the city, serving to illustrate policing as a problem of violence in terms of resources. We think it could be pretty simple for advocates in other cities to do similar calculations, as well.
Assata's Daughters in Chicago has already used pieces of the toolkit with their Akerele program, to show how much money the police get instead of other community services that are needed.
The first video that we launched along with the toolkit has over 11,000 views on Facebook, and has helped show our interns that their creativity and insights matter and are needed.
We hope that you will download the "Coins, Cops, and Communities" toolkit, watch and share the videos, and consider how you might use these tools in your own work and communities.  Let us know if and how you're able to use it, by dropping an email to DSouthorn@afsc.org.