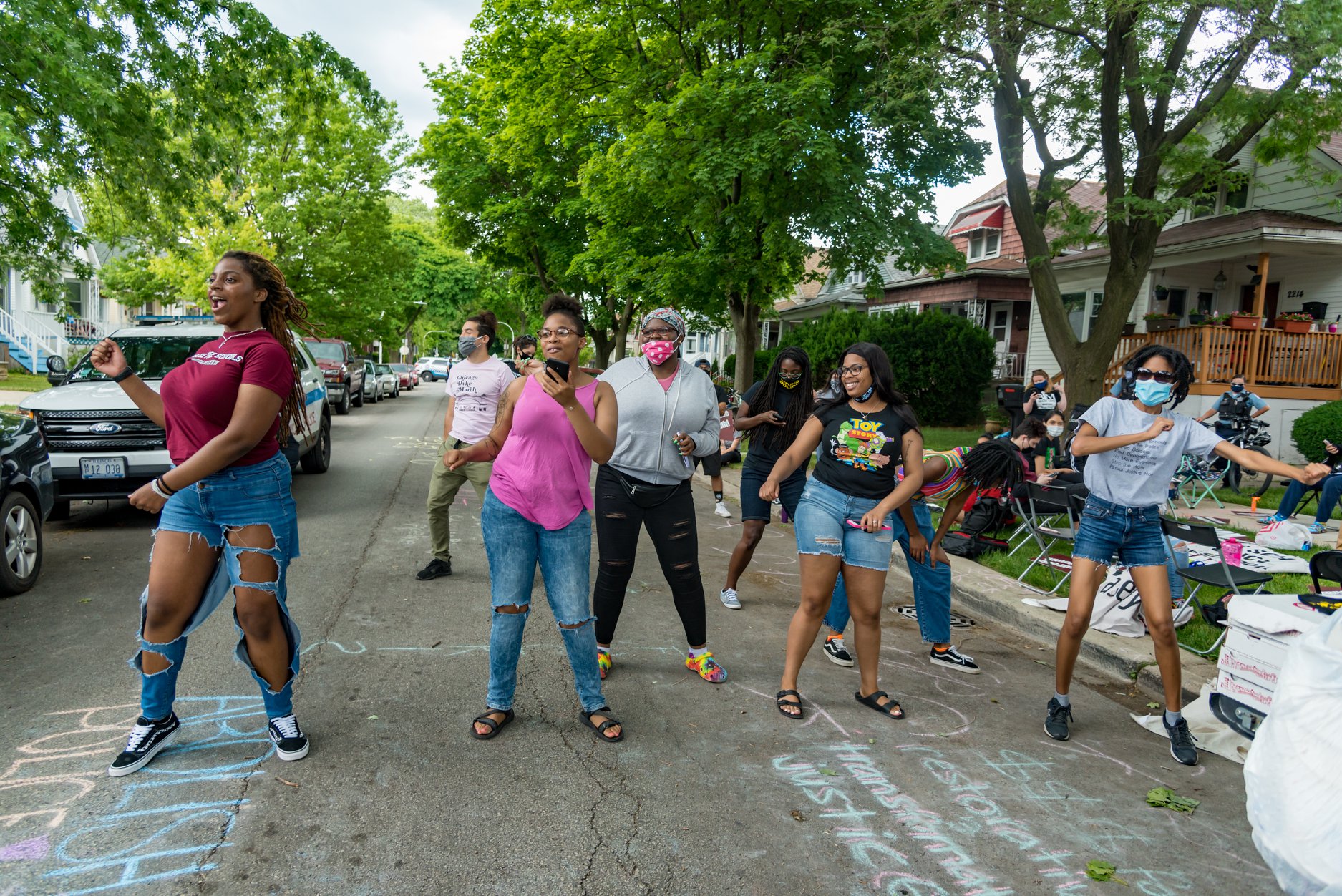 When students of the Chicago Public Schools (CPS) enter their school buildings, they are greeted by 21,600 bullets and at least 360 firearms. The school district spends at least $33 million dollars on weapons and salaries for police officers. Called School Resources Officers, there were 180 Chicago police officers hired to patrol the hallways of CPS last year, who have a total of over 2,354 misconduct complaints filed against them. The district tries to tell us this is what "safety" looks like for Black and Brown students in Chicago.  

For years, young people in Chicago have been waging a campaign to remove police from their schools. They've organized public meetings, lobbied Board of Education members, hosted virtual town halls, countless press conferences, die-ins, protests, marches, and more. Student organizing led to an Inspector General investigation of the relationship between the Chicago Police Department (CPD) and Chicago Public Schools, which found that there was actually no formal rules or contract in place for the officers in schools. But instead of listening to students' demands and removing police, they actually bolstered school policing in the name of "reform" - mandating training, transparency and actually expanding the budget dramatically.  

The fight to remove cops from schools in Chicago is one articulation of the larger fight to defund policing and invest in Black communities instead. And the students organizing for #CopsOutCPS are strategizing accordingly.  

The report recently published by the #CopsOutCPS coalition – of which AFSC Chicago and many former AFSC student interns are leaders – highlighted the well-known racial disparities of school-based policing. They identified that the $33 million currently earmarked for 180 officers to patrol, harass and surveil students could actually fund 317 social workers, 314 school psychologists, or 322 nurses. The report concludes, "We can't afford to keep investing in policing at the expense of Black students and students of color. It's time to divest from policing and invest in the support systems that will actually provide safety and care to Chicago's students."

As nationwide and even global uprisings spread in response to the police murders of George Floyd, Breonna Taylor and Tony McDade earlier this summer, the fights to defund policing and remove police from schools picked up incredible steam. Thousands took to the streets in Chicago to demand #PoliceFreeSchools, and graduating high school seniors even bypassed their official graduation ceremony to march for cops out of their schools instead. 

In June, an ally on the Chicago Board of Education took action in response to student demands. The board member brought forward a motion to cut ties with CPD and reinvest the funds into supportive programs for students – like restorative justice, counseling, or nurses. But the seven-person school board is appointed by Mayor Lori Lightfoot, who despite running on a platform that included removing police from schools has since refused to support the demand. Students and their allies held dozens of rallies, sent over 30,000 individual e-mails to board members, and organized meetings with almost every board member.  

But the day of the vote, the count was still uncertain! Students organized a last minute action in front of the Board of Education President Miguel Del Valle's house on the day of the contested vote because he had refused to meet with youth organizers. Since it was a virtual meeting, this was his "home office," and the students distributed copies of their report to neighbors and invited Del Valle to join a teach-in on his lawn.  

He refused and instead called police on the students. Undeterred, student organizers held space all day in his lawn while the Board of Education met.

While outside, students began looking up the individual records of the officers surveilling their protest – mirroring the work they had done in the #CopsOutCPS report to showcase the backgrounds of the officers patrolling CPS hallways. That research determined that five of the Officers assigned to Chicago Public Schools have more than 50 misconduct complaint records each, more than 96% of all other CPD officers.

After hours of teaching, chanting, dancing and demanding to be heard, the board ultimately voted 4-3 in favor of keeping the contract in place. But it was the first split vote on the Board of Education in decades in Chicago.  

And while the resolutions did not pass in June, they will be up for consideration again before the FY21 school year begins. In the midst of a pandemic, will the school district give their funds to police or to nurses? Will they support students' health and well-being, or continue to criminalize and shame?  

There is another way forward to building community safety that doesn't rely on violence, and it begins with listening to and supporting the young people already working to build a better future.