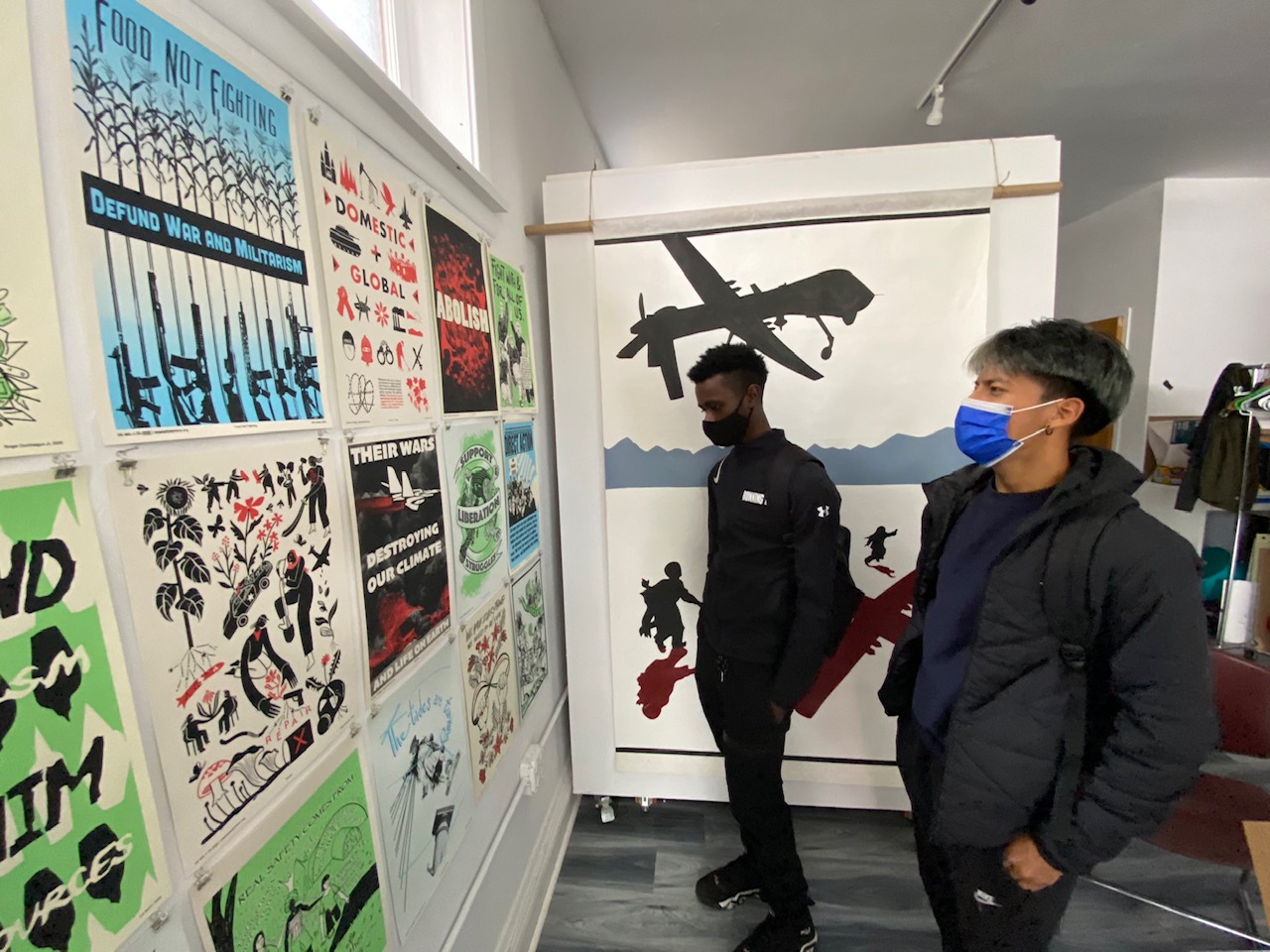 Hello, my name is Rubi Mendez and I am a member of the Social Justice Club at Roger C. Sullivan High School. The Social Justice Club, better known as SoJo, was founded in 2019 after the Chicago Teachers Union Strike by me and another student. We decided to create the club after we saw our classmates standing in solidarity with teachers in picket lines and protesting downtown.
The club was used as a safe space for students to talk throughout the pandemic. But we found it important to make sure that we would become action-oriented when going back in person. To do this we wanted to meet young people like us who were already doing organizing work throughout the city.
That's why we coordinated a virtual speaker series to have some of these young organizers come speak to our club. Here's what we learned from them: 
The first guest speaker we had at SoJo was Cesáreo, who is a part of One Northside. The organization, based on the North Side of Chicago, works to create justice in issues surrounding affordable housing, police accountability, mental health, education, and taxation. Together we were able to identify what issues concerned us the most in our school and how we could create change. One of the biggest obstacles we had to overcome was focusing on one issue to take on at a time within the school, and Cesáreo helped us with that. We decided as a group that we cared about safety and wanted to learn more about how to build trust and create action.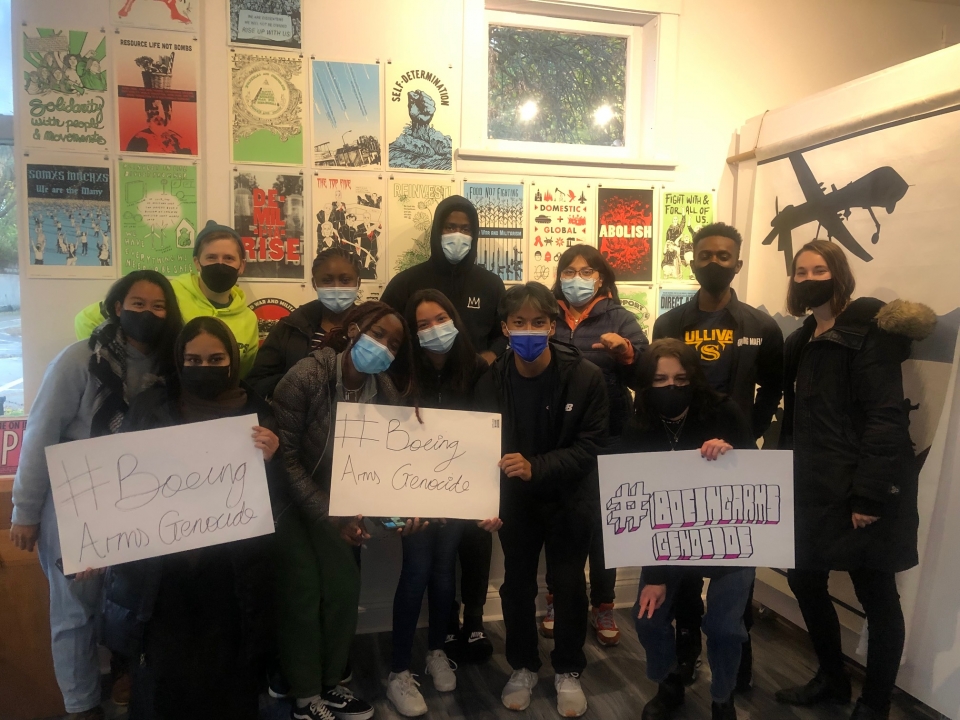 The following week we met with the Loyola chapter of Dissenters. They talked to us about the Boeing Arms Genocide campaign that aimed to end the city's contract with Boeing. We had the opportunity to canvas with them to gain signatures for their petition. That day we all felt extremely nervous because it was our first time canvassing. But after our shift, most of us found it fun because it was exciting to interact with people from the neighborhood.
The week after that, we met Ling Young, a youth organizer for Southside Together Organizing for Power. She was a leader in the #CopsOutCPS campaign, which demanded an end to the $33 million contract between the Chicago Public School district and the Chicago Police Department. When Ling spoke to us, she made sure to make it clear that everyone has power. I will never forget when Ling Young said, "If someone says no to you, tell them no back." As a group, I think it was the first time we were told that resistance is not a bad thing. It was powerful to hear that being young doesn't mean that you should limit yourself.
After meeting Ling Young, we met organizers from the Final Five Campaign. We learned about the juvenile prisons in Illinois and the fight to close them. Something very special about that week was that one of the speakers, Sherrif, was a former Sullivan student. We learned a bit about Sullivan's past with policing. As well as how heavy policing does not mean safety but higher punishment and how punishment does not mean prevention. Hearing that struck us and we started to have conversations outside of SoJo about what safety means.
The reason why we were so concerned with safety is that, since the beginning of the school year, we have seen a rise in fights and conflicts within the school. The only solution we saw being used in school by administrators was a higher restriction of our freedom. Such as the bathrooms being locked between passing periods.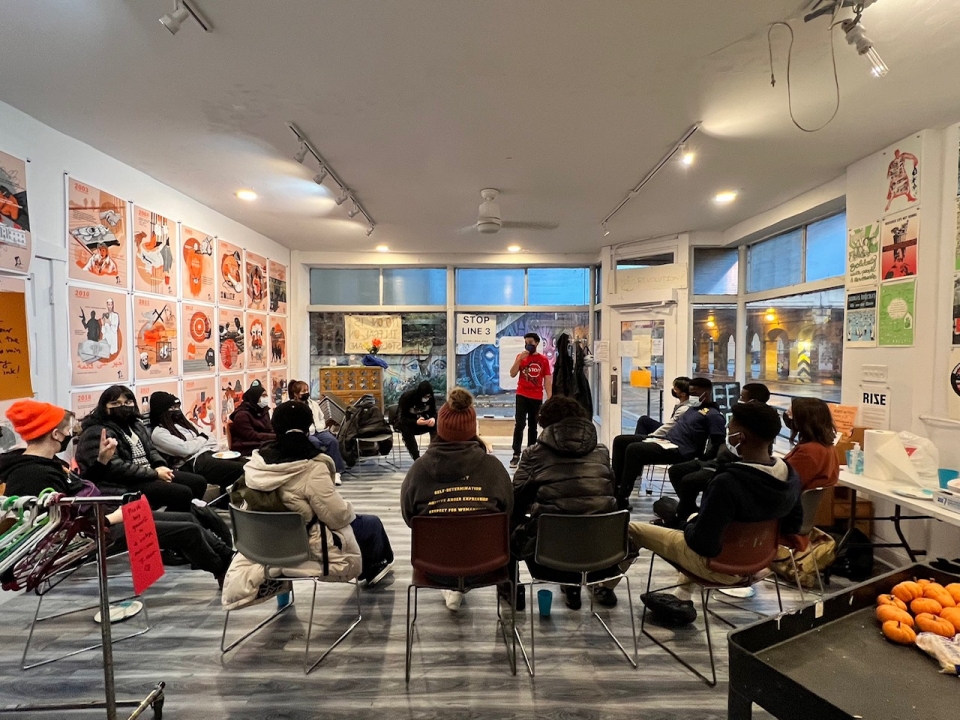 That same week we talked to Catlyn, who is a freshman at a CPS school as well as an organizer for Treatment Not Trauma. Speaking to them provided us with comfort because we were talking to a person who knows what school is currently like due to the pandemic. Catlyn talked to us about the unrealistic expectations schools have right now for students. They also talked to us about how the solution to fights is not to punish students, but to provide them with the resources they have been deprived of due to the pandemic.
One of the last things we did as a part of the guest speaker series was attend an Abolition 101 workshop run by Benji Hart at the PO Box Collective space. I think that the workshop was truly a cumulation of the discussions we were a part of for the past few weeks. The word "abolition" seems intimidating and distant at first, but after these discussions I had a better understanding that abolition is about reinvesting in our communities. Abolition means finding better ways to replace a system that was never created to prevent harm or bring communities together. Abolition means dreaming freely without any limits and asking "Why?" instead of "How?" Like, why don't we have free housing? Why don't we have free Wi-Fi? Why don't we have free transportation for everyone?
Because of what we've learned in these past few weeks, we are starting to think about how we can bring students together in our schools as well as how we can keep dreaming together toward a better future for ourselves and our communities.