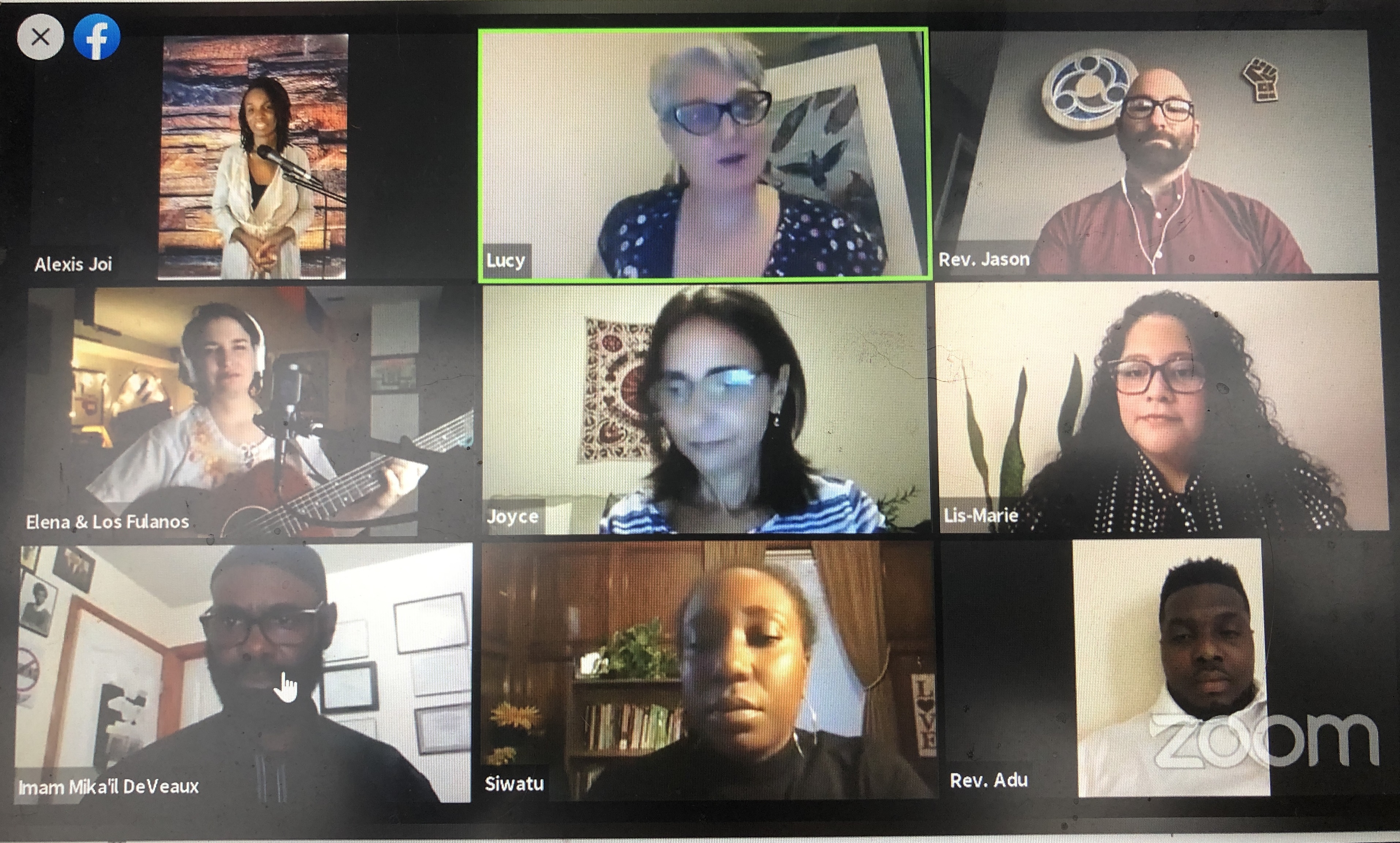 On September 13th, as the closing event of our Days of Action to #FreeThemAll, we hosted a Call to reflection and worship.  We came together for our brothers, sisters, and kin to center the stories, testimonies, and spirits of our loved ones deprived of their freedom as we move forward in collective healing and resistance. This interfaith meeting for reflection and worship welcomed all voices in chorus with the words of invited speakers for all those in prisons, jails and detention centers and their loved ones. May our spirits reach them, our unity protect them, and our works liberate them.  

We opened with a brief reflection on Quaker worship and this moment, then invited speakers offered brief prayers, poems, or spiritual offerings with silent space in between each to receive the messages.
The evening was hosted by Lis-Marie Alvarado and me.
Watch excerpts from the evening from speakers and singers.
Joyce Ajlouny
Joyce Ajlouny, Palestinian American Quaker and the General Secretary of the American Friends Service Committee, opened the evening with a poem by Palestinian poet Mahmoud Darwish.
Messages from AFSC staff from around the world
AFSC is a global organization. In this video program staff from each international region offer prayers, poems, and messages in solidarity with those struggling to #FreeThemAll.
Alexis Joi
Alexis Joi is an American singer, songwriter, and vocal coach.
Siwatu Salama-Ra
Siwatu Salama-Ra is an environmental and racial justice organizer from Detroit who was wrongfully incarcerated for self-defense when she was in her third trimester of pregnancy.
She shared, "You hold onto one another. You imagine yourselves holding one another up above the high waters, above the strong high waters. Call on our ancestors, I call on my ancestors always. I call on the people who I love and know truly love me. I call them into a new day. That new day is here.  You all be excited, be ecstatic. Don't be sad. Think about and envision the very thing that we wish to do which is to free them all."
Pastor Adu
Pastor Adu is a Nigerian pastor and asylum seeker, who was held in ICE detention for 5 years.
He shared, "While I was in [ICE detention] I was able to encourage people, help some of them do the paperwork, help them on their cases. Being in there five years there were a lot of broken people. Then one day I asked myself why am I not a human being? Why would they do this to a fellow human being? It was heartbreaking [my] five years and two months in detention. God used me a lot and what kept me going all through those years was faith and hope. Sometimes being in my cell I looked to the four walls and I call out to God and this tiny voice inside me said have faith and have hope that everything will be okay one day."
Alexis Joi
Alexis Joi is an American singer, songwriter, and vocal coach.
Rabbi Lynn Gottlieb
Rabbi Lynn Gottlieb is an author, artist and activist, board chair of the Interfaith Movement for Human Integrity, and serves on the Jewish Voice for Peace rabbinic council. She is also a member of the Grassroots Reparations Campaign.
She shared, "This year, as we enter 5781 the Jewish calendar, here on Turtle Island, we know we are required to engage in acts of utmost atonement and reparations in a world of pandemic and fire. We ask, who is living and who is dying? And we remember only deeds that generate compassion and healing can remove suffering. Only deeds of restorative justice can annul the harsh decree. We confess our sins. We either tap our chest with an open hand, feel our hurt. Or make a fist that expresses our lament and I invite you to join me in this."
Rev. Jason Lydon
Rev. Jason Lydon is a Unitarian Universalist minister at Second Unitarian Church in Chicago and the founder of Black and Pink, a national prison abolitionist organization dedicated to liberating LGBTQIA2S+ people.
He shared, "We pray that in our moment of doubt, in our days of overwhelmed exhaustion, we can still choose to do what we must to abolish the hells that exist right here in our earth right now for we know that suffering --  we know that punishment is not-- we know that love and justice and all of us together is what will save us. Merciful connected universe, we pray with the fullness of ourselves."
Imam Mika'il DeVeaux
Imam Mika'il DeVeaux is co/founder and Executive Director of Citizens Against Recidivism, Inc., director of Citizens' Muslim Re-entry Initiative, and Acting Imam of The Mosque of Islamic Brotherhood in the Village of Harlem.
He shared, "Loving divine, infinite wisdom, as we gather in prayer and reflection, connected to one another by computers, phones, tablets and fiercely loving solidarity, we pray in the name of liberation. In the name of abolition. In the name of each person locked inside a prison cell. The names of those whose lives have been taken by police and prison guards. In honor of all the freedom fighters who have come before."
Elena La Fulana
Elena La Fulana (vocals, guitar, banjo) grew up in Managua, Nicaragua. She moved to the US to attend college in Indiana in 2002 and moved to Washington, DC to pursue a career in advocacy upon graduation. After building a career centered on the passage of just national and state immigration laws, she transitioned to focus on music in 2012 and has been loving life ever since.
Watch the full video here: