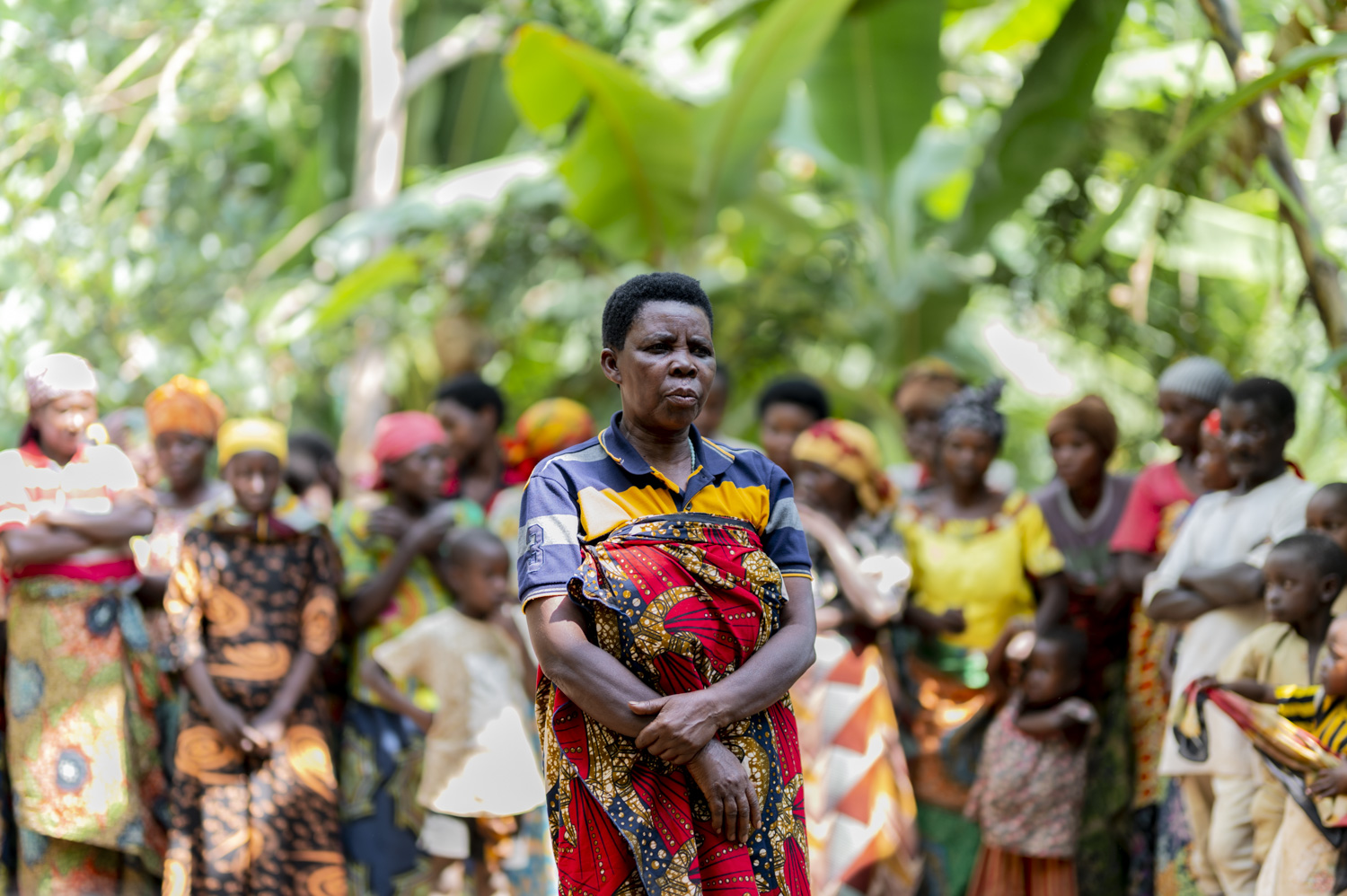 Lidwine Bigirimana lives in Musigati, an Indigenous Batwa community in the mountains of the East Africa country of Burundi. She is also a woman mediator who helps people in her village to resolve conflict.
"When we have problems in our communities, we analyze them together," she says. "We try to take it little by little, step by step."
Historically, the Batwa people have faced discrimination and marginalization in Burundi. Many live in poverty and have little access to public services. During Burundi's years-long civil war, which ended in 2005, the Batwa people were targeted by violence and displaced from their villages. And in 2015, another political crisis in the country further threatened their existence and way of life. Like many Burundians, many Batwa community members are still dealing with the lasting traumatic effects.
Since 2021, AFSC and local partners have supported communities in Burundi in their efforts to build peace and ensure the well-being of all members. Training women to be mediators has been the key to these efforts. The United Nations and international community, including AFSC, have long recognized the inordinate impacts of war and conflict on women and girls. At the same time, women play crucial roles in preventing and resolving conflict—and achieving peace and stability in their communities.
Today, more than 3,825 women in seven provinces of Burundi have been trained as mediators. Since 2021, they have helped community members address thousands of conflicts. These issues include domestic violence, disputes over land, and tensions that arise when former community members return to their communities after months or years away. Women mediators help prevent these conflicts from escalating and, if needed, refer cases to authorities. Mediators have also developed networks to support each other, staying in touch through WhatsApp groups and regular meetings to monitor and maintain peace.
As part of the project, communities have received other forms of support. Thousands of people have taken part in trauma healing sessions and received psychosocial support. They have also participated in community dialogues about ending violence against women, polygamy (another source of conflict), and promoting tolerance.
In addition, communities have learned skills to generate income to reduce poverty and ensure more people can meet basic needs. In Musigati, community members learned to make clay bricks and received equipment and materials, allowing them to sell their products to other communities. That income has allowed community members to buy clothing, cover medical bills, and other essentials.
When we talk with many women mediators today, they tell us how proud they are of how far they have come in just the past two years. There are fewer conflicts in their communities. They have more of the resources they need. And they know that they are collectively working toward a more just, peaceful future where everyone can thrive.
"We, the Batwa, we used to discriminate against ourselves," says Speciose Nshimirimana, a community member. "We used to be belittled—what we did was not valued. But today, we have enhanced our livelihoods. We are building a legacy for this community. In a few years, we will be even stronger than we are today."
This work is part of the project "Connecting the Global to the Local: Strengthening Women Leadership for the Localization of the Resolution 1325 (2000) of the United Nations Security Council on Women, Peace, and Security." It is funded by the United Nations Peace Building Fund Burundi and implemented by U.N. Women and AFSC Burundi.