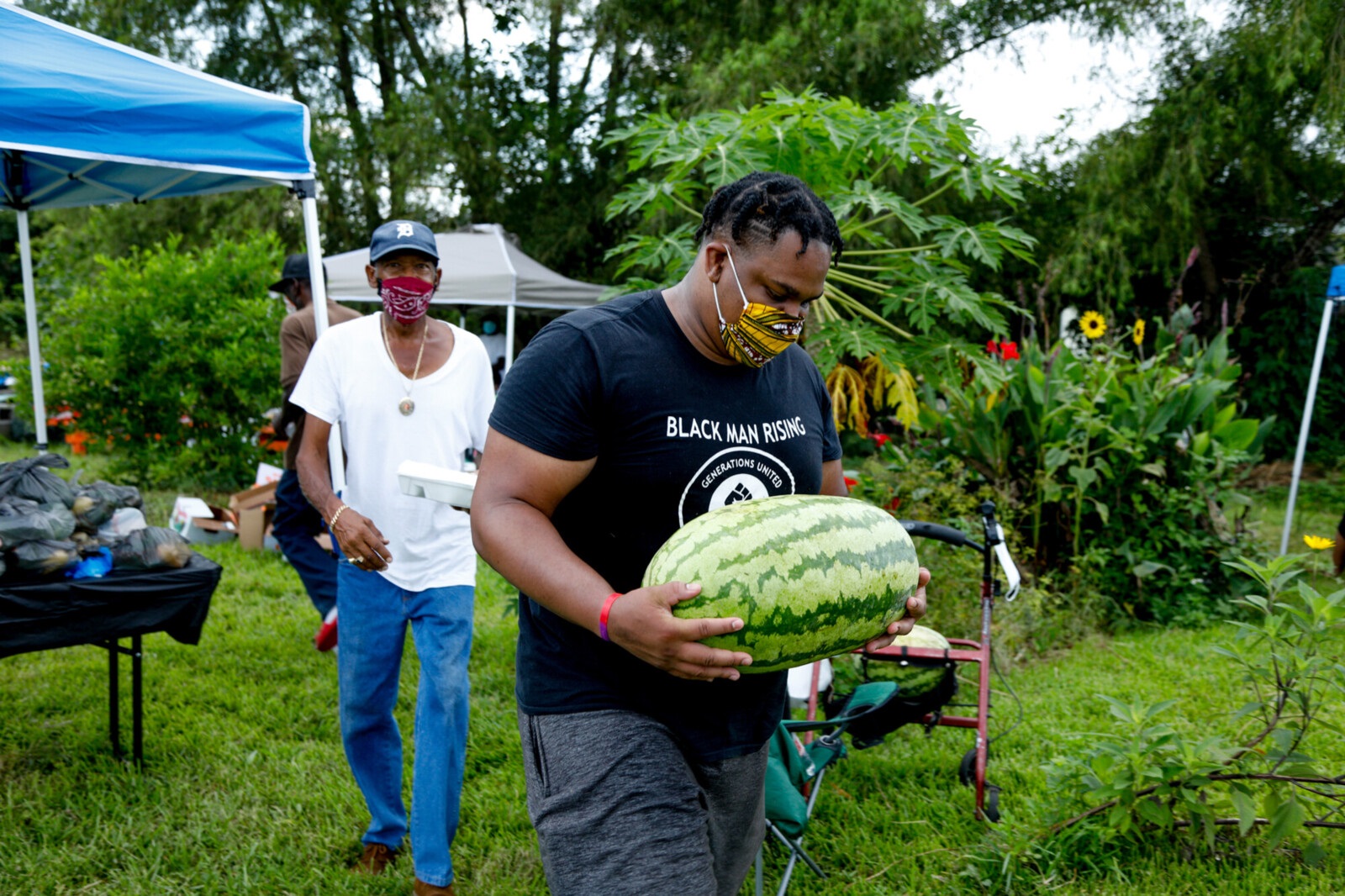 The people of New Orleans have demonstrated strength, resilience, and a commitment to caring for one another in the face of catastrophe time and again. In 2005, Hurricane Katrina and the levee breach left 80% of the city underwater and 1,833 people dead. In the spring of 2020, almost 15 years after the storm, the pandemic rendered New Orleans a hotspot, leaving families and community members to deal with death, unemployment, and uncertainty.
Some might argue that there has been no just recovery from any of these epic disasters, including COVID-19—especially for Black people, low-income residents, and others impacted by the legacy of slavery and 400 years of white supremacy in our city. New Orleans continues to face a lack of affordable housing, rising incarceration rates, and a food insecurity rate of 18%—26% for children. The reality of these and other social injustices are not brought on by natural or manmade disasters, but they are often magnified and exacerbated by them.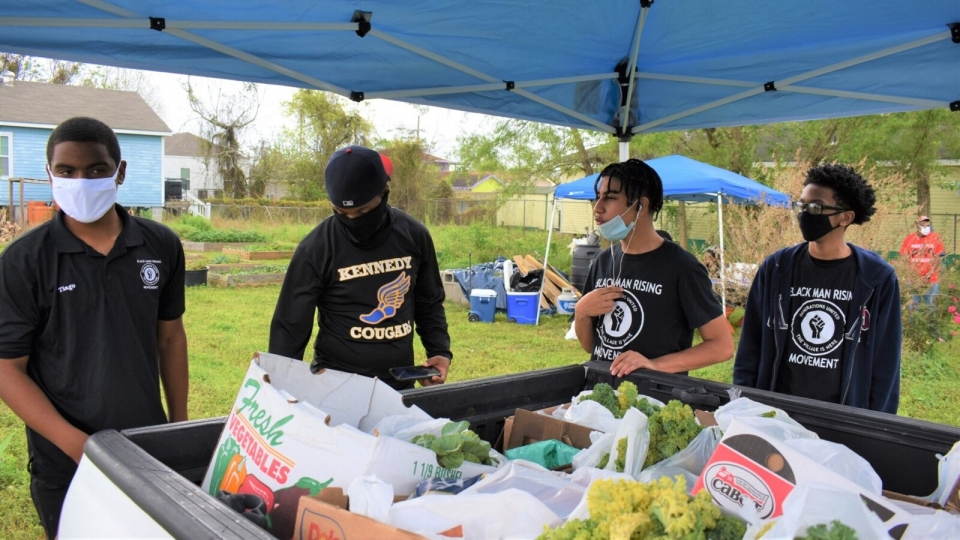 AFSC's Peace by Piece Program in New Orleans has worked to positively influence and mobilize communities of color—particularly youth and young adults—through education, organizing, and economics to realize sustainable and equitable Black communities. We are working toward a future where Black communities are self-determined; realize their capacity to create change; and take actions that lead to social and cultural transformation.
As the director of the program, I want to thank you for your support of our efforts and share updates from our work over the past year:
Building sustainable communities
Peace by Piece New Orleans works with the Hollygrove community to respond to its most urgent needs including food insecurity. For the past five years, we have partnered with the Hollygrove Neighbors Association on the Sustainable Communities Project to increase local, fresh food access. The program manages the Hollygrove Community Garden, which began as a single parcel of land and has since expanded to two additional properties. With a total of 32 beds and growing, we're continually increasing our capacity to provide a local food source in Hollygrove while promoting climate and economic resilience.
To date, the garden has:  
Distributed more than 5,100 pounds of produce, such as watermelon, sweet potatoes, and a variety of greens;
Hosted community food shares for 790 residents;
Registered 60 youth for free Peace by Piece summer camps, where they learn neighborhood history, Black history, methods of sustainability; and
Provided paid internships for 21 young people to support Peace by Piece programming.
In March, Peace by Piece and Hollygrove Neighbors Association hosted a food giveaway—providing 250 residents with fresh produce courtesy of Oko Vue Produce Company, hot fish plates including greens from the garden, and more than 100 turkeys.
Ms. Barbara May, a resident of Hollygrove who helped prepare plates, said, "The food giveaways help us strengthen our sense of community. It's our neighborhood. It's an opportunity to uplift our people by feeding each other physically and communally. These events are an expression of values like caring for each other and belonging to something bigger than ourselves. Sharing food connects us to each other, the Black growers and farmers and the land that is vital to our survival."
Our Sustainable Communities Project addresses disparities in food access by building sustainable green spaces and facilitating communal land ownership. Expanding these spaces is a key priority for the program, especially as the need for food has grown during the pandemic. Currently, we are working with the Live Oak Friends Meeting in Houston, which has raised funds to purchase the community garden lot from the city this summer to be donated to the Hollygrove Neighbors Association, Inc. The property will be placed in a community trust for continued use as a community garden and tool for economic development in the neighborhood.
Promoting community safety without surveillance
Our work in Hollygrove has demonstrated how we can create community safety for all by caring for each other, the Earth, and ensuring everyone has the resources they need to thrive. So in 2018, when Peace by Piece Program members noticed that the city had installed a surveillance camera near our community garden, mobilized against this militarized approach to public safety. Last year, after a two-year coalition effort, we succeeded in passing an ordinance to limit surveillance in our city.
As part of a massive $40 million "crime prevention" project, the city of New Orleans installed surveillance cameras throughout the city, feeding footage to the city's "Real-Time Crime Center." When the city would not provide the locations of these cameras after Peace by Piece filed a public records request, we launched the #StopWatchingNola Campaign, creating a public interactive map using crowdsourced data from people who live and work in the city.
We also partnered with other concerned groups—such as ACLU of LA and Jewish Voice for Peace—to form the Eye on Surveillance Coalition. The coalition opposes surveillance and calls for investment in schools, affordable housing, jobs, and other programs that actually build strong communities and safety for all.
Last year our coalition helped draft an ordinance to ban the city's use of specific surveillance technologies, create a community oversight body, and set limits on data collection and sharing. Working closely with then New Orleans City Council President Jason Williams (now the New Orleans District Attorney), we made online presentations to community groups; hosted virtual teach-ins, rallies, and press events; and urged community members to press elected officials to pass the ordinance.
Our efforts paid off. In December, the City Council passed an ordinance that bans the city's use of specific surveillance tools: facial recognition technology, characteristic tracking, cell-site simulators, and predictive policing.
Looking ahead
AFSC's Peace by Piece Program has plenty of work ahead of us. In the coming year, our Eye on Surveillance Coalition will further engage our neighbors to build on our work to create community-based solutions for safe neighborhoods—without relying on policing or surveillance.
Peace by Piece and our partners are working to expand a community food program in Hollygrove by installing a community fridge at one of the garden properties and selling produce to corner stores, restaurants, and other vendors near the neighborhood—and investing the proceeds to support the expansion of the garden properties. In the fall, when school returns, we will work with students at Paul L. Dunbar Elementary to build a schoolyard garden on its campus. And as COVID cases continue to decline and we are able to resume more work in person, we look forward to restarting our free summer camp in June.
Thank you for your help to make our work possible today and beyond the pandemic so we can support a real recovery for our city—one that is community-driven and transformative.