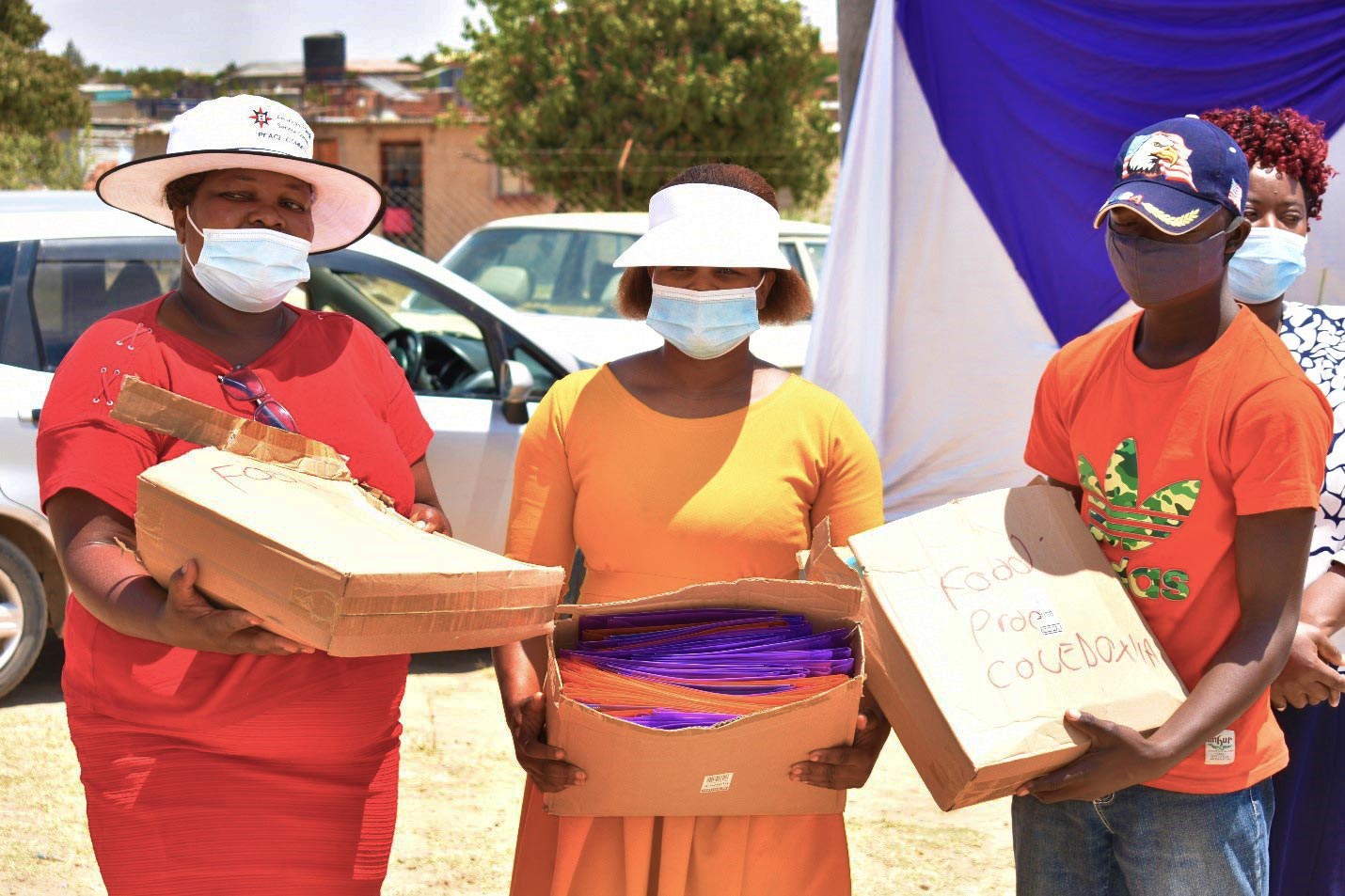 Tarisai* is a 33-year-old mother of three in Caledonia, a settlement on the outskirts of Harare, Zimbabwe. She is a member of the local peace committee, which helps residents resolve conflicts peacefully. And for the past three years, she has worked as chairperson of the community's food processing enterprise group, coordinating and leading its efforts. That has allowed Tarisai to earn enough money to put food on table for her children.
Her life today is far different than it was just over a few years. Tarisai grew up amid intense political violence in Zimbabwe. Young people were particularly affected. Many like Tarisai were indoctrinated to hate or fear community members who belonged to opposition parties. Neighbors—even family members—often could not trust or help each other.
In 2018, Tarisai took a major step that would open new opportunities for herself, her family, and community. She decided to take part in conflict transformation trainings held by AFSC and local partners. The trainings were open to all people regardless of political affiliation.
"I was surprised to see even those who used to be my enemies present in the first workshop," Tarisai recalls. "After going through a series of trainings in peacebuilding, conflict management, dialogues, healing, and reconciliation, I was really touched. I started building confidence to find ways of reconnecting and forgiving my neighbors and finally managed to say sorry to them. When they accepted me, I felt so relieved from the heavy load of guilty conscience."
As the country representative for Zimbabwe, I want to thank supporters like you for making this work possible.
Tarisai is one nearly 2,000 people in three districts of Zimbabwe who have participated in our peacebuilding project since 2018. In addition to peacebuilding skills, young people learn trades such as carpentry, welding, fence making, and dress making. There are few formal employment opportunities in Zimbabwe. These skills have helped community members build livelihoods to support themselves and their families. Some have even started businesses of their own. Ensuring economic security for more people fosters peace for all community members. And many young people who once felt they had few options are now creating new possibilities for their futures.
Participants in our peacebuilding project also develop advocacy skills to work with government agencies to meet community needs. Tarisai is a member of the Caledonia Peace Committee, which has become a critical part of everyday life for people in the district. The committee has gained wide acceptance, trust, and authority because of its inclusivity. It is a non-political platform that encourages participation from young people, women, and people with disabilities—groups that have historically been left out of political processes. Committee members also include people from churches, government departments, community-based organizations, and more.
The Caledonia Peace Committee has been successful in communicating with local authorities, with support from AFSC and partners. Their efforts have led to major improvements in government services to the district. For many years, for example, Caledonia residents lacked adequate access to clean water. Thanks in large part to the committee's advocacy, local authorities have repaired broken boreholes where residents can draw water. Today many more women and girls no longer need to travel long distances or spend hours queuing for water.
The Peace Committee has also stepped up to promote public health in this pandemic. As lockdowns took effect, members created a WhatsApp group for residents. That allowed community members to report cases and share accurate public health information to help keep each other safe.
Because of the success of the Caledonia Peace Committee, its membership continues to grow. Residents are creating subcommittees to reach, support, and engage more people in the district.
Over the past three years of this project, I have been inspired to hear from people like Tarisai and other community members in Caledonia. There are many more stories like them. Stories that demonstrate the transformative power of youth, women, and all people to promote peace. Stories that show the importance of supporting all people in advocating for their rights their dignity. Stories that prove how courageous, resilient, and resourceful communities can be—even when faced with the most challenging circumstances.
Thank you for helping us make these stories and more possible. And for your steadfast support in working for a world where all people have the resources they need to thrive.
*Tarisai is a pseudonym.