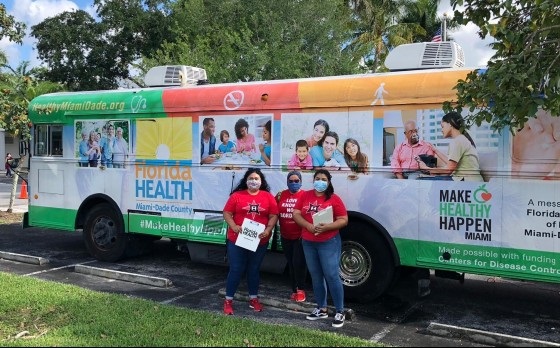 As coronavirus cases hit record numbers in Florida, migrant farmworkers are especially at risk—and many lack access to the health care and resources they need to protect themselves and their families.
Since this summer, AFSC's Florida Program has helped bring COVID-19 testing and personal protective equipment (PPE) to hundreds of farmworkers and their families in Homestead, Florida. The agricultural town—30 miles south of Miami—is home to a growing number of immigrants from Latin America and the Caribbean, many of whom work in the fields and local plant nurseries.
Supporters like you have helped us stand with farmworkers, who put food on so many tables and play such a critical role in the health of our communities and economy—especially in this pandemic. Yet while they are deemed "essential workers," farmworkers continued to be treated as disposable by the government and, all too often, the employers they work for. Millions of immigrants across the U.S. have been excluded from stimulus checks, health care benefits, and other forms of federal coronavirus relief.
In Homestead and other agricultural communities, many live and work in cramped conditions that make them more vulnerable to outbreaks. And many are exposed to toxic pesticides, contaminated drinking water, harmful dust from machinery, and extreme heat, as Florida offers few protections for agricultural workers.
There have been hundreds of reported cases among farmworkers in Florida—and those numbers are vastly undercounted because of the lack of testing, particularly in remote areas.
One Homestead community member, Diana, told us she goes to work every day at a plant nursery in fear of getting infected by the virus and infecting her family. Her workplace has not implemented social distancing practices nor provided her with protective gear—even restrooms lack basic hygiene items like soap and toilet paper. But as the sole provider for her family, Diana cannot afford to stay home from work.
What's more, COVID-19 testing has not been widely available in agricultural communities, where many residents don't own cars and cannot reach the state's drive-thru sites located an hour away. Many workers rely on crowded buses to get to and from work and labor in fields or plant nurseries from sunrise to sundown.
These obstacles compound the existing barriers to health care immigrants in Florida have long faced, including being turned away when they lack health insurance or a Social Security Number. Many also fear the presence of police and Immigration and Customs Enforcement (ICE), whose cruel policies and practices have separated families and terrorized communities in Florida and across the U.S.
With your support, AFSC has responded to ensure more farmworkers and all community members in Homestead have the resources they need to stay healthy in this pandemic. We partnered with the state Department of Health to bring mobile clinics to farmworker housing villages to provide COVID-19 testing where they live. Tests are free to all regardless of immigration status, and community members do not need to show an ID. We also ensured that no police or law enforcement would be on site.
Since mid-June, our efforts have helped nearly 500 farmworkers and family members get tested in Homestead. We have also distributed more than 5,500 face masks, food packages, and public health information to many more community members through outreach events and canvassing door to door.
The COVID-19 pandemic has magnified the dangerous, exploitative working conditions and other injustices that migrant farmworkers face across the U.S. As cases continue to climb, Florida and other states must do more to ensure everyone has access to testing and medical care; require employers to supply protective gear and implement social distancing and other effective public health practices; and provide economic relief for immigrants and all members of our communities.
With your support, we are working to meet the immediate needs of immigrant farmworkers and their families here in Homestead. And we will continue to stand with community members to push for the long-term change needed to ensure they are treated with the care, dignity, and respect that we all deserve.