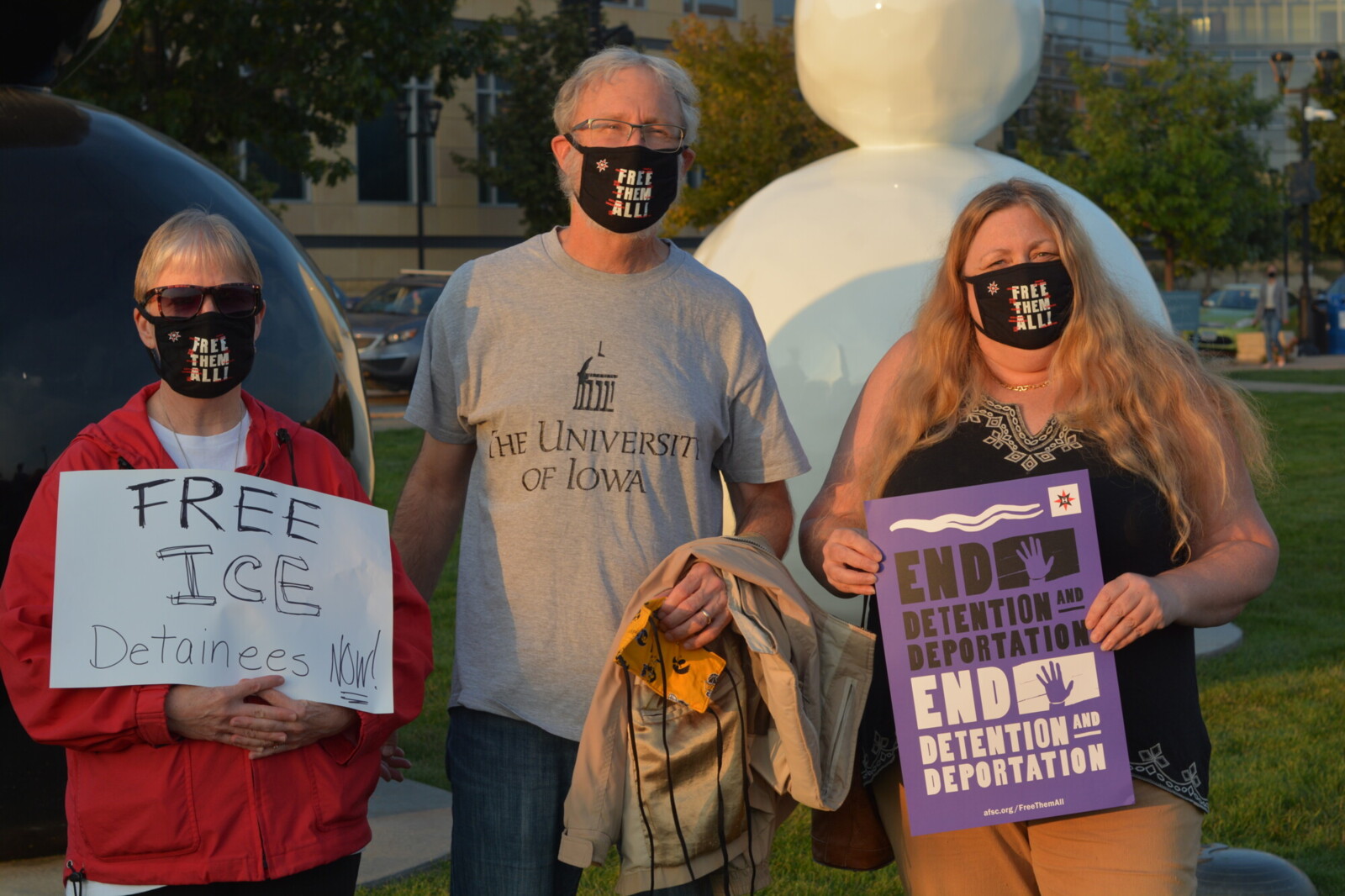 Soon after taking office, President Joe Biden began making big changes to U.S. immigration policy. But while the president has worked to undo some of the most harmful policies passed under his predecessor, more action is urgently needed to stop cruelty against immigrants and build a more just and humane immigration system.
Today, there are still thousands of people in immigration detention, the border is closed to most asylum seekers, and immigration enforcement agencies continue to harm our communities. We must keep up the pressure on the administration to enact policies that respect the rights and dignity of all people.
Here's an overview of Biden's changes to the immigration system, what more must be done, and what this means for immigrant communities.
Ending the "remain in Mexico" program
In January 2019, the Trump administration began implementing its "remain in Mexico" policy, which has forced tens of thousands of asylum seekers to return to Mexico—for an indefinite amount of time—while their claims are processed. Officially known as the "Migrant Protection Protocols (MPP)," the policy is a clear violation of both U.S. and international law, putting asylum seekers in further danger. Many faced violence, obstacles accessing legal services, and unsanitary conditions amid pandemic.
On the first day of the Biden administration, the Department of Homeland Security announced it would no longer put new people into this program, and on June 1, the administration officially terminated MPP. About 11,200 people who had been enrolled in the program have been processed into the United States, but many more are still waiting in dangerous conditions. The administration must continue to bring all immigrants in the MPP program to the United States to complete their asylum process in safety—and ensure the immigration legal system is prepared to resolve cases humanely and with due process.
Keeping the U.S.-Mexico border closed to asylum seekers
At the start of the pandemic, the Trump administration closed the southern border to asylum seekers, deporting many back to dangerous conditions—against the advice of public health experts who found there was no public health justification for the decision.
Since March 2020, the order has resulted in rapid-fire deportations—known as "Title 42 expulsions"—of more than 643,000 people, including children. Today, thousands of migrants are stranded along the Mexican side of the border in makeshift camps and other unsanitary conditions without access to adequate support services, where they face high rates of kidnappings and violence.
The Biden administration must reverse the Trump administration's order, stop these expulsions, and protect the health, safety, and human rights of all who seek refuge at the southern border.
Tell President Biden: Reopen our borders to asylum seekers and ensure that they can seek safety in the United States!
Reuniting families separated at the border
Biden took action to address the effects of the Trump administration's horrific "zero tolerance" policy, which has left hundreds of children separated from their parents and guardians.
Biden rescinded a Trump executive order that had blamed Congress for family separations and told the Department of Homeland Security to detain children and their guardians together—while leaving open the possibility of family separations in some cases.
The president also established a "Task Force on the Reunification of Families," which will be housed at the Department of Homeland Security and is charged with identifying children that were separated from their families under the zero-tolerance policy, facilitating reunification and providing support services, and making recommendations to ensure that family separation doesn't happen again.
As of early June, the Biden administration had so far only reunited four families. Many more are still separated—and many are newly separated due to Title 42 expulsions (see above).
Removing barriers to legal immigration
Biden has ordered a review of policies and guidance that may make it harder for people to access the legal immigration system, as well as recommendations to remove those barriers.
He also required a review of the cruel "public charge" policy, which restricted access to permanent residency for immigrants for using certain types of public assistance, such as SNAP (food stamps) or Medicaid. The Department of Justice then stopped defending the rule in court, which resulted in the draconian rule being permanently blocked nationwide--
In addition, Biden plans to create a "Task Force on New Americans," an interagency working group that will develop a strategy for welcoming immigrants, and review the process for naturalization with the goal of making citizenship more accessible and reduce processing time. As part of this commitment, the administration has ended the use of a new, longer civics test in the naturalization process.
Revitalizing the refugee program
The Trump administration severely weakened the U.S. refugee resettlement program, slashing the number of refugees accepted into the United States to 15,000 a year—compared with Obama-era levels of around 110,000 people in 2017.
Despite initial promises to revitalize the refugee program and raise the cap to 125,000, in May Biden raised the cap for 2021 to 62,500 people. This decrease is due to a loss in resettlement capacity under the Trump administration's low levels of admittance, and the Biden administration must work to rebuild capacity and set a cap of 125,000 in the future.
Rescinding the Muslim and African bans
Biden ended Trump's cruel Muslim and African bans, which placed discriminatory travel restrictions on people from many majority-Muslim and African countries. Under the bans, people fleeing violence, hoping to reunite with their families, access medical treatment, pursue their careers, and many more were barred from entering the United States.
Biden's executive order rescinds the bans, orders visa processing to resume, and requires the secretary of state to propose a way to fairly reconsider visa applications that had been denied. The administration will also work to reform the screening and vetting of people traveling to the United States.
To ensure that future presidents can't issue similar discriminatory bans, Congress should pass legislation like the "No BAN Act," which would raise the requirements a president must meet to issue restrictions. It's also important that the administration ensures that the reformed screening and vetting process does not increase surveillance and inappropriate use of social media to deny people visas.
Halting border wall construction
While in office, President Trump declared a national emergency that allowed him to reallocate funding from other priorities to build a harmful border wall. Biden, in one of his first executive actions, terminated that national emergency and halted construction on the border wall, and the administration's budget for 2022 asks for no new border wall funds
However, Biden has asked for $1.2 billion for "border infrastructure," which includes things like surveillance technology and aircraft.
The president must do more than defunding the border wall—he must work to repair the damage that border wall construction has inflicted on border communities and the environment. And as the Biden administration moves money out of border wall construction, we must ensure those funds aren't spent on surveillance or further militarization of border communities.
Tell Congress: Stop militarization of the border region!
Preserving DACA
Biden has directed the Secretary of Homeland Security to take action to preserve the Deferred Action for Childhood Arrivals (DACA) program, which protects more than 700,000 people who came to the United States as children from deportation, and gives them authorization to work in the U.S.
This is welcome news for recipients of DACA, a program that the Trump administration continually tried to dismantle. Unfortunately, DACA continues to be challenged in the courts, and another administration could attempt to end the program again. We need congressional action to legislate permanent protections for DACA recipients, undocumented young people, and all immigrants in the U.S.
Tell Congress: Create a roadmap to citizenship for all immigrants!
Shifting interior enforcement priorities, ending attacks on sanctuary cities
In 2017, Trump issued an executive order that dramatically expanded immigration enforcement in the U.S. and added to the previous enforcement priorities, vastly increasing the number of people Immigration and Customs Enforcement (ICE) could arrest and target for deportation. The order also excluded sanctuary cities from federal grants if they refused to cooperate with federal immigration enforcement agents—part of the Trump administration's effort to punish cities that refused to carry out its anti-immigrant agenda.
Biden revoked that executive order and laid out immigration enforcement priorities that highlight addressing the humanitarian challenges at the southern border and adhering to due process of law—a departure from Trump's more aggressive enforcement agenda.
Unfortunately, these priorities have not been implemented consistently by ICE, and there are many people still in immigration jails who aren't considered a priority under this new guidance.
Continuing detention and deportations
When Biden entered office, ICE was detaining an average about 15,000 people in immigration jails. Now, that number is closer to 22,000, and growing. And in his budget request for 2022, he wants to give ICE enough money to detain 32,500 people, including families.
Deportations continue, as well. The number of migrants deported because of the border closure tops 640,000, and thousands more have been deported from the interior of the country.
Everyone deserves a pathway to remaining with their families, and no one should be kept in a cage. We need President Biden to end the detention and deportation of migrants, and for Congress to defund the agencies that carry out these abuses.
Tell Congress: Stop funding cruelty against immigrants!
Extending protections for Liberian refugees and Haitians
Biden extended a deferral on deportations for about 4,000 Liberian refugees living in the U.S., allowing them more time to apply for legal permanent status. These are refugees who were granted Temporary Protected Status (TPS) in the U.S. after fleeing civil war in Liberia, and when TPS ended, were granted "Deferred Enforced Departure" status, which protected them from deportation and authorized them to work in the U.S.
In 2019, Congress passed the Liberian Refugee Immigration Fairness provision, which gave potentially 10,000 Liberians—including individuals with DED—a pathway to permanent residency. Biden's executive order extends DED status and work authorization for Liberians who had DED as of Jan. 10, 2021, giving them more time to apply for legal permanent status in the U.S.
Biden also re-designated Haiti for "Temporary Protected Status" (TPS), meaning that Haitians who have lived in the United States starting on May 21, 2021 can apply to temporarily remain in the United States for 18 months.
It's not enough to offer temporary protections, however, and many current TPS holders have been in the United States for decades without a pathway to citizenship. President Biden and Congress must prioritize creating a roadmap to citizenship.
How you can get involved
Some of these actions by President Biden are significant steps for our communities, helping to reverse some of the most harmful policies enacted by the Trump administration. Others serve as a reminder of how much work we have ahead to create a more welcoming system for all immigrants in the United States. Now we need permanent solutions to many of these problems, and that requires Congress to act.
Tell Congress: Create a roadmap to citizenship for all immigrants!