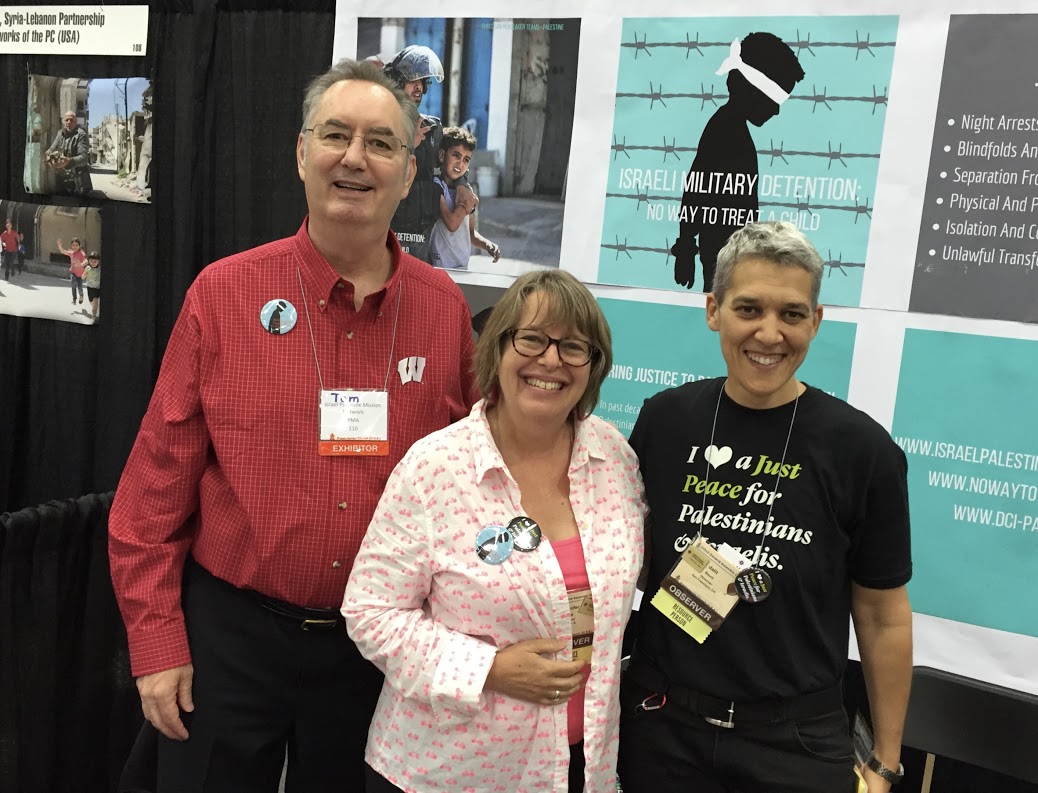 The third week of June, 2016, the Presbyterian Church USA conference met, considered, and passed resolutions/overtures related to Israel and Palestine, moving forward the work of church divestment from Israeli occupation.  AFSC staff Jennifer Bing reflects here on her experience in Portland, Oregon with the Presbyterian Church sessions. Here's more about the church divestment recent efforts (Anna Baltzer writes about the two meetings in detail). - Lucy

BDS unites us. That is what I witnessed this week attending the General Assembly of the Presbyterian Church USA where the discussion of challenging Israeli occupation using the methods of boycotts, divestment and sanctions continued.  Two years ago, the Presbyterian church voted to divest from corporations complicit in human rights violations as part of the Israeli occupation, including Hewlett-Packard, Motorola Solutions, and Caterpillar Inc. This year overtures related to Israel and Palestine overwhelmingly passed the gathered body, including pursuing advocacy for Palestinian children held in military detention, calling on real estate company Re/Max to stop renting and selling properties in Israeli settlements, endorsing a new report by a church agency that calls to uphold a rights-based framework, a commitment to study the Palestinian call for BDS, and an overture highlighting the church's historical use of nonviolent means, including boycotts and divestment.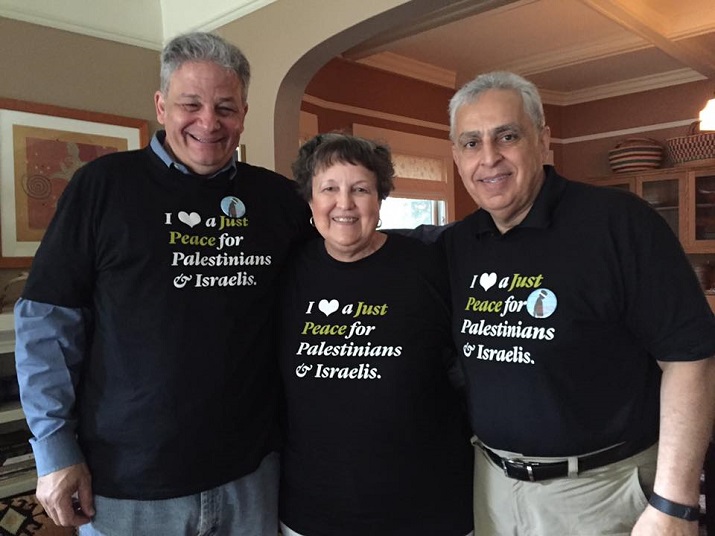 I was fortunate to be connected with a team of dedicated members of Jewish Voice for Peace and Palestinian Christian Alliance for Peace, supporting the Presbyterian Israel Palestine Mission Network as we presented testimonies, spoke to commissioners from around the globe, offered educational programs at meal times and throughout the week, and answered questions and provided information at exhibit hall booths.  Wearing shirts and buttons with a message of support for "a just peace for Palestinians and Israelis" we were a visible presence of interfaith reconciliation.
But what many didn't get to see were the special moments when our group met privately.  The hug after an emotional testimony. Exchanging big smiles and victory signs after resolutions passed.  Laughter over stories of being misunderstood, "Wait, are you Jewish or Palestinian?"  Wiping a tear after hearing about our friend's experience of living in Gaza during the Israeli assault in 2014 and losing his best friend. Listening to stories of our loss or transformation. Holding hands in prayer before the assembly cast its votes.  For one of our younger members, this was the first experience he had ever spent in the presence of Jewish people that were not soldiers.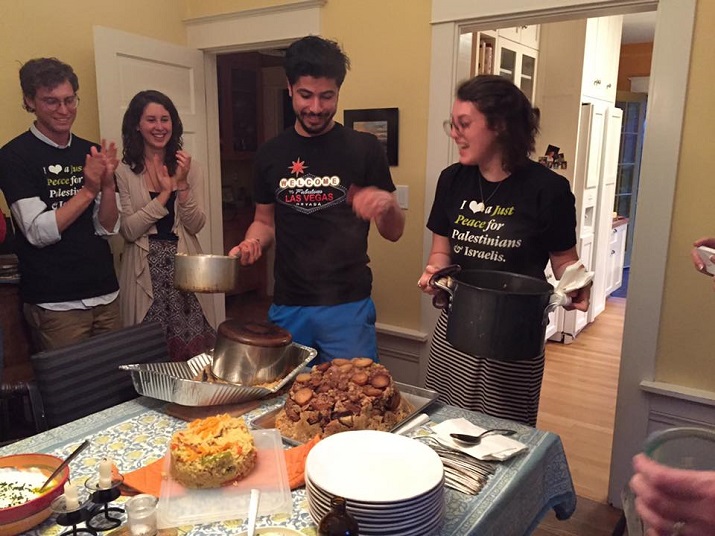 We cooked together, debated the best method for making makloube (a popular Palestinian dish).  We showed family photographs on our phones and laptops.  We negotiated traveling as a group, ate leftovers, found lost wallets and cell phones, brought each other coffee and sweets, and stayed up late every night strategizing about our work for peace and justice, not just in Portland but in the world.
In essence, we became a family.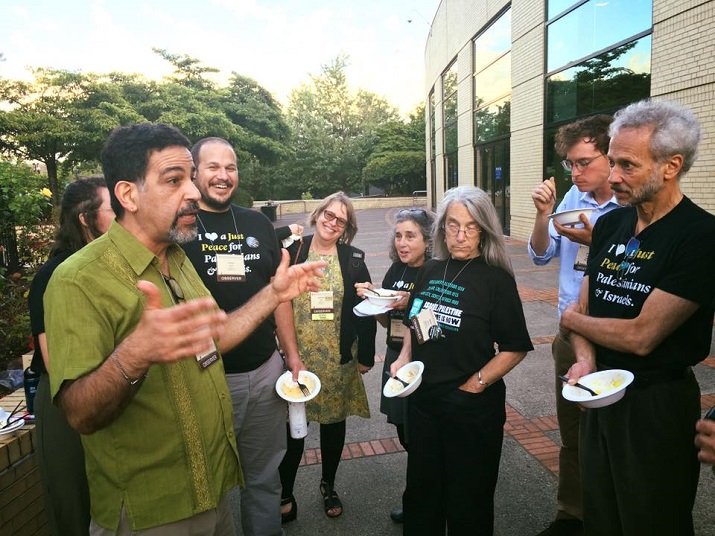 A shared commitment to equality, freedom, and justice united us.  Our work building relationships was more important than any resolution passed (although we are glad they did).  The challenges ahead of us are great, but for a week we experienced the solidarity of one another that will sustain our joint resistance to violence, occupation and despair.
* Jennifer Bing is a Quaker staff member at AFSC  and attended the Presbyterian General Assembly with other allies from Jewish, Muslim and Christian faith traditions.
Related Content
Refusing to water the seeds of war
You just have to be human: Resisting apartheid and occupation