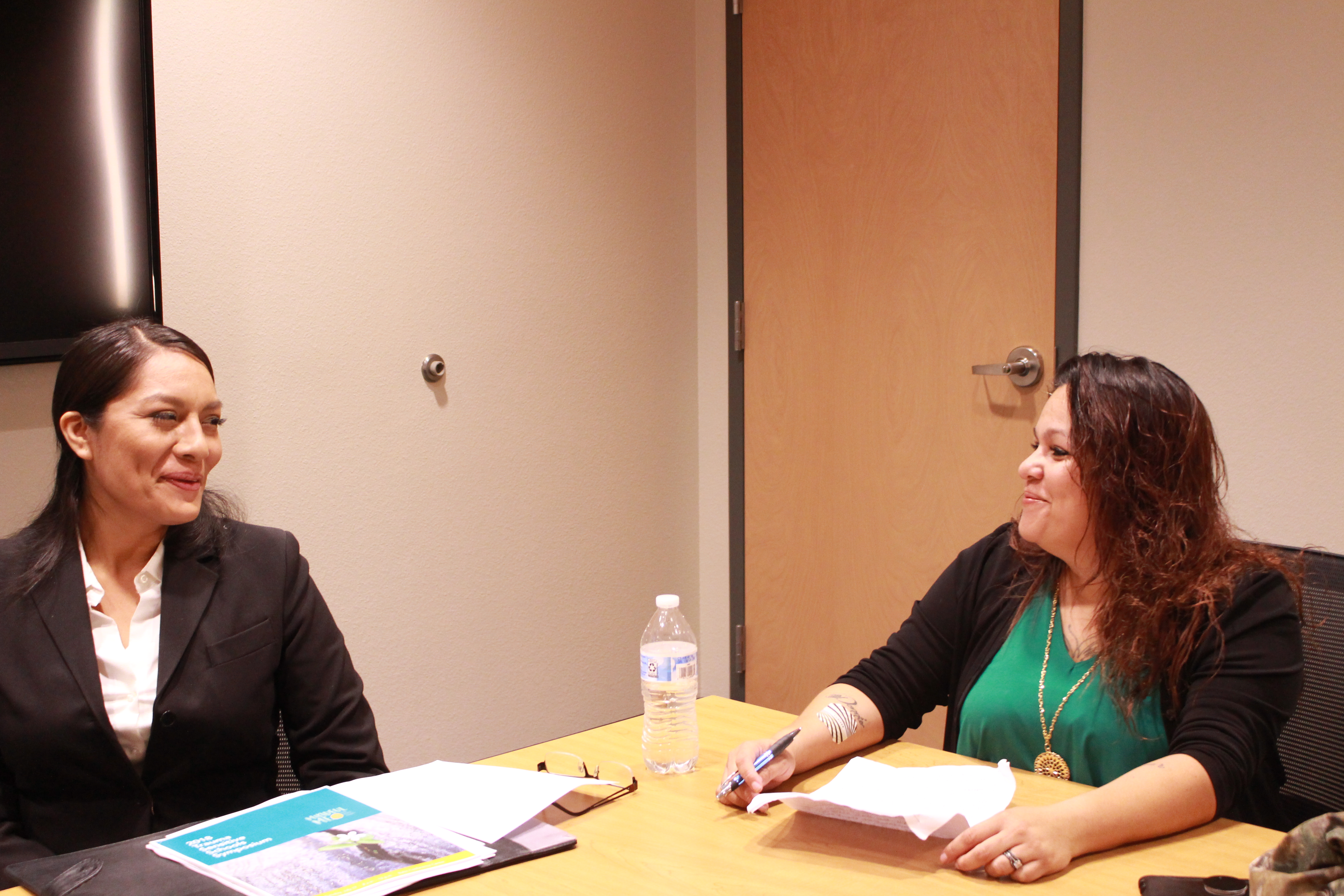 Interview by Grace Gámez
Adrienne Kitcheyan and Tuesday Brauer are advocates for incarcerated women, drawing from their experiences after cumulatively spending more than a decade in prison in Arizona. 
Earlier this year, they helped lead a successful campaign that led Arizona to improve access to feminine hygiene products for women in prison. The Department of Corrections will now provide at least 36 free pads or tampons to women every month. Previously, the allotment was only 12 pads, placing women in embarrassing, often degrading situations.  
By sharing their stories with elected officials and the media, Tuesday and Adrienne put a human face on an issue that had been ignored for years--and people listened.  
The campaign was supported by organizations including AFSC and numerous people across the country who took part in a viral #LetItFlow social media campaign.
Adrienne and Tuesday recently share some of their experiences in an interview with Grace Gámez, AFSC-Arizona program coordinator. 
How did you get involved in advocating for menstrual equity legislation, or what became known as "the tampon bill?"
Adrienne: In prison, I had experienced what that the bill was trying to change. Tuesday and I offered our insight and helped bring awareness to the issue by putting a face on the people affected by the situation.  
Tuesday: I thought about the first two years I was in prison. I didn't have any money, and I was wondering how I was going to manage my menstrual cycle. I remember how hard it was to focus on improving myself thinking about basic needs. I remember the helpless feeling of not being heard. I thought it was important to advocate for the bill, knowing there was no voice for that at the time.
I think your testimony to the committee that heard the bill (the all-male Committee on Military, Veterans and Regulatory Affairs) made all the difference.
Adrienne: They heard the facts, but the data just wasn't really resonating. When they heard us say, this is what I experienced, it definitely made a shift. I think they were able to get the reasons for the importance of this change and the conversation we were having. 
Tuesday:  I remember thinking what would have happened had we not showed up. The validity of what we had said would've been lost. I think just showing up and speaking from experience--there is such a power in sharing your journey no matter what. 
As part of the campaign, you wrote op-eds and spoke to major media outlets. What was that like for you? 
Tuesday: I'd never done anything like it before. To see if unfold, to see it spread across social media, was such a great experience. I let go of a lot fear for standing up for what I believe in and the things that matter to me. I knew people were watching and listening and getting new perception of things.  
Adrienne: Having a platform has been really therapeutic. Initially it was overwhelming because there was so much I wanted to say and a lot I hadn't really learned the language to express it. It was scary, but it was really empowering. My past wasn't a discrediting deal breaker. It has been my credential and what makes me uniquely prepared to do this sort of work. 
Why motivates you to do the work you're doing as advocates?
Adrienne: There are women who have spent the majority of lives incarcerated. I met women who went to prison as teenagers and will possibly never get out. Through reentry, I really worked hard to overcome so much adversity. Through AFSC and other opportunities, I've found a way where I can do something I feel is right, something that is going to make a difference, and help people see past the punishment people like me have received. 
Tuesday: For a long time, I felt like I don't have a voice because I can't vote.* But I realized that just because we can't vote doesn't mean we can't be civically engaged, and we can't exercise our people power, or have a direct impact on the vote.
What do you want people to know about what's it like to be a woman involved in our system of criminal punishment?  
Tuesday: The thing I want most to be known is that women in prison deserve to be heard. And the beauty of making a mistake is living through it and making a change. And that rehabilitation takes place when people have their basic needs met so they can focus on real change. 
Adrienne: Incarceration for women is different. The needs for women in prison are unique and the needs for each woman are even more so unique. Upon reentry, it is very different for a female who has experienced incarceration. Women who are incarcerated are vulnerable in a way that they're unable to vocalize. I've been in that situation and at times, I still feel like I am in that situation. It's my calling to share my stories and help raise awareness about the challenges. 
How do you view the work you do as working to end violence against women? 
Adrienne: To me violence against women is very insidious. It's not just domestic violence, not physical violence. It's sexual, it's emotional, and how you deal with it is less obvious. I want to help other women have resources to end violence. It's been important for me to show that it's in all of us to stand up to the system, do what is right, and give back the sense of dignity that will hopefully empower others to stand up, no matter what situation they're in. 
Tuesday: Some women are in a place of darkness because it's all they know, unless we take time to teach them. The programs available right now to women in prison are repetitive, and they're not really delving into what we need. You have to reprogram your mind, develop new habits, and find a healthy way to deal with stress. I don't want women to fear that they can't change that dark place they live in and create their own sunshine.
What else do you want people to know about your work and the future you're trying to create? 
Tuesday: What I see is a future where all women speak what is on their heart and their mind, where there is no fear of repercussion for doing so, where prison is designed to help the lost who walk through its doors, where people see that although we make mistakes we are not viewed as lost causes. 
Adrienne: The biggest impact for me has been to speak to other people who have been through what I had been through and to speak with people who have woken up from this nightmare I feel like I'm still in. It's so amazing to meet formerly impacted people who now have letters behind their names, or introduce themselves as "doctor." It's really inspired hope, and this is what gives me the confidence to stand up in front of a crowd or go to a rally that can have an impact on the community. 
*In Arizona, and most states, people on probation, in prison, or on parole can't vote. Learn more about felony disenfranchisement.
More resources: