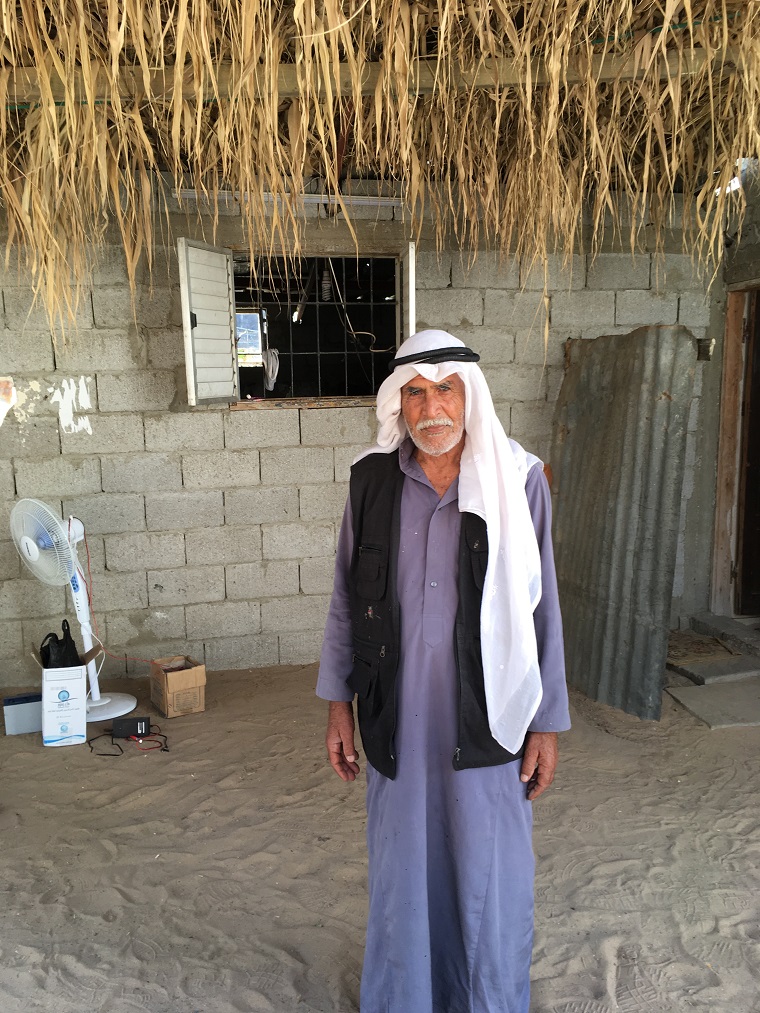 When I was in Gaza last month, I traveled to Rafah to meet some of the people who benefit from AFSC's elder support program, which provides modest assistance to impoverished elderly residents of Gaza.  While many organizations provide assistance to people in Gaza, AFSC is the only group that provides for the specific needs of the elderly. 

More than half of Gaza's two million residents are food insecure, and over 80% of the population relies on international assistance to survive. Unemployment rates are over 50%, one of the highest in the world. Gaza's population lives with extreme poverty and vulnerability, and the elderly – without an established social security system – face very specific risks.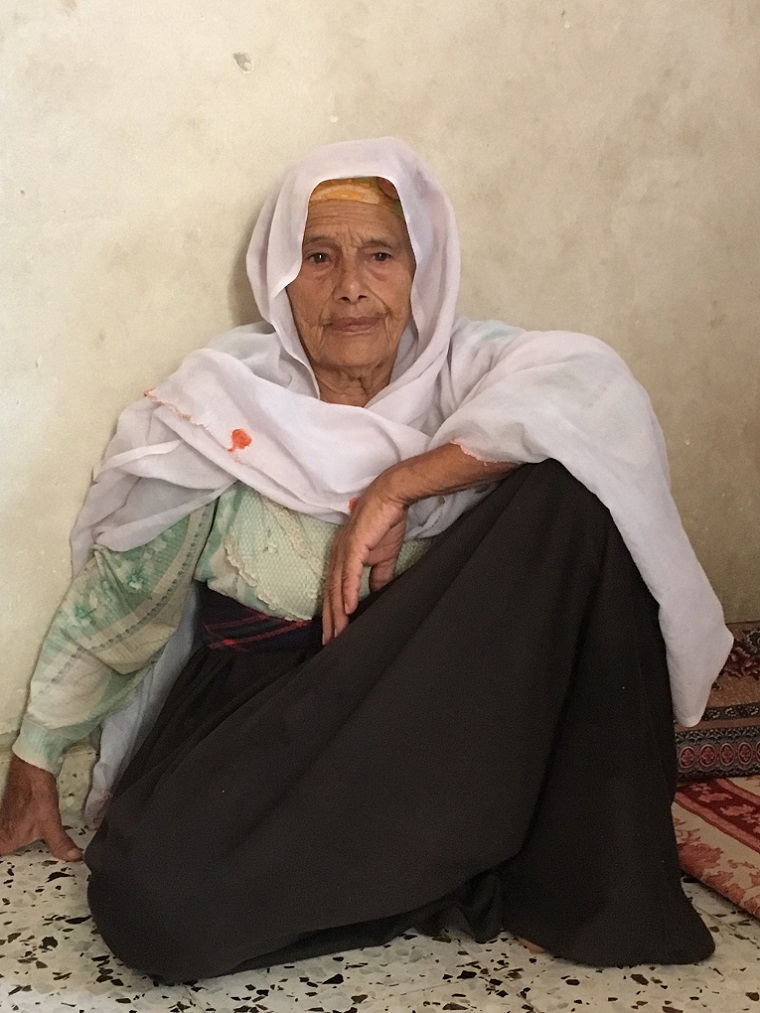 Jamea' Shalout is one of the seniors I met who was assisted by AFSC. Jamea' does not know her exact age, but she was born in the village of Ghraid near Beer Sheva, and she and her family were forced to flee to Gaza during the 1948 war. Jamea' lives with several of her children and their families in Rafah. Their home consists of two finished rooms built of cinderblocks and cement. Across a dirt courtyard, there's a small kitchen and bathroom – with cinderblock walls, dirt floors, and partial roof of corrugated tin. 
Water for the family is delivered into holding tanks on the family's property. One room in the house receives electricity from a small solar panel, but the other room doesn't have power. In total, 13 people live in this space. Jamea' shares her room with six family members. 
Nobody in the family has a steady job though some members find seasonal employment picking dates. They also have a horse and cart that they can us to gather plastic for recycling, but this brings in no more than one or two dollars per day as income – not close to enough to meet the needs of 13 people. 
I spoke with Jamea' about her family's situation in her room. Besides the sleeping mats piled in the corner, the family has no furniture, and the only other items in the room were the battery-powered fan and LED lights provided by AFSC. These two items and the other goods provided by AFSC are not enough to meet the family's enormous needs, but they have helped improve the quality of life for Jamea' and her family. 
Saleh Musa Mohammed Abu Aqal, age 74, is another person who has benefited from AFSC's elder support program. He lives in the northern Gaza community of Beit Hanoun. His home has been destroyed twice during Israeli invasions of Gaza, and he and eight other members of his family now live in a two-room structure made of cinderblocks and corrugated tin. They have no access to either electricity or running water. When he was younger, Saleh worked as a day laborer but is now too old for physical labor and nobody else in his family has regular employment. 
Saleh, like other beneficiaries of AFSC's program in Gaza, received a rechargeable battery, a battery-powered fan, LED lights, and other basic items to improve quality of life. He told AFSC that the fan has been very important for him and his family. During the summer months, the fan provides some relief when the corrugated tin roof over his home radiates heat and makes life uncomfortable. Now, with winter approaching, Saleh and his family will face the problem of staying warm. Their home is open to the elements and provides limited protection from the cold weather that will grip Gaza in the coming months.
The stories of Saleh and Jamea' are not unique. Gaza is on the verge of a humanitarian catastrophe. Over 96% of Gaza's water supply is not fit for human consumption, having been contaminated as a result of overexploitation and pollution. People receive water for only six to eight hours every four days. And over 5% of the population has no access to running water at all. 
Sanitation infrastructure has been destroyed or degraded over the course of the blockade, and replacement parts cannot be imported. Nearly 29 million gallons of raw sewage – the equivalent of 43 Olympic size swimming pools – is dumped into the Mediterranean Sea every day. You can smell the sewage as you drive along the Gaza coastal road. 
The electrical infrastructure, which has also been damaged or deteriorated over the past 13 years, also cannot be rebuilt. Most people receive no more than four to six hours of electricity per day. Ninety percent of industry in Gaza has been forced to shut down as a result of closed borders, blocked imports and exports, limited access to electricity and water, and damaged infrastructure.
All of this leads to the unemployment and poverty that push people like Jamea', Saleh, and their families into dire situations.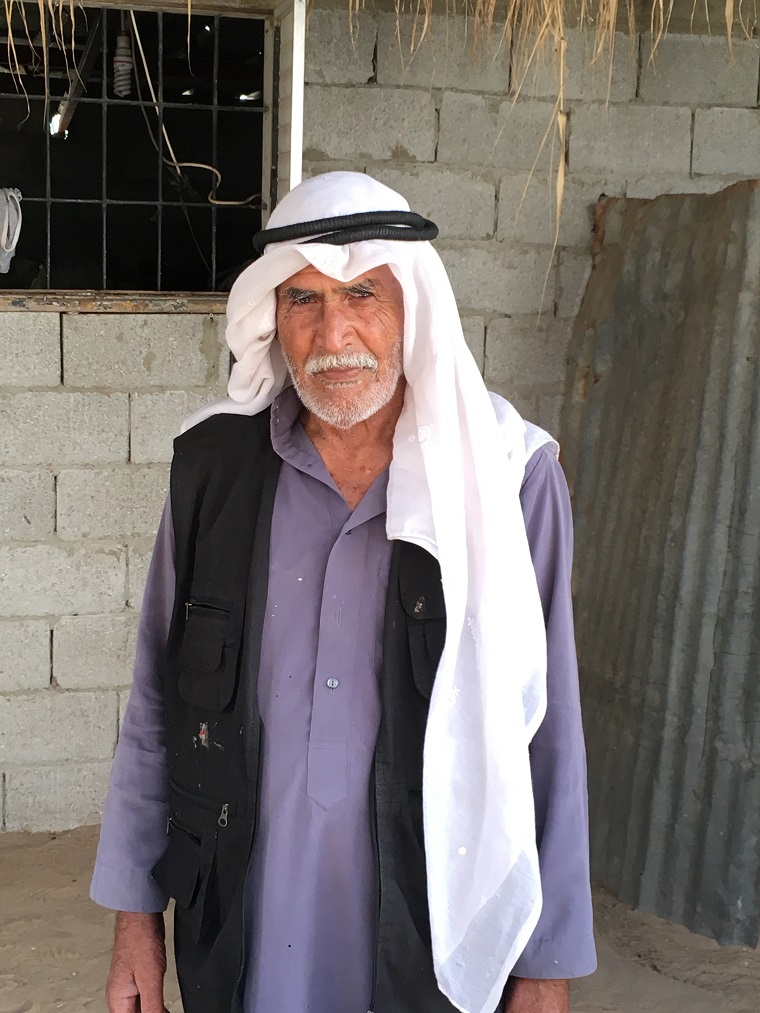 AFSC and other organizations will continue to provide aid to people like Jamea' and Saleh. Without assistance from international and local organizations, many people in Gaza would not survive.
But everyone providing aid – individuals, organizations, and governments – must also recognize that humanitarian aid alone will not bring the change that is needed. Poverty and suffering in Gaza is a result of the blockade and Israel's ongoing military occupation. As we help seniors meet their basic needs today, we must also continue to push for political change to end the blockade and the occupation – and demand freedom, equality, and justice for all people in Palestine and Israel.