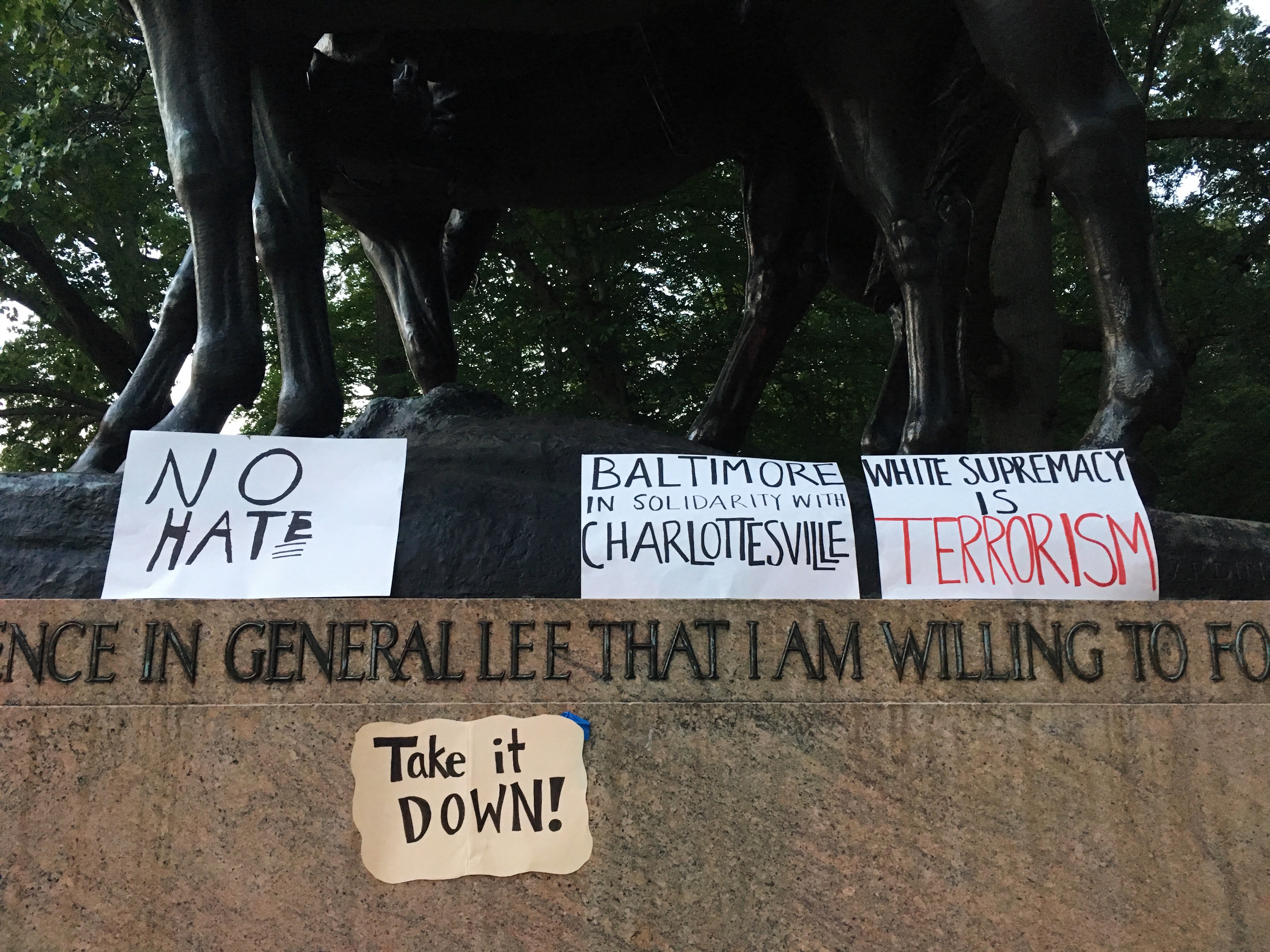 On Saturday Aug. 12, white nationalists—armed with Nazi and confederate flags, torches, shields, and weapons—converged in Charlottesville, Virginia, for a "Unite the Right" rally. They were met with hundreds of anti-racist and anti-fascist protestors. A white supremacist drove his car into the protests, killing one person and injuring dozens. Since then, thousands have rallied in cities across the country to show their support for Charlottesville and their opposition to white supremacy. Here's what we're reading to learn more.   
1. Charlottesville was not a "protest turned violent," It was a planned race riot, by Zenobia Jeffries via Yes! Magazine
"What took place was not a rally. Who wears paramilitary gear and carries automatic weapons to a rally? Who takes shields and helmets and pepper spray and bats and sticks to a rally? The car didn't 'crash'—it was driven at full speed into a crowd of counter-protesters.
What happened in Charlottesville was White nationalist extremists inciting a riot.
We cannot unite, come together, overcome, Kumbaya, or whatever else, until we get some truth-telling. Media professionals need to get it right this time."
2. No more Charlottesvilles, by Keeanga Yamahtta Taylor via Jacobin
"More than providing a platform for Trump's racist hate speech, the Republican Party has boosted his political agenda—an agenda that has imbued the racist right with the confidence that they can succeed in their campaign of terrorizing, marginalizing, and even killing those who stand in their way. This includes Black and brown people as well as the white anti-racists who challenge them. We are all in their crosshairs.
The fight against racism in Charlottesville forced public officials to finally come out and speak against the growth of white supremacy and neo-Nazis. We have to continue to unite the struggle against right-wing racists and stop them before they kill again."
3. Interview: 20-year old Deandre Harris speaks out about being assaulted by white supremacists in Charlottesville, Va., by Yesha Callahan via The Root
"James Baldwin once said, 'Not everything that is faced can be changed, but nothing can be changed until it is faced." The violence that erupted in Charlottesville over the last 48 hours has been the face of America since the beginning of time.
It's gone from being cloaked in white masks to crisp Walmart and Target polos, but until those so-called allies stand up to their racist counterparts, nothing will change. People of color are tired. We've faced this head on, it's now your time to face it and change it."
4. Mother of Charlottesville victim Heather Heyer: 'I'm proud of what she did', by Andy Campbell via Huffington Post
"'I think he's still very young, and I'm sorry he believed that hate could fix problems. Hate only brings more hate,' Bro said. 'Heather was not about hate, Heather was about stopping hatred. Heather was about bringing an end to injustice.
She began to cry as she added, "I don't want her death to be a focus for more hatred. I want her death to be a rallying cry for justice and equality and fairness and compassion. I'm very sorry that [Fields] chose that path because he has now ruined his life as well as robbed a great many of us of someone we love very much.'
'No mother wants to lose a child, but I'm proud of her," she said. "I'm proud of what she did.'"
5. Some background on those violent, white supremacist 'Unite the Right' actions in Charlottesville, by Akiba Solomon via Colorlines
"'We have been warning people for the last year about the rising White nationalist movement,' Spencer Sunshine, a journalist and researcher of White supremacist organizing, wrote in an email to Colorlines. 'This movement has always been involved in an incredible level of violence. The movement has recently made new allies and flexed its muscles to show its strength. We've been warning people that what happened in Charlottesville today is the inevitable result of this movement's politics. People need to set their tactical differences aside and unite to contain this movement. White supremacy is murder.'"
6. Republicans in 6 states are trying to protect drivers who hit protesters, by Kira Lerner via Think Progress
"With the exception of the president, who condemned violence on 'many sides,' the consensus was that a person should not be allowed to drive a car through a crowd, no matter the motive or intentions.
But not everyone agrees with that statement. State lawmakers in at least six GOP-controlled states have pushed for laws this year that would shield drivers who hit protesters. The bills are part of a wave of anti-protest proposals introduced since the rise of the Black Lives Matter and anti-Trump resistance movements."
7. "Not here, not in my town": Charlottesville Black Lives Matter on the meaning of community defense, by Sarah Lazare via In These Times
"Lisa: There are a variety of ways people can stand up. Support Black Lives Matter—not just in Charlottesville, but all around the country. Get tapped into local organizations. Have uncomfortable and difficult conversations that can open the door to greater understanding. Be willing to be uncomfortable. Don't just go along with racism and casual white supremacy. That just normalizes white supremacy."
For more on the history of resistance to white supremacy in Charlottesville, check out The Charlottesville Syllabus, a collection of readings put together by the Graduate Student Coalition for Liberation.
"What may be the largest fascist gathering in recent memory is being held in our town center this weekend. The Charlottesville Syllabus seeks to explore the local historical and contemporary precedents for this gathering, to give it history and context, to denounce it, and to amplify the voices of community members most affected by this 'alt-right' occupation of space."
"What We're Reading" is a weekly feature on AFSC's News and Commentary blog, where we share a curated collection of recent articles on timely issues. "What We're Reading" is meant to spark discussion, debate, and knowledge sharing, and the articles we highlight do not necessarily reflect the official organizational positions of AFSC.
We encourage you to tell us what you're reading on these issues in the comments below.