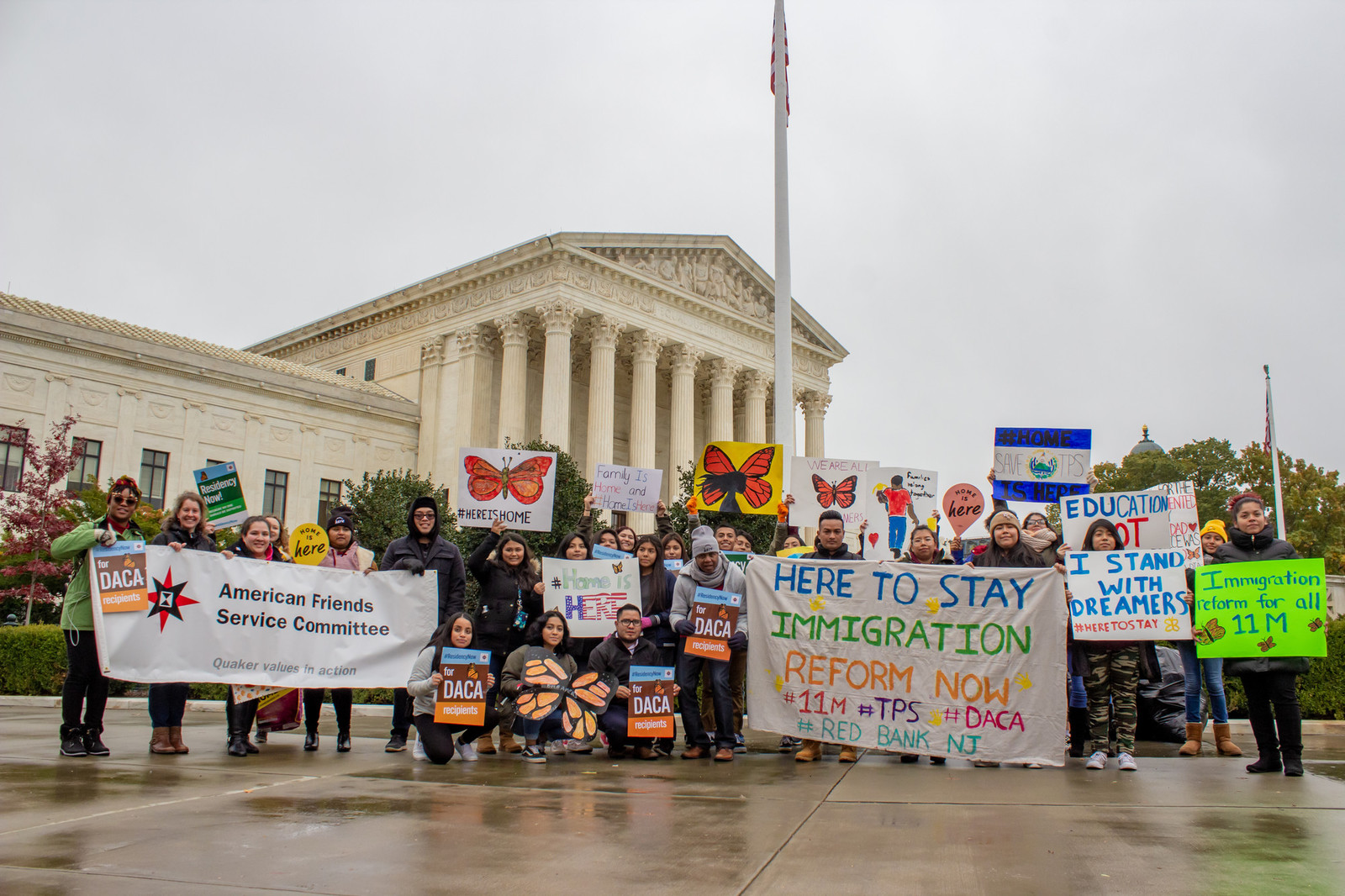 Update: On Oct. 5, 2022, the Fifth Circuit Court ruled against the continuation of the Deferred Action for Childhood Arrivals (DACA) program. From 2012 to the present, the DACA program provided temporary relief from deportation to almost 800,000 people who came to the U.S. as children. The Fifth Circuit did not lift the stay of the District Court's decision, so for the time being current DACA recipients can continue to renew their DACA.
For more updated information, visit our DACA resource page.
---
On July 16, 2021, a federal judge in Texas ruled that DACA (Deferred Action for Childhood Arrivals) is unlawful, dealing yet another blow to hundreds of thousands of people enrolled in the program. DACA is an Obama-era program that protects from deportation more than 600,000 immigrants who came to the United States as children.
Current DACA recipients will not be immediately affected by the decision, which is expected to be challenged in the courts. But this setback, in addition to previous attacks by the Trump administration and other legal challenges to DACA, make it clear as ever: Only legislation—not litigation—will provide permanent protections for DACA recipients.
Here's what you need to know about what's happening with DACA:
1. The most recent court decision will not immediately impact current DACA recipients. However, the government will not approve any new applicants.
The court case Texas v. United States arose out of a multistate challenge to the legality of DACA, led by the attorney general of Texas. Federal judge Andrew Hanen ruled DACA unlawful, concluding that President Barack Obama had exceeded his authority when he created the program.
What does this decision mean for people enrolled in DACA?
The recent court ruling does not direct any enforcement actions against current DACA recipients. That means recipients remain protected from deportation and authorized to work. They may also continue to apply for renewal of their status for the time being. However, if a person's DACA status has been expired for more than a year, they will be considered a first-time applicant and their application will be placed on hold.
What does this mean for new DACA applicants?
The ruling bars the Department of Homeland Security (DHS) from processing first-time DACA applications, including more than 81,000 currently pending.
DHS can accept—but not process—new applications. The department has canceled biometrics appointments scheduled for new DACA applicants. However, first-time applicants who have already been approved or received their permits as of July 16, 2021 will be allowed to complete the application process and, if eligible, obtain DACA status.
What does this mean for DACA recipients who want to travel outside of the U.S. under what's known as "advanced parole?"
"Advanced parole" is a benefit that allows DACA recipients to apply to travel outside of the U.S. for educational, employment, or humanitarian reasons.
Current DACA recipients can still apply for advanced parole. People who have traveled outside of the U.S. on advanced parole can still return, and those recently granted advanced parole but haven't traveled can still do so.
For more, visit United We Dream's guidance for DACA recipients and legal practitioners.
2. DACA has faced multiple legal challenges since its inception.
Here's a brief—and by no means comprehensive—timeline:
June 2012: DACA was created by President Obama through an executive action, following years of organizing by undocumented immigrant youth, their families, and allies.
September 2017: The Trump administration announced it would terminate DACA, jeopardizing the futures of hundreds of thousands of immigrants and their families.
June 2020: In a 5-4 decision, the U.S. Supreme Court ruled that the Trump administration's attempt to end DACA was "arbitrary and capricious"—and a violation of federal law. The ruling preserved DACA status for recipients, allowing them to continue to live and work in the U.S. without being targeted for detention or deportation.
However, the Supreme Court decision was narrow. It did not address whether the creation of DACA was lawful. That left the door open for the Trump administration to attempt to terminate DACA through other legal rationale.
July 2020: The Trump administration issued a memo that worked to dismantle the program. Among other things, it refused to accept new applications and limited renewal periods for existing recipients.
December 2020: A federal judge in New York ordered the U.S. government to fully restore DACA, reversing the memo the Trump administration had issued. Since then, the U.S. government reopened the DACA program to first-time applicants, allowing an estimated 81,000 undocumented immigrants to enroll. The government also returned the renewal period for DACA recipients to two years and reinstated advanced parole.
But like the Supreme Court decision, this decision was also narrow. It did not conclude whether the creation of DACA was lawful—an issue addressed by the unfavorable ruling in the most recent case in Texas.
3. The struggle to save DACA is far from over.
The Biden administration could still seek to appeal the most recent court decision. While DHS announced it would comply with the court order and not approve new applications, it also stated that it would "continue to implement the components of DACA that remain in place, and work on publishing a Notice of Proposed Rulemaking designed to strengthen and fortify DACA."
4. Ultimately, only legislation–not litigation–can provide a permanent solution for DACA recipients and their families.
For years, hundreds of thousands of DACA recipients and their families have faced uncertainty as the program has continually come under attack. While President Biden has pledged to protect DACA, recipients will continue to be vulnerable to political and legal attacks until we have a legislative solution that provides permanent protection—and creates a roadmap to citizenship for all immigrants.
It's long past time that we pass legislation that keeps families and communities together.
Congress is now considering a measure that could include a pathway to citizenship for hundreds of thousands of DACA recipients, people with Temporary Protected Status (TPS), farmworkers, essential workers and their loved ones. Our elected officials need to hear from us today.
Tell Congress: Provide permanent protections for DACA recipients and all immigrants—and call for humane immigration policies that respect the rights and dignity of all people!