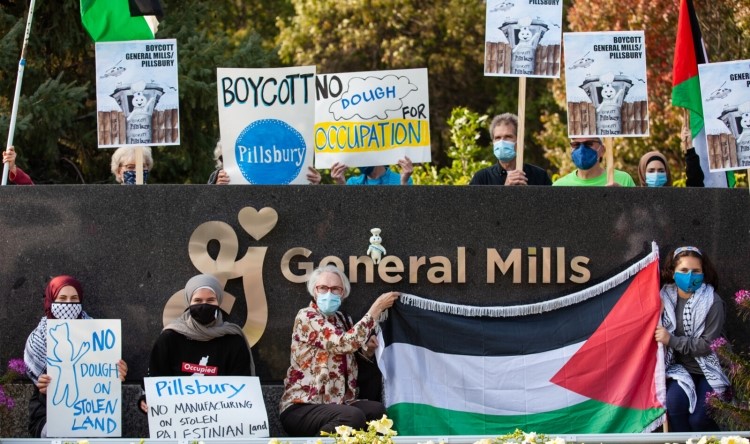 In April 2021, we did something that some found outrageous - we came out with a public call to boycott General Mills' Pillsbury products. We made the tough decision to disassociate from the company which our ancestor, Charles A. Pillsbury, founded 150 years ago.
But, today we feel a sense of renewed pride in our family's legacy. General Mills announced that its Pillsbury products will no longer be made on occupied Palestinian territory, on a land confiscated by force from its Indigenous owners, and by workers deprived of basic civil rights under an illegal occupation. The company first reported that it had sold its majority stake in General Mills Israel and later added that it would no longer produce any products in the Shalgal Pillsbury factory, located in the illegal settlement of Atarot.
In 2020, General Mills was highlighted by the UN as one of only seven U.S.-based companies doing business in illegal Israeli settlements. Since then, dozens of human rights, peace, and justice organizations all over the world have called on General Mills to divest. The No Dough for the Occupation campaign was launched by the American Friends Service Committee and the Palestinian Boycott National Committee. It quickly grew as local groups from Philadelphia, San Francisco, Pittsburgh and Portland, OR staged creative protests outside grocery stores; Women Against Military Madness organized rallies outside the company's annual shareholder meetings in Minneapolis; SumOfUS sent the company a 120,000 signature petition; United Church of Christ congregations, including the one to which Charlie Pillsbury belongs, were the first to call themselves "Pillsbury-Free Churches;" and American Muslims for Palestine held an annual holiday bake-off competition, using only non-Pillsbury ingredients.
General Mills framed the divestment as a business decision to prioritize their "resources to drive superior returns." Indeed, this was a smart business decision. As a company that sells comforting and homey foods, could General Mills afford to become the symbol of Israel's brutal military occupation of Palestine?
To our family, this is cause for celebration. Hopefully, the shameful sign with the Pillsbury name will no longer hang in the occupied Atarot industrial zone. For General Mills, too, this is a decision worth celebrating. Coupled with its recent decision to limit business in Russia due to its military occupation of Ukraine, the company has followed its own human rights policy, and stepped away from a series of violations of international law and human rights with serious ethical, legal, and reputational risks. We thank General Mills for taking these steps for human rights generally and Palestinian human rights specifically. And now we can go back to enjoying Pillsbury chocolate-chip cookie dough.