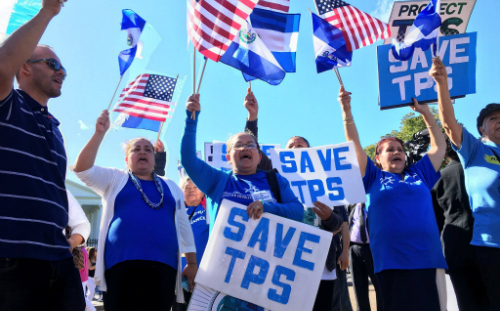 Since taking office, President Trump has ended crucial protections for immigrants from six countries. Over 300,000 people are at risk of losing legal Temporary Protected Status (TPS).
TPS is a provision under which the government grants protection from deportation to people from certain countries afflicted by natural disasters, war, or other dangerous conditions.
These moves continue a series of cruel attacks on immigrants in the U.S. that rip apart families and hurt our communities. The administration must extend TPS. And Congress should enact a permanent solution that creates a roadmap to citizenship for recipients and the millions of other immigrants in the U.S.
Here's what you need to know:
1. What is TPS?
TPS is a life-saving immigration program that allows foreign nationals to remain in the U.S. if, while they were in the U.S., something catastrophic happened in their country of origin that prevented their safe return. Examples include war, famine, natural disaster, or epidemic. TPS protects people from deportation and allows them to work legally while they remain in the U.S. The program is a temporary, humanitarian form of relief that does not grant permanent residence in the United States.
It was created by a bipartisan act of Congress in 1990, allowing the Department of Homeland Security to grant the status when disasters strike.
Other forms of humanitarian protection include Deferred Enforced Departure (DED). While TPS and DED are similar in many respects, authority for TPS stems from a legislative statute while DED's arises from the president's inherent authority to conduct foreign policy.
2. Who benefits from TPS now?

TPS currently protects around 330,000 people in the U.S. from 10 countries who would otherwise be subjected to disease, violence, starvation, the aftermath of natural disasters, and other life-threatening conditions. The largest group of TPS recipients is from El Salvador (195,000 people) followed by Honduras (57,000 people) and Haiti (50,000 people).
Other countries with TPS holders include Nepal (8,950 people), Syria (7,000 people), Nicaragua (2,550 people), Yemen (1,250 people), Sudan (1,040 people), Somalia (500 people), South Sudan (84 people), Guinea (930 people), and Sierra Leone (1,180 people).
The Trump administration also ended DED status for Liberians who lived in the United States for over two decades.
Check out this snapshot of countries currently covered by TPS.
3. Where does it stand now?
TPS community members, advocacy organizations, social justice groups, and other allies are working to prove that the administration was wrong—and discriminatory—in terminating TPS for impacted countries.
Multiple lawsuits are challenging the administration's termination of TPS for several countries. Generally, the suits seek to stop the Department of Homeland Security (DHS) from implementing terminations. The suits also accuse the administration of ending TPS for certain countries based on racial discrimination and infringing on the constitutional rights of TPS beneficiaries, among other issues.
Two lawsuits resulted in preliminary injunctions that blocked the administration from ending the program—one suit filed by TPS holders from El Salvador, Haiti, Nicaragua, and Sudan and a second suit filed by TPS holders from Honduras and Nepal and their U.S. citizen children. To comply with the injunctions, DHS announced it would automatically extend TPS for all six countries through Jan. 4, 2021, pending a decision on the lawsuits. Depending on how the litigation plays out, DHS can issue terminations for these six countries before Jan. 4. DHS reserved the authority to issue terminations 120 days after appeals are exhausted (for El Salvador, this time period is 365 days).
DED holders also sued the administration, alleging that the termination was based on racial, ethnic, and national discrimination. In October 2019, the courts dismissed the lawsuit.
But with the support of immigrant advocacy groups, they sought out alternative ways to protect the community of 4,000 Liberians who have lived in the U.S. for decades. In December 2019, a provision creating a roadmap to citizenship for Liberian DED and TPS holders was included in the 2019 National Defense Authorization Act, which would establish long-awaited stability for the Liberian community.
Here are the statuses of other TPS countries:
Syria: TPS for Syria is scheduled to expire in March 2021. In July 2019, the administration announced that it would extend TPS status for Syria for 18 months, leaving protections in place for nearly 7,000 people who have been in the U.S. since at least August 2016. However, Syria wasn't redesignated for TPS, which means that Syrians who entered the U.S. after August 2016 are not eligible.
Yemen: In 2020, the Trump administration announced it would extend TPS for Yemen, protecting an estimated 1,200 Yemenis from deportation. But the decision did not redesignate TPS for the country, meaning more recently arrival Yemeni nationals will not be eligible for TPS. The current designation is set to expire in September 2021.
Somalia: In January 2020, the Trump administration announced it would extend TPS for approximately 500 Somalis. The administration did not redesignate TPS for Somalia, which would have allowed more recently arrived Somali nationals to apply for TPS. The current designation is set to expire in September 2021.
Guinea and Sierra Leone: TPS holders Guinea and Sierra Leone were issued a termination by the Obama administration, but it did not take effect until the Trump administration in May 2017. Approximately 930 Guinea nationals and 1,180 Sierra Leonian nationals held TPS.
4. What would happen if TPS ended or was not extended for certain countries?
TPS recipients who aren't eligible for other relief would lose their ability to work legally in the U.S., placing them at risk of being deported back to dangerous conditions in their home countries.
Ending TPS would hurt communities across the U.S. TPS recipients are deeply integrated into our communities. Recipients from the three countries with the largest TPS populations alone have nearly 273,000 children who were born in the U.S. They provide emotional and financial support to loved ones, and shoulder responsibilities in schools, churches, and civic organizations. Thousands more work as nannies, caregivers for seniors or people with disabilities, and in other professions critical to the health and well-being of our communities.
Most TPS recipients have been in the U.S. for decades, and TPS has allowed them to integrate into and contribute to the U.S. economy. Recipients from Honduras and El Salvador have been in the U.S. for at least 16 years, and half of them have been in here for over 20 years. The vast majority—88.5 percent—of TPS recipients participate in the labor force, which is much higher than the national average. Ending TPS would have a devastating impact on the social and economic fabric of cities and towns across the country.
TPS holders are employed in key essential industries including health care, food industries, transportation, delivery, and warehousing. In this pandemic, an estimated 131,300 TPS holders from El Salvador, Honduras, and Haiti are serving as essential workers.
Ending TPS would devastate our nation's economy. For example, terminating TPS for El Salvador, Honduras, and Haiti would have significant and far-reaching economic impacts. Deporting these individuals would cost taxpayers over $3 billion. Over a decade, the inability of these individuals to work would result in over $45 billion in lost GDP and $6.9 billion in lost Social Security and Medicare contributions.
Moreover, employers would incur close to $1 billion in turnover costs for the wholesale termination of this population. The loss in GDP and turnover costs would be felt most acutely in the locations where Salvadorans, Hondurans, and Haitians are primarily located, including major metropolitan areas in Florida, New York, California, Texas, Maryland, and Virginia.
Ending TPS would hurt regional stability. Countries recovering from catastrophic events don't have the capacity to reabsorb tens of thousands of people. And the money that TPS holders send home serves as a lifeline to family and friends in devastated countries. Allowing TPS to continue promotes regional security. Terminating TPS before countries are sufficiently recovered will have a profoundly destabilizing effect. The impact will be felt in countries in need, by their neighbors, and inevitably at the U.S. borders, as more people flee their countries to save their lives and the lives of their families.
5. How do U.S. policies create the need for TPS?
The U.S. has a history of contributing to instability in countries covered by TPS. In Honduras, El Salvador, Nicaragua, and Haiti, for example, U.S. foreign policy has long been characterized by cooperation with paramilitary forces and support for totalitarian regimes, which have created conditions in those countries that drive people from their homes.
And the U.S. continues to push for increased militarization of security in Central America, exacerbating violence and fueling forced migration—all while advocating for trade and investment policies that deepen poverty and inequality.
6. What can we do to protect TPS?
The law creating Temporary Protected Status and the granting of the status to various countries was the result of massive years-long mobilizations across the country of immigrants and their allies. We're mobilizing once again to not only push for extensions for all 10 countries currently protected by TPS, but also to provide TPS holders a more permanent and secure status in the U.S.
Bills have been introduced in Congress that would protect TPS holders. In June 2019, the House of Representatives passed the Dream and Promise Act, a bill that would offer a pathway to citizenship for people with TPS, DED, or Deferred Enforced Departure (DED), or Deferred Action for Childhood Arrivals (DACA). The Senate is now considering similar legislation.
You can help:
Contact your senators today. Ask them to pass humane immigration policies like the Dream and Promise Act that would create a roadmap to citizenship for TPS holders and all immigrants.
Ask your local and state elected officials to publicly support TPS and pass resolutions supporting the program.
Download our posters to use at your next action and display in your community.
Check out this Interfaith Toolkit to Defend Temporary Protected Status for guides on how to advocate locally and on the federal level—as well as how to write an op-ed or letter to the editor and sample social media posts.
Watch these stories of TPS holders and their families. Share them with others to build support for TPS.