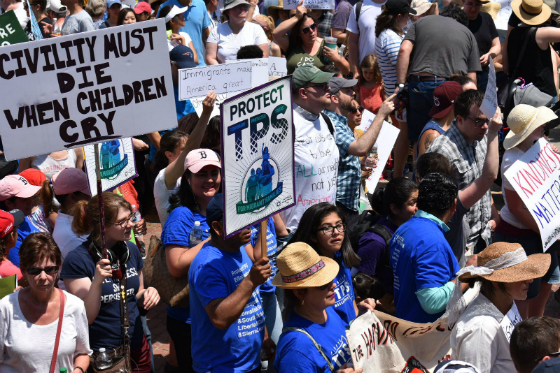 As hundreds of thousands of immigrants face the risk of deportation, communities continue to push back against Trump's racist agenda — and they just scored a victory in the courts. 
Communities across the country are still reeling from the Trump administration's decision to end Temporary Protected Status (TPS) for hundreds of thousands of immigrants, putting them at risk for deportation. TPS grants protection from deportation to people from certain countries afflicted by natural disasters, war, or other dangerous conditions. 
Over the past year, the Trump administration has ended TPS for Nicaragua, Sudan, South Sudan, Syria, Haiti, Nepal, El Salvador, and Honduras. Most affected TPS holders have been given 12 to 18 months to obtain other forms of immigration relief or leave the United States and return to potentially life-threatening situations. 
Ending TPS for these countries ignores the dire conditions that warrant continued protections for their nationals. Instead these cruel decisions serve only to advance Trump's racist, anti-immigrant agenda.
Throughout his presidency, Trump's rhetoric has demonstrated his hostility toward TPS countries. He has called several TPS recipient nations "shithole countries," stated that all people from Haiti have AIDS, and used dehumanizing language to describe migrants from Central America. 
Terminating TPS is part of the administration's effort to block any avenue that contributes to racial and religious diversity in the United States—from enacting the Muslim ban to implementing current visa sanctions to calling for an end to the Diversity Visa Program.  
Today, as hundreds of thousands of TPS holders face the risk of deportation, it's critical that we continue to push back against the Trump administration's attacks on TPS and any other racist policies disguised as immigration reform.  
Here's what you need to know about current efforts to save TPS: 
There are legal challenges to Trump's termination of TPS for certain countries.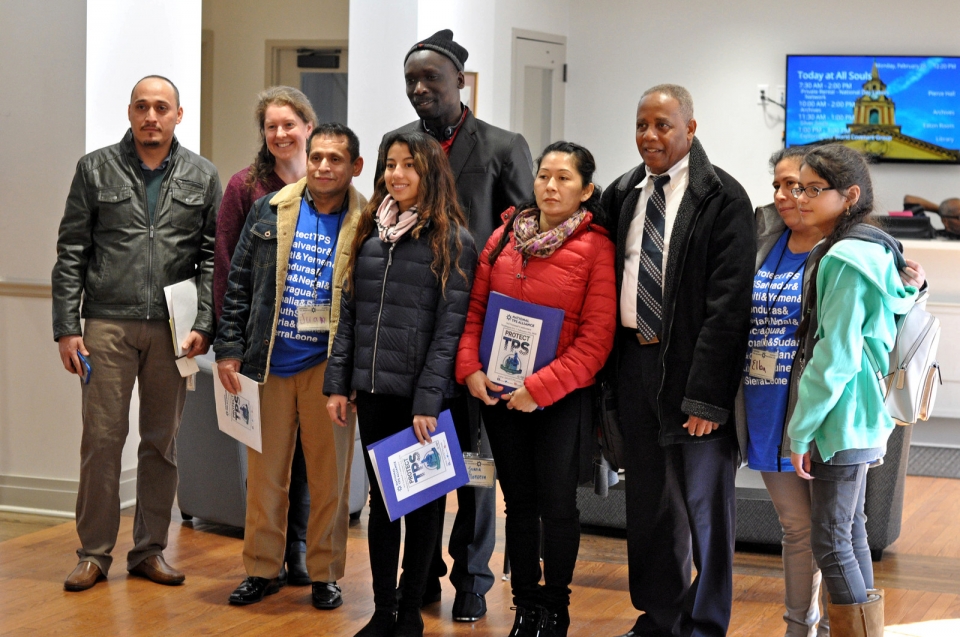 TPS community members, advocacy organizations, social justice groups, and other allies are working to prove that the administration was wrong—and discriminatory—in terminating TPS for impacted countries. 
Multiple lawsuits are challenging the administration's termination of TPS for Sudan, Nicaragua, El Salvador, Haiti, and Honduras. Plaintiffs include the NAACP, Centro Presente, Family Action Network Movement, the American immigration Council, Northwest Immigrant Rights Project and Haïti Liberté in partnership with impacted TPS recipients and their U.S. citizen children. 
Generally, the lawsuits seek to stop the Department of Homeland Security (DHS) from implementing  terminations. The suits also accuse the administration of ending TPS for certain countries based on racial discrimination and infringing on the constitutional rights of TPS beneficiaries, among other issues. 
Evidence that could support these lawsuits have been made public in the media. 
Some members of Congress are also working to hold DHS accountable. Sen. Bob Menendez of New Jersey has called on the Government Accounting Office (GAO) to investigate the decision to terminate TPS for Haiti, El Salvador, and Honduras, despite signs and warnings by U.S. diplomats and experts.  
One legal challenge has already resulted in a victory in the struggle to save TPS.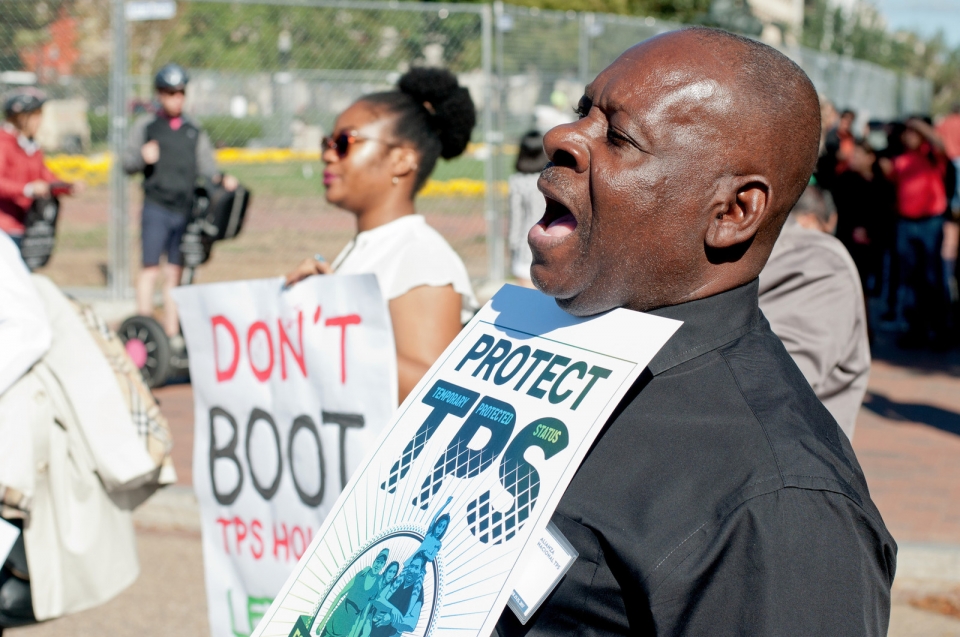 On Oct. 3, 2018, one lawsuit resulted in extraordinary news – and a temporary reprieve – for some TPS holders. A federal judge blocked the termination of TPS for more than 300,000 people from El Salvador, Haiti, Nicaragua, and Sudan. This temporary block is especially important because Sudan's termination date of Nov. 2 was right around the corner.
Although the judge didn't rule on the merits of the case, he stated that the beneficiaries, if deported, "indisputably will suffer irreparable harm and great hardship," with many forced to choose between bringing their U.S.-born children with them or leaving them behind.
We must continue to pressure Congress to save TPS.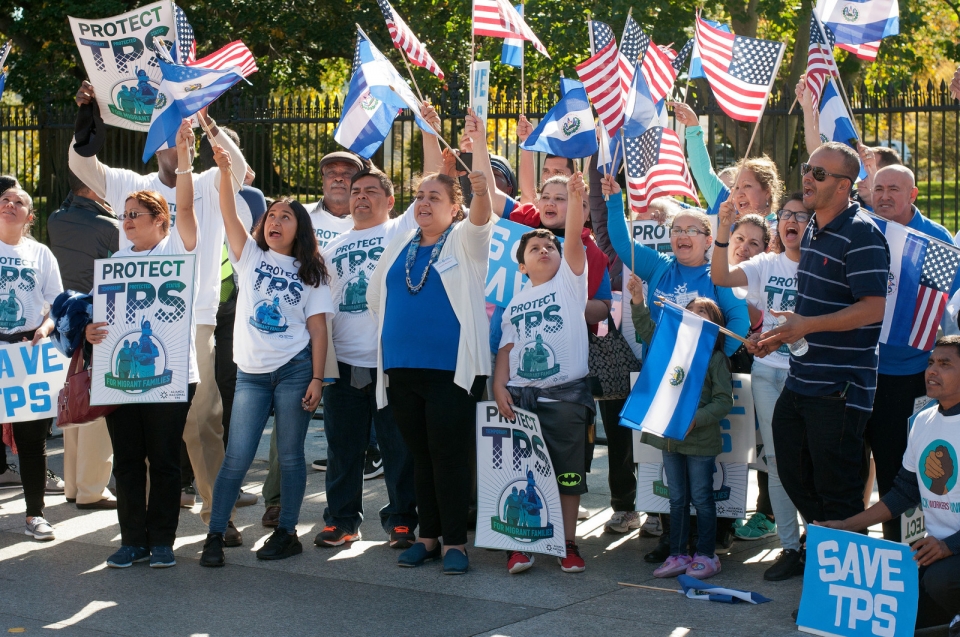 TPS holders, their families, and communities are working hard to defend this vital program—and calling for a roadmap to citizenship for all immigrants. 
Around the country, TPS holders and their families have shared their stories with the media, organized legislative visits and protests across the nation and in Washington, D.C., and even occupied congressional offices, risking arrest to raise awareness for TPS. 
Right now, a group of 50 TPS holders, their family members, and other civil rights are crossing the country over 12 weeks to mobilize communities to save TPS (read more about the TPS Journey 4 Justice). 
With everything going on in the U.S. and in the world, it's critical that we continue to keep up the pressure on Congress to preserve this vital program.
Contact your members of Congress by calling the Capitol switchboard at 202-224-3121 or emailing them today.  Tell them to: 
1. Pass humane immigration policies that would create a roadmap to citizenship for TPS holders.
Bills have been introduced in Congress that would protect TPS holders. The American Promise Act of 2017 (H.R. 4253) and the SECURE Act (S.2144) bills would provide permanent legal residency and a pathway to citizenship for all TPS holders.  
2) Ask the U.S. Government Accountability Office to further investigate the findings of the Senate Foreign Relations Committee's investigation into the termination of TPS for all impacted countries.
Get more information and resources on TPS.  
Editor's note: This post was originally published on July 6, 2018 and updated to reflect recent events.