Light in Gaza 2023 speaking tour
AFSC is pleased to host Yousef Aljamal, journalist and contributor to the anthology Light in Gaza: Writings Born of Fire on a speaking tour to several west coast U.S. cities. We are grateful to the many hosts and local organizers for making this visit possible!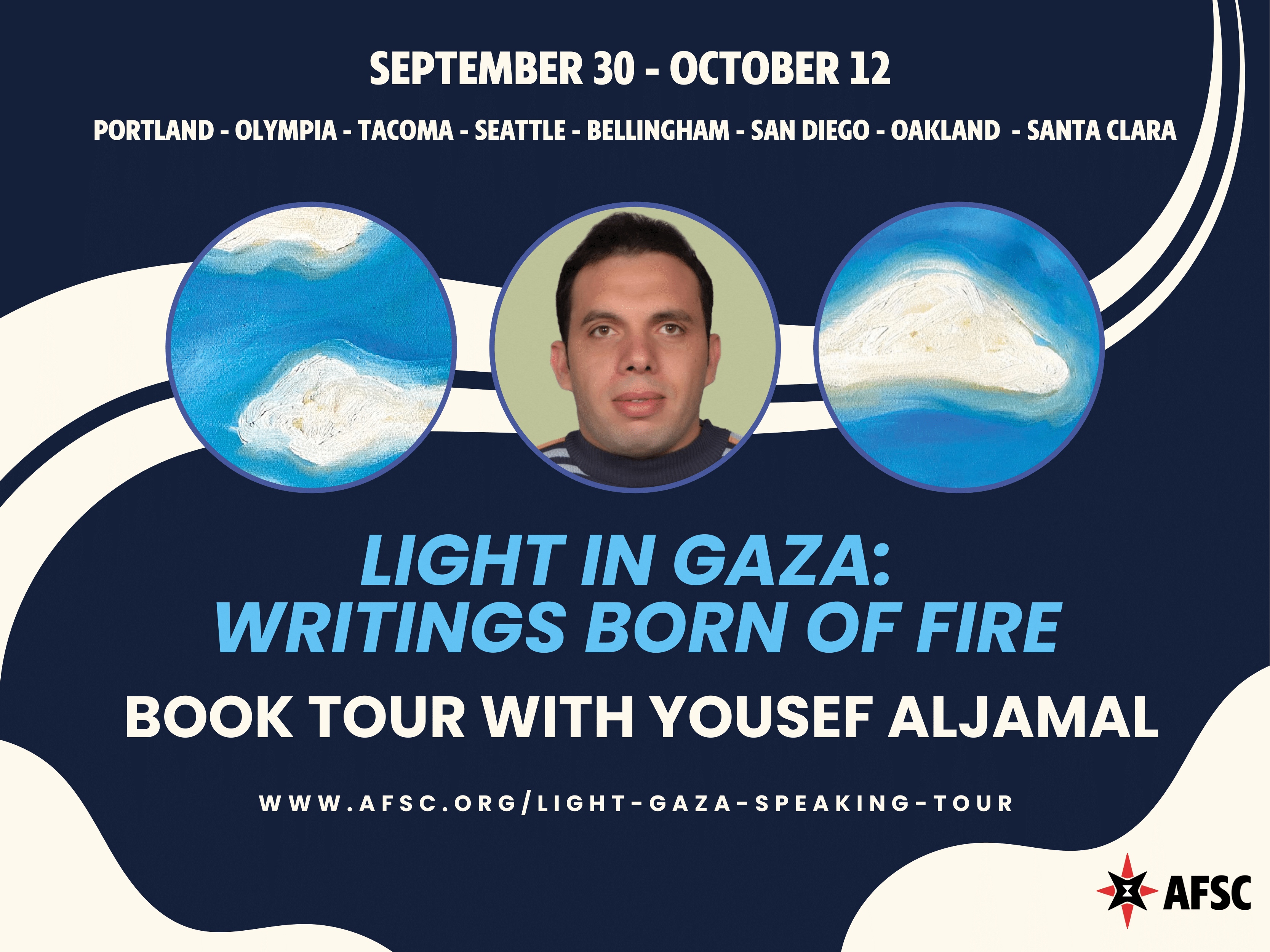 Light in Gaza Book Talk with Yousef Aljamal, Saturday, September 30
Portland, OR
SWANA Rose Center
2941 NE Martin Luther King Blvd.
7-8:30 pm PT
SUPER at PSU presents: Gaza's Role in the Palestine National Movement, Sunday, October 1
Portland, OR
Portland State University
Smith Memorial Student Union, Parkway North, Room 101
1825 SW Broadway
2 – 3:30 pm PT
Rachel Corrie Foundation Presents: Light in Gaza Book talk with Yousef Aljamal, Monday, October 2
Olympia, WA
New Traditions Fair Trade
300 5th Ave SW
7– 9pm PT
Light in Gaza Book event with Yousef Aljamal, Tuesday, October 3
Tacoma, WA
Tacoma Community College
Building 11, Room 119
6501 South 19th Street
12 pm PT
Discussion on Gaza with Yousef Aljamal and Dr. Alice Rothchild, Wednesday, October 4
Seattle, WA
Seattle Pacific University
Eaton Hall, 112
Noon – 1:00 pm PT
SUPER at UW Presents: "Light in Gaza: A conversation with Youseff Aljamal and Jennifer Bing, moderated by Dr. Alice Rothchild", Thursday, October 5
Seattle, WA
University of Washington
Seattle Campus, Miller Hall, Room 301
2012 Skagit Ln
5:30 – 7:00 pm PT
Access Denied: Human Rights and Health Care Refused in Gaza, Friday, October 6
Bellingham, WA
St. James Presbyterian Church
910 14th St, Bellingham,
5:30-7:00 pm PT (followed by potluck dinner)
Presentation by Yousef Aljamal, Jennifer Bing, with Drs. Alice Rothchild and Bill Slaughter
"Solidarity Across Borders: A Conversation with Activists from Central Africa, Palestine, and the U.S.-Mexico Border", Tuesday, October 10
San Diego, CA
Friends Center
3850 Westgate Pl.
6 – 7:30 pm PT
Featuring Yousef Aljamal (Palestinian author), Eunice Ndonga (Migration Director, AFSC International Programs), Pedro Rios (Director, AFSC San Diego Area Program)
Bay Area World Without Walls Presents: "Light in Gaza: A Conversation with Yousef Aljamal", Wednesday, October 11
Oakland, CA
Lakeshore Avenue Baptist Church
3534 Lakeshore Ave
6:30 – 8pm PT
This event will be available on livestream at https://youtube.com/live/AVJdQSaBY_U at 6:30pm Pacific Time.
Light in Gaza Book Tour: Conversation with Yousef Aljamal, Thursday, October 12
MCA Khadijah Hall
3003 Scott Blvd
Santa Clara, CA 95054
7:00 - 8:15pm PT
Event is sponsored by Muslim Community Association Social Committee, Santa Clara.
Yousef M. Aljamal is a Palestinian refugee from Al-Nusierat refugee camp in the Gaza Strip. He recently received his PhD at the Middle East Institute at Sakarya University in Turkey. Yousef Aljamal, besides his research interests in diaspora, security, and indigenous studies, has contributed to a number of books which highlight the Palestinian narrative. He translated two books on Palestinian prisoners entitled The Prisoners' Diaries: Palestinian Voices from the Israeli Gulag (2013), and Dreaming of Freedom: Palestinian Child Prisoners Speak (2016). He also co-edited the book A Shared Struggle Stories of Palestinian and Irish Hunger Strikers (2021). Yousef Aljamal has published a number of journal articles on topics that include Palestinians in the diaspora, travel restrictions imposed on Palestinians, and struggles for liberation. Over the years, he has spoken at various forums and platforms to highlight the plight of Palestinians living under Israeli military occupation and apartheid. Yousef Aljamal's contribution to the 2022 anthology Light in Gaza: Writings Born of Fire focuses on the restrictions on travel as a continuing manifestation of the Palestinian Nakba.
Yousef Aljamal will be in the United States in October 2023 on a speaking tour about Light in Gaza: Writings Born of Fire, a new anthology of Gaza writers published by Haymarket Books in August 2022. The tour is hosted by the American Friends Service Committee. For more information about the book visit gazaunlocked.org/anthology